Star Trek Wiki
Main Page - Obsidian Fleet Database
Eugene Wesley "Gene" Roddenberry (August 19, 1921 – October 24, 1991) was an American television screenwriter and producer. He is best known for creating the original Star Trek television series and thus the Star Trek science fiction franchise. Born in El Paso, Texas , Roddenberry grew up in Los Angeles, California where his father worked as a police officer.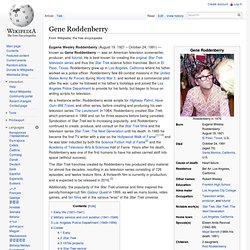 Star Trek is an American science fiction entertainment franchise created by Gene Roddenberry and currently under the ownership of CBS . [ Note 1 ] The franchise began in 1966 with the television series Star Trek later referred to as Star Trek: The Original Series . This series, its spin-off shows: Star Trek: The Animated Series , [ Note 2 ] Star Trek: The Next Generation , Star Trek: Deep Space Nine , Star Trek: Voyager and Star Trek: Enterprise , as well as the film series make up the core of the franchise's mythos. While the critical response to much of the franchise varies, many individual Star Trek episodes and films have won awards and honors including Emmy Awards , Hugo Awards and an Academy Award .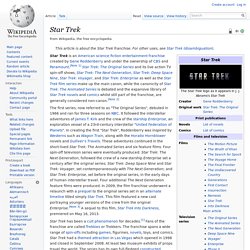 Ex Astris Scientia - Bernd Schneider's Star Trek Site
Star Trek Expanded Universe - Fan fiction, RPG, fan films
The Star Trek Encyclopedia (9780671536091): Michael Okuda, Denise Okuda, Debbie Mirek
Star Trek Online Wiki - Characters, Ships, Equipment, Guides, Fleets, & more!
Star Trek: The Original Series
Star Trek is an American science fiction television series created by Gene Roddenberry that follows the adventures of the starship USS Enterprise (NCC-1701) and its crew.