Star Trek Wiki
Welcome to the Obsidian Fleet Database, a project to create a comprehensive in-character index of most things related to Obsidian Fleet. By "most", we mean a little information on the races we've encountered, the technology we use, the places we've visited and the people we've met. Character and sim information should be kept to a minimum. This is a wiki, so anyone can create or edit a page as long as it is within the guidelines of in-character, relevant to Obsidian Fleet and in adherence to the wiki's rules, which are posted in a link below. So far we have created 3,112 articles.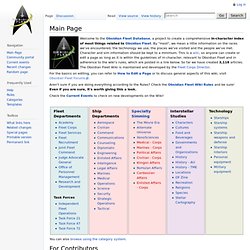 Main Page - Obsidian Fleet Database
Eugene Wesley "Gene" Roddenberry (August 19, 1921 – October 24, 1991) was an American television screenwriter, producer, and futurist. He is best known for creating the original Star Trek television series and thus the Star Trek science fiction franchise. Born in El Paso, Texas, Roddenberry grew up in Los Angeles, California where his father worked as a police officer.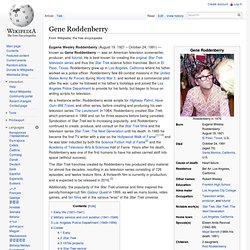 Star Trek is an American science fiction entertainment franchise created by Gene Roddenberry and currently under the ownership of CBS and Paramount.[Note 1] Star Trek: The Original Series and its live action TV spin-off shows, Star Trek: The Next Generation, Star Trek: Deep Space Nine, Star Trek: Voyager and Star Trek: Enterprise as well as the Star Trek film series make up the main canon. There has also been Star Trek: The Animated Series.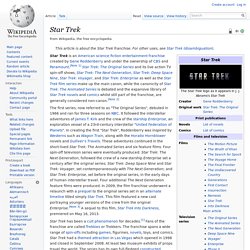 Ex Astris Scientia - Bernd Schneider's Star Trek Site
09.04.14 Here are our Observations in TNG: "Clues". See the story of Data's big secret in an extensive screen cap gallery at TrekCore. 06.04.14 Presenting our next article: Observations in TNG: "Devil's Due". Our friends at TrekCore have created a gallery with 449 HD screen caps from the episode. 04.04.14 Here is our next article: Observations in TNG: "The Wounded". See how Captain Picard deals with Captain Maxwell and the Cardassians on 373 HD screen caps, including the new ships of the Nebula class and the Galor class, at TrekCore.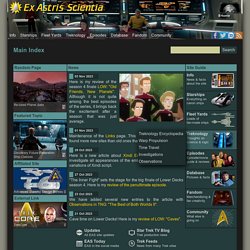 Krystine Marie Leone was a Starfleet officer. She served during the 24th century, from 2349 until at least 2366. In 2365, she was promoted to the rank of captain and placed in command of the USS Farragut (NCC-60597). (Star Trek: Full Speed Ahead)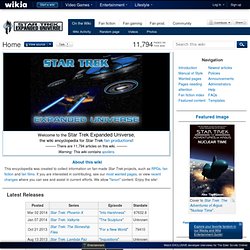 Star Trek Expanded Universe - Fan fiction, RPG, fan films
The Star Trek Encyclopedia (9780671536091): Michael Okuda, Denise Okuda, Debbie Mirek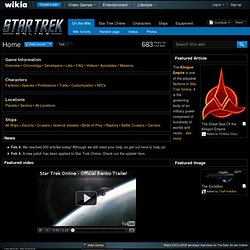 Star Trek Online Wiki - Characters, Ships, Equipment, Guides, Fleets, & more!
News Feb 4: We reached 300 articles today! Although we still need your help, so get out here to help us! Feb 4: A new patch has been applied to Star Trek Online. Check out the update here.
Star Trek: The Original Series
The show is set in the Milky Way galaxy, roughly during the 2260s. The ship and crew are led by Captain James T. Kirk (William Shatner), first officer and science officer Mr. Spock (Leonard Nimoy), and chief medical officer Leonard McCoy (DeForest Kelley).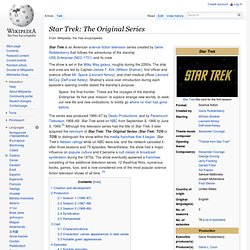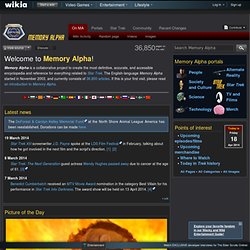 Memory Alpha is not endorsed, sponsored, or affiliated with CBS Studios Inc. or the "Star Trek" franchise.The Star Trek trademarks, logos, and related names are owned by CBS Studios Inc., and are used under "fair use" guidelines.The user-created content of this site is released under the Creative Commmons "Attribution-NonCommercial" license version 2.5, which can be found here. See Memory Alpha: Copyrights for more information.