Searchengine
Realtime. Soovle. Omgili Forum Search - Find out what people are saying. Spezify. Fefoo search. BingTweets. Bing. Topsy. New Search Engine Duck Duck Go. OneRiot.com - Find the Pulse of the Web.
Twazzup. Clustering Engine. Carrot2 Search Results Clustering Engine Carrot2 organizes your search results into topics.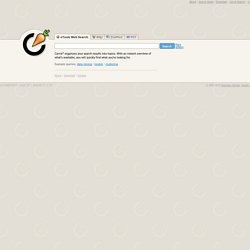 With an instant overview of what's available, you will quickly find what you're looking for. Choose where to search: PicFindr: Free stock photo and image search. The Future of Document Search. Topmarks Education: teaching resources, interactive resources, w. DeepDyve - Search for Research. Twitter Search. iCamp SQI service search box. Let me google that for you.
---