Management tools
Change Management. Chaos and Complexity. It would come as a surprise to some that they deal with complexity and chaos routinely.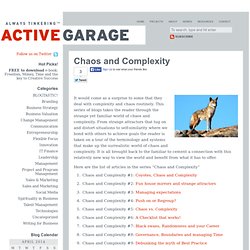 This series of blogs takes the reader through the strange yet familiar world of chaos and complexity. From strange attractors that tug on and distort situations to self-similarity where we bond with others to achieve goals the reader is taken on a tour of the terminology and systems that make up the surrealistic world of chaos and complexity. It is all brought back to the familiar to cement a connection with this relatively new way to view the world and benefit from what it has to offer. Flexible Focus. William Reed, a bilingual bestselling author living for almost 4 decades in Japan, takes us on a tour of how to Master the Mandala Chart, an innovative thinking and planning tool which helps you achieve life/work balance with a flexible perspective.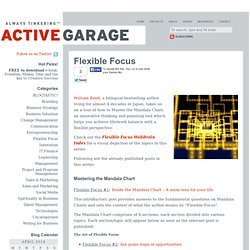 Check out the Flexible Focus WebBrain Index for a visual depiction of the topics in this series Following are the already published posts in this series: Mastering the Mandala Chart.
70: The Carp of Creativity. If you have ever been in Japan in early May then you will remember how the landscape is covered with carp streamer kites (koinobori), suspended on high poles and streaming in the wind.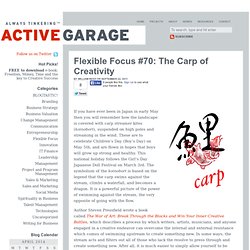 These are to celebrate Children's Day (Boy's Day) on May 5th, and are flown in hopes that boys will grow up strong and healthy. This national holiday follows the Girl's Day Japanese Doll Festival on March 3rd. The symbolism of the koinobori is based on the legend that the carp swims against the stream, climbs a waterfall, and becomes a dragon. It is a powerful picture of the power of swimming against the stream, the very opposite of going with the flow. Author Steven Pressfield wrote a book called The War of Art: Break Through the Blocks and Win Your Inner Creative Battles, which describes a process by which writers, artists, musicians, and anyone engaged in a creative endeavor can overcome the internal and external resistance which comes of swimming upstream to create something new.
William Reed: Home. Flexible Focus. 30 Useful iPad Apps for Business & Presentation. Apple sold more than 1 million copies of iPads in the first 3 months.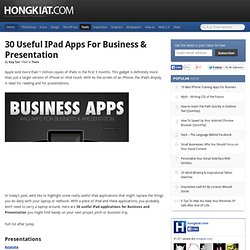 This gadget is definitely more than just a larger version of iPhone or iPod touch. With 4x the screen of an iPhone, the iPad's display is ideal for reading and for presentations. In today's post, we'd like to highlight some really useful iPad applications that might replace the things you do daily with your laptop or netbook. Project, Task, Time Management. Stepcase Lifehack 50 Tricks to Get Things Done Faster, Better, and More Easily. We all want to get stuff done, whether it's the work we have to do so we can get on with what we want to do, or indeed, the projects we feel are our purpose in life.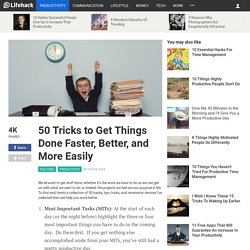 To that end, here's a collection of 50 hacks, tips, tricks, and mnemonic devices I've collected that can help you work better. Most Important Tasks (MITs): At the start of each day (or the night before) highlight the three or four most important things you have to do in the coming day. Why Time Management is Dumb. Guest post by Kola Olaosebikan You probably know lots of people that do their best work when they are sweating bullets under tight deadlines.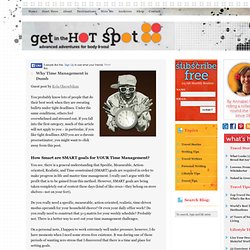 Under the same conditions, others feel overwhelmed and stressed out. If you fall into the first category, much of this article will not apply to you – in particular, if you like tight deadlines AND you are a chronic procrastinator, you might want to click away from this post. How Smart are SMART goals for YOUR Time Management? Simple Living Manifesto: 72 Ideas to Simplify Your Life | Zen Ha. "Simplicity is the peak of civilization." – Jessie Sampter By Leo Babauta A simple life has a different meaning and a different value for every person.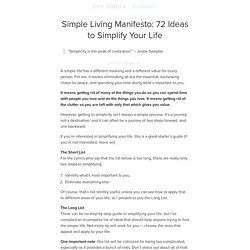 29 Semi-Productive Things I Do Online When I'm Trying to Avoid R. Post written by: Marc Chernoff Email You don't always have to work hard to be productive.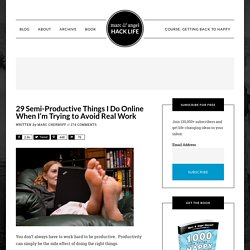 Productivity can simply be the side effect of doing the right things. Working Better: How to Carve Out Time to Think - Business. Every three months, GOOD releases our quarterly magazine, which examines a given theme through our unique lens.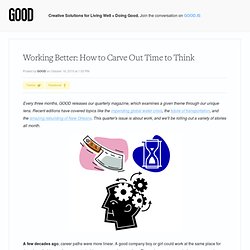 Recent editions have covered topics like the impending global water crisis, the future of transportation, and the amazing rebuilding of New Orleans. This quarter's issue is about work, and we'll be rolling out a variety of stories all month. Time Management Essentials: 13 Routines For Improving Your Life. I'm usually against adopting strict, boring routines in my lifestyle, unless they can really improve the quality of my life.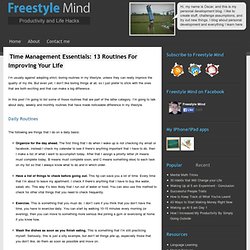 But even yet, I don't like boring things at all, so I just prefer to stick with the ones that are both exciting and that can make a big difference. In this post I'm going to list some of those routines that are part of the latter category. I'm going to talk about daily, weekly and monthly routines that have made noticeable difference in my lifestyle. Daily Routines The following are things that I do on a daily basis: How to Find Enough Time to Do Everything You Want. We could all do with a few more hours in the day. There are so many different things we want to do, in every aspect of our lives. We want to improve our financial status, get further with our career, take part in the hobbies which bring us alive, and give something back to the world. No wonder we get overwhelmed. 80 Ways to Steal Valuable Minutes for Your Work Day : Lifestyle.
How to Find Time to Learn Something New or Tackle a Passion Project. Don't make random lists of exciting things you'd like to accomplish. Try to pick just one. (This is very, very hard.) How To Find Time For… Everything! Advertisement Time management is one of the most important skills a freelance worker can learn. With a good time management system you can easily find the time to do the things that are important to you, whether in your professional or personal life. Time Management/Focus. Project, Task, Time Management. Productivity 1. Weekis - week planner, todo list, task manager. The Official Time-Waster's Guide v3.0.
---