Management tools
Change Management
Chaos and Complexity
It would come as a surprise to some that they deal with complexity and chaos routinely.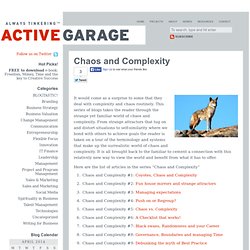 Flexible Focus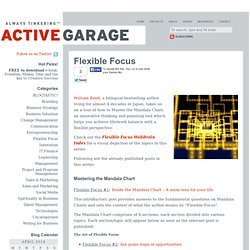 William Reed, a bilingual bestselling author living for almost 4 decades in Japan, takes us on a tour of how to Master the Mandala Chart, an innovative thinking and planning tool which helps you achieve life/work balance with a flexible perspective.
70: The Carp of Creativity
If you have ever been in Japan in early May then you will remember how the landscape is covered with carp streamer kites (koinobori), suspended on high poles and streaming in the wind. These are to celebrate Children's Day (Boy's Day) on May 5th, and are flown in hopes that boys will grow up strong and healthy.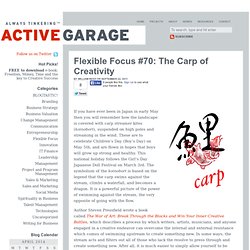 William Reed: Home
Flexible Focus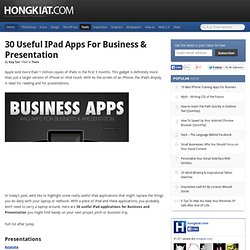 Apple sold more than 1 million copies of iPads in the first 3 months.
Project, Task, Time Management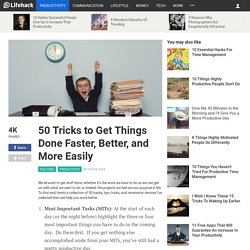 We all want to get stuff done, whether it's the work we have to do so we can get on with what we want to do, or indeed, the projects we feel are our purpose in life. To that end, here's a collection of 50 hacks, tips, tricks, and mnemonic devices I've collected that can help you work better. Most Important Tasks (MITs): At the start of each day (or the night before) highlight the three or four most important things you have to do in the coming day.
Guest post by Kola Olaosebikan
Why Time Management is Dumb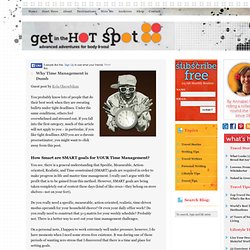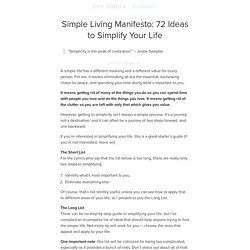 "Simplicity is the peak of civilization." – Jessie Sampter By Leo Babauta A simple life has a different meaning and a different value for every person.
post written by: Marc Chernoff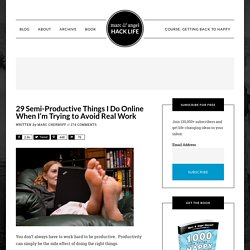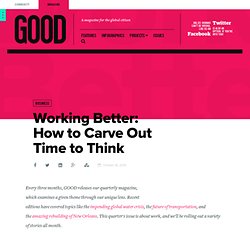 Every three months, GOOD releases our quarterly magazine, which examines a given theme through our unique lens. Recent editions have covered topics like the impending global water crisis, the future of transportation, and the amazing rebuilding of New Orleans. This quarter's issue is about work, and we'll be rolling out a variety of stories all month.
Working Better: How to Carve Out Time to Think - Business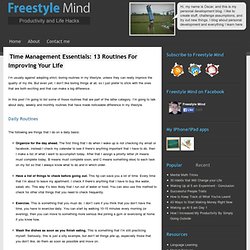 I'm usually against adopting strict, boring routines in my lifestyle, unless they can really improve the quality of my life. But even yet, I don't like boring things at all, so I just prefer to stick with the ones that are both exciting and that can make a big difference.
Time Management Essentials: 13 Routines For Improving Your Life
We could all do with a few more hours in the day.
How to Find Enough Time to Do Everything You Want
SExpand You've got a career, friends, family, and a mountain of other responsibilities that have a monopoly on your time. So how, amidst all those time-consuming responsibilities, do you find time to learn something new or tackle a passion project?
How to Find Time to Learn Something New or Tackle a Passion Project
How To Find Time For… Everything!
Advertisement Time management is one of the most important skills a freelance worker can learn. With a good time management system you can easily find the time to do the things that are important to you, whether in your professional or personal life.
Project, Task, Time Management
The Official Time-Waster's Guide v3.0