Literacy resources
L_f_tor_Persuasive_Writing. Digital Storytelling. Storyline Online.
Tricky words. Cornwall Council - Examples of KS1 medium term planning from the. Due to some essential maintenance a number of online services will be unavailable from Friday 18 April 8am until Sunday 20 April at 9pm.
Unavailable services include; School admissions, Online planning register, library account and catalogue, council tax and benefits system, mapping, building control forms, job applications, my area page, payments and leisure bookings. We apologise for any inconvenience caused. Cornwall Council - Early Years Foundation Stage - Resources and. » Top 10 Phonics Activities in Letters and Sounds Literacy Resources. We have been leading a lot of phonics work recently; training, supporting, demonstrating, working alongside and using the lesson study model of support with much more to come this term.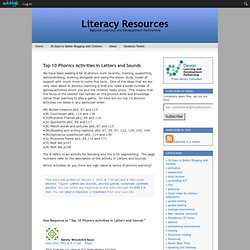 One of the ideas that we are very clear about in phonics teaching is that you need a small number of games/activities which you and the children really enjoy. This means that the focus of the session can remain on the phonics skills and knowledge rather than learning to play a game. So here are our top 10 phonics activities not listed in any particular order: •B) Buried treasure p60, 87 and 115.
FS/KS1 literacy by strand. Assessment and Progression in Reading A3 _July 2011_.doc. Learning objectives | Poetry. Reading%20-%20tricky%20words%20linked%20to%20Letters%20and%20Sounds. MarkingLadders. Key%20Skills%20in%20Writing. Key%20Skills%20in%20Reading. PF_Literacy_by_year_alt. Question%20Hand. Planning : Primary Framework for Literacy : Mixed Age Summaries : Year 1 and Year 2. Sorry, you have reached an area of our website that is no longer freely available.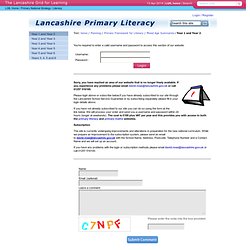 If you experience any problems please email david.rose@lancashire.gov.uk or call 01257 516100. Please login above or subscribe below.If you have already subscribed to our site through the Lancashire School Service Guarantee or by subscribing separately please fill in your login details above. If you have not already subscribed to our site you can do so using the form at the link below. We will process your order and send you a username and password within 24 hours (longer at weekends).
The cost is £100 plus VAT per year and this provides you with access to both the primary literacy and primary maths websites. New_Framework_Year_1_Units_Overview. SATs Revision Made Easy! - Past Paper Questions. Teaching Resources, Classroom Resources & Lesson Plans - TES Resources. Grammar for Writing (Key Stage 2) Publication date: Sep 2000 DCSF ref: Audience: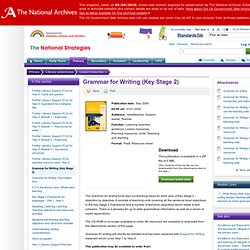 Text Level: General Ficition (Story) Writing. Primary Literacy resources: KS1 skills – Key Stage 1 early word and sentence level work. KS1 phonic, word and sentence level teaching resources Books by Julia Donaldson and Axel Scheffler (1 resource) Oxford Reading Tree Stage 2 stories (2 resources) Oxford Reading Tree Stage 4 Floppy's Phonics (1 resource)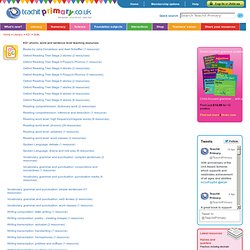 Alan Peat
KS2 Bitesize: English - Writing.
---