Manchester Evening News
Free and legal music downloads. Scribd. Kyama. Amazon. Rdf. France. Beautiful Word Clouds. MocksUp: Easily Create & Share Mockups. Mockingbird is a new tool which makes creating and sharing website mockups a cakewalk.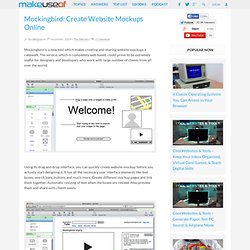 The service, which is completely web based, could prove to be extremely useful for designers and developers who work with large number of clients from all over the world. Using its drag and drop interface, you can quickly create website mockup before you actually start designing it. Deconstructing Hate Sites. Porn. Help. Factual Home - Factual. Cacoo - Create diagrams online Real time collaboration. Toolbar. Online Public Access. Lynnylouwho. Free Timeline - Create, store, print timelines absolutely free! Business.
Economics. Mint Data. Internet Detective. Ryan3k.
---