Manchester Evening News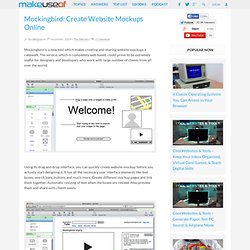 Mockingbird is a new tool which makes creating and sharing website mockups a cakewalk. The service, which is completely web based, could prove to be extremely useful for designers and developers who work with large number of clients from all over the world. Using its drag and drop interface, you can quickly create website mockup before you actually start designing it.
MocksUp: Easily Create & Share Mockups
Good but no use to me personally- except v occasionally. If it was part of one app that included its functionality I would be interested. Too many tools - even if they look nice - need a one stop shop. by peteroberts Sep 25
http://www.inkfruit.com/contest/index/vote/id/17666/ must see by pingletee Sep 24
Toolbar
Free Timeline - Create, store, print timelines absolutely free!