Illu's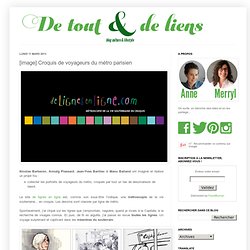 Nicolas Barberon, Annaïg Plassard, Jean-Yves Barillec & Manu Balland ont imaginé et réalisé un projet fou : collecter les portraits de voyageurs du métro, croqués par tout un tas de dessinateurs de talent. Le site de lignes en ligne est, comme son sous-titre l'indique, une métroscopie de la vie souterraine... en croquis. Les dessins sont classés par ligne de métro.
de tout et de liens : blog culture et lifestyle: [image] Croquis de voyageurs du métro parisien
KIRAZ artworks - Site officiel
Daily candies for eyes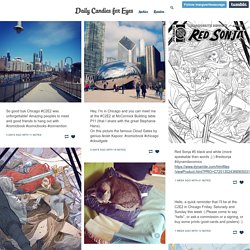 My sweet Biscotte, still the same grumpy cat, she enjoyed the French gardens and countryside while I was in Australia, sparing her 24h plane flight and 1 month of quarantine. But missed her so much…Happy to see her again ! #cat #grumpy #kitty #pet #love Une très bonne année 2014 !
GOOD IS DEAD
Sophie Leblanc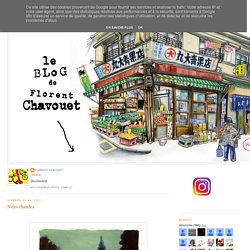 Non, il ne s'agit pas d'un nouveau Yokai, mais d'une nouvelle série. Après les sushis, les vues du mont Fuji, les fenêtres ou les chemises et donc les yokais, j'ai une nouvelle idée et un instant je reste là stupéfait, interdit, c'est pourtant samedi. Cette nouvelle idée c'est de faire des jeux de mots japonais en jonglant avec les nombreuses homonymies que propose cette langue.
Ruth Marten
Cali Rezo,
Main : Carine Brancowitz
FLOe : Book
Tsunami | Des images pour le Japon
Chers auteurs, et chers participants, à tous les enthousiastes qui nous ont accompagné dans le projet Tsunami puis Magnitude 9. Nous voici un an après. Il est difficile de réaliser que douze mois sont passés tant les évènements se sont enchaînés pour nous. D'un petit blog réalisé dans l'urgence, nous sommes passés à un véritable phénomène, une mobilisation générale.
In Shadows : Portfolio
Illustration by : Ed Kwong
Juju's Delivery