Illu's
De tout et de liens : blog culture et lifestyle: [image] Croquis de voyageurs du métro parisien. Nicolas Barberon, Annaïg Plassard, Jean-Yves Barillec & Manu Balland ont imaginé et réalisé un projet fou : collecter les portraits de voyageurs du métro, croqués par tout un tas de dessinateurs de talent.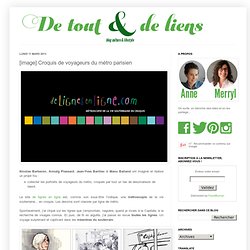 Le site de lignes en ligne est, comme son sous-titre l'indique, une métroscopie de la vie souterraine... en croquis. Les dessins sont classés par ligne de métro. Rebecca Dautremer - Illustratrice - Site Officiel. KIRAZ artworks - Site officiel. Daily candies for eyes. Tj Collins, who's son JayKoo was diagnosed Autism 5 year ago, just launched a kickstarter campaign to raise money for a children's book that will offer encouragement to families with autistic loved ones.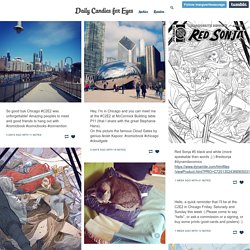 He need your help in getting it funded through this Kickstarter page.You'll get a lot's of rewards for your generous contribution. Please share, as well, as much as you want ! Tonight, the mood is "beauty"… GOOD IS DEAD. Sophie Leblanc. Florent Chavouet. Ruth Marten. Cali Rezo, Main : Carine Brancowitz. FLOe : Book. Tsunami | Des images pour le Japon. DeviantART: where ART meets application! In Shadows : Portfolio. Illustration by : Ed Kwong. Juju's Delivery.
---