Blogs perso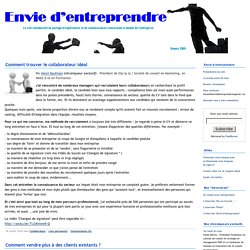 Par Gilles Martin (chroniqueur exclusif) - Président du cabinet de conseil en stratégie et management PMP Oui, on dirait le titre d'un épisode de « Friends » ; et ça y ressemble en effet. Celui qui casse ainsi l'organisation de l'entreprise, c'est le client. Cette réflexion est celle d'un dirigeant, emmêlé dans les réorganisations permanentes que subit le Groupe dans lequel il travaille, toujours accompagnées de plans sociaux, de plans d'économies, de réduction des effectifs.
This post is about the third book in the Tim Ferriss Book Club, which is limited to books that have dramatically impacted my life. Enjoy! "I strongly recommend [The Art of Learning] for anyone who lives in a world of competition, whether it's sports or business or anywhere else." - Mark Messier, 6-Time Stanley Cup Champion "[This book] is a testimonial to the timeless principle of 'do less and accomplish more.' Highly recommended." - Deepak Chopra "Josh provides tools that allow all of us to improve ourselves every day." - Cal Ripken, Jr., Baseball Hall of Fame Inductee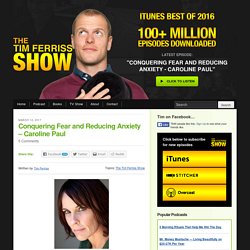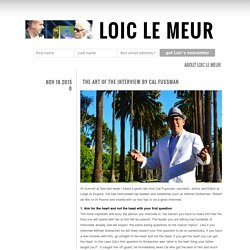 I have always been intrigued by the Quantified Self space and even more now as my conference LeWeb's theme is the Internet of Things, so here is what I'm measuring today: My weight: withings I have been using a wifi scale for nearly 3 years since they launched on stage at LeWeb and my weight graph is public it's pretty interesting to me to see patterns as I get fat during the summer (too much Iberico de para negra ham) and christmas (too much foie gras) and then desperately work on losing it to run the NY marathon in November, and then get fatter again. Maybe one day I will manage to stay low. I need to try the Withings blood pressure device too. Huge fan of withings.
Ariel Arrieta´s blog
Se acaba de anunciar la venta de una empresa de nuestro portfolio: Comenta.tv fue adquirida por Wayin. Desde NXTP Labs apoyamos e invertimos a Comenta.tv en su inicio en Septiembre 2011, tuvimos la suerte de ser su primer inversor, y propiciamos que otros de nuestros … Continue reading BY admin We often hear that it has never been more affordable to create a digital database company. It is also often claimed, that there has never been so much money available in the market for investments. If you have these two … Continue reading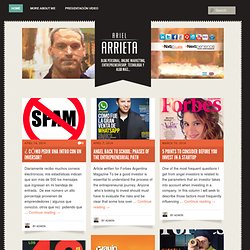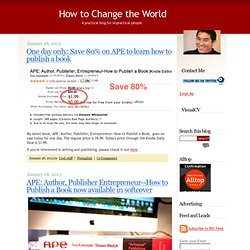 Amazon start selling the paperback edition of my latest book, APE: Author, Publisher, Entrepreneur. APE explains how to publish a book by breaking the process down into three stages: Author explains how to write a book. Publisher explains how to produce both ebooks and printed books.Entrepreneur explains how to market and sell your book with an emphasis on social media. You can order APE here:
¡Es un placer anunciar que Gramofon ya está disponible a través de Kickstarter! Gramofon es un nuevo tipo de "gadget" que une por primera vez WiFi y música. Tiene la funcionalidad de una Fonera pero también funciona con Spotify haciendo posible reproducir en tus altavoces tu música en la nube.