Musique
Morr Music.
Vye Music. Play QueueVye MixAccount Now PlayingCollectionAll Music You are listening to a Vye Mix, click here to return to return to normal play mode.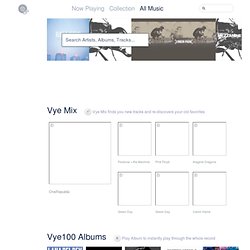 Musique gratuite, Écouter de la musique gratuitement sur we7 Radio - On aime votre musique - Accueil. Folkways Radio. Online Radio Stations, Internet Radio, Free Music | Radio Tuna. Discovery. uWall.tv | Listen to a Wall of Music. TasteKid | Recommends music, movies, books, games. One Track Mind | Archive | Experimental Pop. This cut from the San Francisco duo's third LP resides in the once taboo crossroads of new wave and prog rock.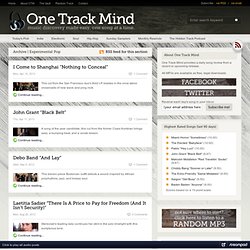 Continue reading... A song of the year candidate, this cut from the former Czars frontman brings sass, a bumping beat, and a vocab lesson. Continue reading... Music-Map - The tourist map of music. TuneGlue° | Relationship Explorer. Handcrafted internet radio | 8tracks. Girl I Wanna Lay You Down | paskeljayne | 2,564 likes | 16. Shuffler.fm. Unhear it - get that damn song out of your head! Indiebuzz Online Radio Player. Indie Remixes! : 1 of 51. Bassnectar - Magical World feat. Nelly Furtado [FREE DOWNLOAD] by Bassnectar. Juzp ~ music box.
Musicovery. Stereomood ? emotional internet radio - music for my mood and activities. Jukesy - music player powered by youtube and last.fm. Free Music - Internet Radio that Plays What You Want! Listen to Music Online Radio Stations. Harvard ~ In Per Morbus. Peter Gabriel- My Body Is A Cage (Oxford London Temple Version) Ofelia Dorme ~ Ian. N'est pas accessible.
Découvertes blog
---