Food
Shit I Want Wednesdays | Roy Reid Comedy - Canada's #1 Source For All Things Comedy. Homemade Snickers Bars | How Sweet It Is - StumbleUpon. Insanity.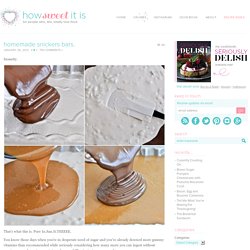 That's what this is. Pure In.San.It.TEEEEE. You know those days when you're in desperate need of sugar and you've already downed more gummy vitamins than recommended while seriously considering how many more you can ingest without causing severe harm to your internal organs? They're just so gooooood. How To… Cook Healthy Mozzarella Sticks | Things Every College Girl Should Know - StumbleUpon.
Photo credit Who says our favorite cheesy foods have to be off limits?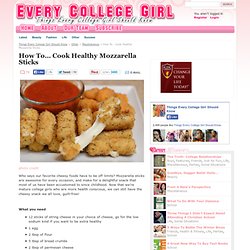 Mozzarella sticks are awesome for every occasion, and make for a delightful snack that most of us have been accustomed to since childhood. Now that we're mature college girls who are more health conscious, we can still have the cheesy snack we all love, guilt-free! What you need 12 sticks of string cheese in your choice of cheese, go for the low sodium kind if you want to be extra healthy1 egg2 tbsp of flour5 tbsp of bread crumbs2 tbsp of parmesan cheeseA dollop of olive oil, or cooking spray.
---