Web
Infinite Scroll | jQuery plugin, Wordpress plugin, interaction design pattern. Screw Hashbangs: Building the Ultimate Infinite Scroll. I'm just a student in a field unrelated to computer science, but I've been coding for years as a hobby.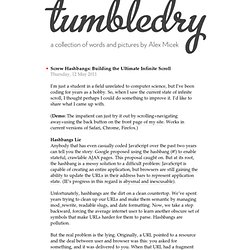 So, when I saw the current state of infinite scroll, I thought perhaps I could do something to improve it. I'd like to share what I came up with. MongoDB. Showoff. CSS3 Keyboard Demo. The Planetarium.
Browsers
Real Time. Front End. PHP. CMS. Performance. Bookmarklets.
---