Typography & Foundries
NeubauLaden
FF Subsetter - Optimize your Web FontFont
Type Foundry Store
Frustro: The Impossible Typeface
Hungarian designer Martzi Hegedűs has created a single typeface, titled Frustro , on the sole premise of making it impossible. Based on the illusion of the Penrose triangle (which is by definition, an impossible object whose creator deemed it "impossibility in its purest form") the type appears to be facing two different directions simultaneously. His diagram explaining the structure of the Frustro "R" is the highlight of his display– it neatly puts together top left and bottom right corners of two 3D renderings of the letter, making it clear how he imagined each letter as an extension of the Penrose triangle. Fascinating– I only wish this was available for download, it looks like a typographer's dream (or perhaps) nightmare come true. [Via Jon Lee. ]
Unified Font Object
RoboFont | The UFO Editor You Have Been Waiting For ;-)
fonts by signalgrau designbureau / catalogue / neutrum
Apercu Mono Regular Up, and after doing some busi Up, and after doing some business at my office abroad to Lumbard Street, about the getting of a good s…
Apercu Mono Regular web font | Fontdeck
ROCKA TYPE on the Behance Network
Lettercase
Buy Fonts | T W O
Jonathan Hill on the Behance Network
The Northern Block - Digital Type Foundry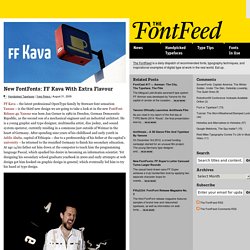 New FontFonts: FF Kava With Extra Flavour
FF Kava – the latest professional OpenType family by freeware font sensation Yanone – is the third new design we are going to take a look at in the new FontFont Release 49 . Yanone was born Jan Gerner in 1982 in Dresden, German Democratic Republic, as the second son of a mechanical engineer and an industrial architect. He is a young graphic and type designer, multimedia artist, disc jockey, and sound system operator, currently residing in a commune just outside of Weimar in the heart of Germany. After spending nine years of his childhood and early youth in Addis Ababa , capital of Ethiopia – due to a professorship of his father at the capital's university – he returned to the reunified Germany to finish his secondary education.
✐ Practice Foundry
Jean-Baptiste Levée | Création de typographies: fonts
OpenType (OT) is a cross-platform type format that includes expert layout features to provide richer linguistic support and advanced typographic control. Using OT technology you can substitute your characters for different glyphs 1 using many different methods; Ligatures, Small Caps, Oldstyle Figures, Fractions, Superscript/Subscript, Ordinals, Alternates, Titling Characters and many more. This beginners guide will help to illustrate some of the more common features found in OT fonts and when they should be used. Small Caps Small-cap glyphs are smaller versions of normal-cap glyphs.
Beginners Guide to OpenType -- MAGNETSTUDIO
DSTYPE
Font
Font List
Fonts and logos for leading brands - Dalton Maag
Just Another Foundry
Klim / Retail / Metric & Calibre Design Information
Klim Type Foundry
Klim Type Foundry
LucasFonts | Home
Schwartzco Inc.
Sophisto SCOSF OT A Gauge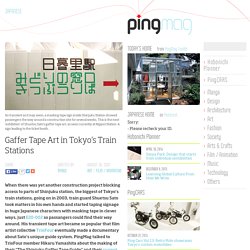 As transient as it may seem, a masking tape sign inside Shinjuku Station showed passengers the way around a construction site for several weeks. This is the next 'exhibition' of Shuetsu Sato's gaffer tape art, as seen currently at Nippori Station: A sign leading to the ticket booth. When there was yet another construction project blocking access to parts of Shinjuku station, the biggest of Tokyo's train stations, going on in 2003, train guard Shuetsu Sato took matters in his own hands and started taping signage in huge Japanese characters with masking tape in clever ways, just so passangers could find their way around. His transient tape art became so popular that film artist collective TrioFour eventually made a documentary about Sato's unique guide system.
Gaffer Tape Art in Tokyo's Train Stations
Type Together : High quality fonts and custom type design
typedifferent.com - Büro Destruct Fonts
TypeFoundries
TypeTrust : Digital Font Boutique
typetype™ - fonts by signalgrau designbureau
unicode
Welcome | Fountain