Tools
50 Free UI and Web Design Wireframing Kits, Resources and Source Files - Smashing Magazine. Advertisement Planning and communication are two key elements in the development of any successful website or application.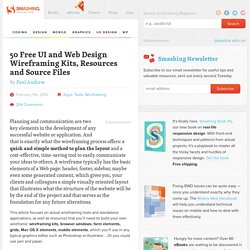 And that is exactly what the wireframing process offers: a quick and simple method to plan the layout and a cost-effective, time-saving tool to easily communicate your ideas to others. A wireframe typically has the basic elements of a Web page: header, footer, sidebar, maybe even some generated content, which gives you, your clients and colleagues a simple visually oriented layout that illustrates what the structure of the website will be by the end of the project and that serves as the foundation for any future alterations. This article focuses on actual wireframing tools and standalone applications, as well as resources that you'll need to build your own wireframe: wireframing kits, browser windows, form elements, grids, Mac OS X elements, mobile elements, which you'll use in any typical graphics editor such as Photoshop or Illustrator.
Anxiety - Lightweight To-do Management. Download the cards - Design with Intent Toolkit. From Design with Intent Toolkit Design with Intent: 101 Patterns for Influencing Behaviour Through Design.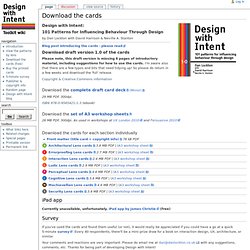 Free Online Whiteboard and Collaboration Tool - Scribblar.com. Kuler. Trailmeme. Google Drawings Wireframing Kit. April 27th, 2010 Morten created a stencil for the Google Drawings addition to Google Docs.
Could be interesting to try. Comparing Google Docs as a wireframing tool to Omnigraffle and Visio, his five outlined advantages include: Wirify homepage – The web as wireframes. xSort is a free card sorting application for Mac OS X.
---