Toolbox
Slack
Privacy Policy Generator. Plus More - TermsFeed. Vizir - Let discover them. MailMatch. UseClark. Bunchcut | Make better, faster decisions on images in a team. WikiWand. Hotjar Insights – Heatmaps, Visitor Playback, Funnel Analysis, Polls and Proactive Chat in One Platform. Legion - One-Click Community, Engaging Discussions. Home « Tinkertask Tinkertask. Near | Professional Networking made Easy. StandupMail - Simple email-based productivity logging. Meeet. Clipped | Summarize Anything. HUBOT. CodersClan - Get Code Done. WikiGrabber. NewsDiffs | Tracking Online News Articles Over Time. Boilerplate for your chrome extension. Another *izr?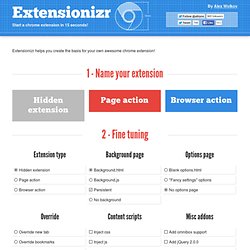 When will this stop Extensionizr is a simple way to jump start your chrome extension development. Just select the type of extension you want, choose permissions and you're off. Why does this exist? Cloud working with WorkHub - Unlock the world's productivity. RetentionGrid | Opportunity Mining and Automated Selling for e-commerce. Algorithmia - Open Marketplace for Algorithms. Bitcoin Alerts & Cryptocurrency Monitoring Made Easy - Coindera. EARLYCLAIM. User Intelligence and Customer Communication | Intercom. SlimWiki — Beautiful Wikis for Teams. Knol.io - A Beautiful Private Knowledge Base Solution.
ViewFlux - Feedback, Prototyping & Collaboration for Designers. Sesame 2 Wireless Lock. Input: Fonts for Code. Semplice. BrightSun. Askadev. Online Banking App - Numbrs. Home - Undagrid | Sensible Connectivity. Have I been pwned? Check if your email has been compromised in a data breach. WeatherGIF: Stay in the loop on the weather. Germ.io: get from ideas to execution. Get Point. Climendo compares and puts together weather forecasts for you.
SocialRank. Sento app. People HR Software | HR Systems | Cloud Hr | UK Online Human Resources Software | Saas. SIDEKICK | Interactive Walkthroughs for Web Apps. Helpful is a simple support tool you won't need help using. Timeful. Home - Do. The New Way To Create Original Content | Scripted. Product Hunt. Duo, the browser for responsive web development from Electric Pulp. Kimono : Turn websites into structured APIs from your browser in seconds. Webhook. Wireframe.cc - minimal wireframing tool - for free.
Slideee.com - #1 Slide Search Engine. Download the Affinity Design Beta. We Help Small Business Grow Online | Elto. What can Elto help me with?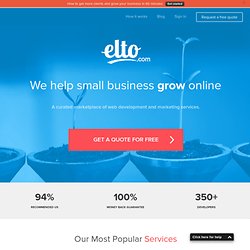 Elto can help you to make any changes to your website to make it better. That includes changes to the look and feel of your site, adding new functionality or fixing anything that might be broken. You can view some examples of our services here or tell us what you need help with here and we'll create a custom quote. Who will do the work on my site? Elto.com hand-picks the best designers, developers and marketers who work on your website. Silent Circle | Private Communications | silentcircle.com. Email Self-Defense - a guide to fighting surveillance with GnuPG encryption. MacDown: The open source Markdown editor for OS X. X.ai is a personal assistant who schedules meetings for you.
Liber.io | Make eBooks. Really simple. Tox: A New Kind of Instant Messaging.
Organize. Supply. Manage. Design resources. Tools. Pearltrees Bugs. Looking for Pearltrees alternatives.
---