To sort out
How Bankers Help Drug Traffickers and Terrorists. LAST month, HSBC admitted in court pleadings that it had allowed big Mexican and Colombian drug cartels to launder at least $881 million.
The bank also admitted to using various schemes to move hundreds of millions of dollars to nations subject to trade sanctions, including Iran, Cuba and Sudan, in violation of the Trading With the Enemy Act. "On at least one occasion," according to a statement by Assistant Attorney General Lanny A. UBS On Euro Break Up: Buy Gold, Tinned Goods and Guns. Fearmongering about "end of the world" scenario disguises technocrat power grab Paul Joseph Watson Prison Planet.com Wednesday, December 7, 2011 As EU technocrats attempt to seize total control over national economies by exploiting the eurozone debt crisis to empower and enrich their own corrupt institutions, top banks like UBS are on hand to supply a helpful deluge of doomsday rhetoric in order to grease the skids for the takeover.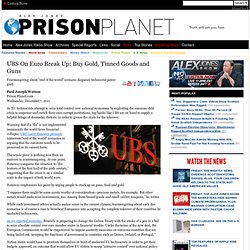 SHOW®/WORLD - A New Way To Look At The World. Interactive: World nuclear club - Interactive. World powers met this week in the Iraqi capital, Baghdad, to expedite a nuclear deal with Iran.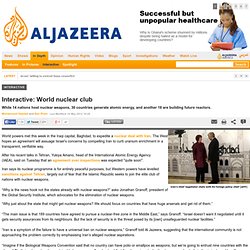 The West hopes an agreement will assuage Israel's concerns by compelling Iran to curb uranium enrichment in a transparent, verifiable way. After his recent talks in Tehran, Yukiya Amano, head of the International Atomic Energy Agency (IAEA), said on Tuesday that an agreement over inspections was expected "quite soon". Iran says its nuclear programme is for entirely peaceful purposes, but Western powers have levelled sanctions against Tehran, largely out of fear that the Islamic Republic seeks to join the elite club of nations with nuclear weapons. Encyclopedia of World Problems and Human Potential: Project Overview. Global land cover change from 8000 BP to -50 BP‬
---