Search the cables
Wikileaks began on Sunday November 28th publishing 251,287 leaked United States embassy cables, the largest set of confidential documents ever to be released into the public domain. Here's how media outlets strive to make the data more accessible than its original form. While the data will be released in stages over the next few months to the general public, five publications around the world have had prior access to the material. New York Times, The Guardian, Le Monde, El País and Der Spiegel were given access on condition that they observed common deadlines over the timings of release. Wikileaks have created a set of interactive visualizations to give an overview over the amount, origin subject, categorization, program, topic and classification of the leaked documents. The visualizations are created using Tableau Public which seems to have a good adoption in the online journalism space lately.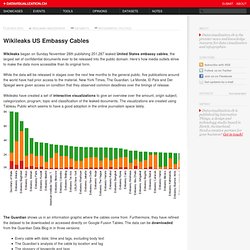 Wikileaks US Embassy Cables on Datavisualization
A full-text visualization of the Iraq War Logs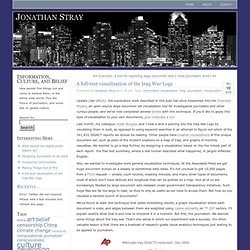 Update (Apr 2012): the exploratory work described in this post has since blossomed into the Overview Project, an open-source large document set visualization tool for investigative journalists and other curious people, and we've now completed several stories with this technique. If you'd like to apply this type of visualization to your own documents, give Overview a try! Last month, my colleague Julian Burgess and I took a shot a peering into the Iraq War Logs by visualizing them in bulk, as opposed to using keyword searches in an attempt to figure out which of the 391,832 SIGACT reports we should be reading. Other people have created visualizations of this unique document set, such as plots of the incident locations on a map of Iraq, and graphs of monthly casualties. We wanted to go a step further, by designing a visualization based on the the richest part of each report: the free text summary, where a real human describes what happened, in jargon-inflected English.
WikiLeaks Archive — A Selection From the Cache of Diplomatic Dispatches - Interactive Feature
WikiLeaks has released the dates, sources and tags of more than 250,000 U.S. diplomatic cables. The website says it will release the complete text of all the cables, but it started with just about 200. You can browse the text of the released cables on the WikiLeaks "Cablegate" website. You can use the app below created by CBC News to search the dates and sources of all the cables. You can find cables within a certain date range, or originating from a particular embassy or consulate.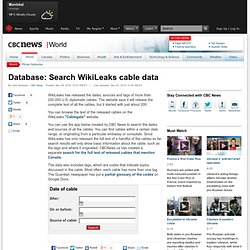 Database: Search WikiLeaks cable data - World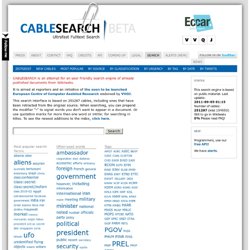 CABLESEARCH is an attempt for an user friendly search engine of documents from Wikileaks. It is aimed at reporters and an initiative of the soon to be launched European Centre of Computer Assisted Research endorsed by VVOJ . This search interface is based on 251287 cables, including ones that have been retracted from the original source. When searching, you can prepend the modifier "-" to signal words you don't want to appear in a document. Or use quotation marks for more than one word or intitle: for searching in titles.
This website hosts an archive of all 251,287 US Embassy diplomatic cables that were released by WikiLeaks between November 28, 2010 and September 2, 2011. While the cables are generally available at http://wikileaks.org/cablegate.html , we find it hard to search or even navigate the site to read the cables. We have made all 251,287 cables available here at Dazzlepod with the hope to make it easier for readers to browse, search, share and discuss about the released cables.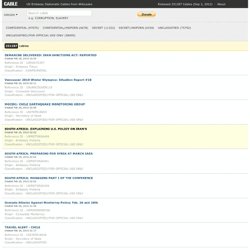 Cables from WikiLeaks
The U.S. Embassy Dispatches - SPIEGEL ONLINE - News
WikiLeaks embassy cables: download the key data and see how it breaks down | World news
WikiLeaks cables broken down. Click image for full graphic. Illustration: Finbarr Sheehy for the Guardian