Sau Paolo no advertising
Roberto Rocco's photos tagged with saopaulo. Badge creator Use Flickriver Badge Creator to create a badge linking to your photos, your group or any other Flickriver view.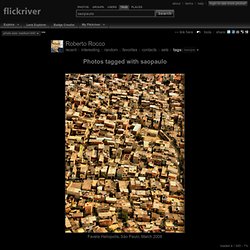 You can place your badge on your Flickr profile, Blog or Website. Add to your iGoogle or Netvibes page Flickriver widget for iGoogle or Netvibes can display almost any Flickriver view - most interesting today, by user, by group, by tag etc. ROJO® - contemporary art projects. International Outdoor Urban Art Exhibition sponsored by J&B. 20 selected artists create specific artworks to be exposed in 44 giant billboards across streets of Barcelona's metropolitan area.
Artwork by: Eboy, Masha Krasnova-Shabaeva, Robert Hardgrave, Ovni, Apo Fousek, Benedita Feijo & Michael Andersen, Kill Pixie, Wagner Pinto, Fupete, Hvass+Hannibal, Javier Tles, Momo, Pancho Tolchinsky, Vasava, Stephen Smith / NCC, Protey Temen, Claudio Parentela, Yomar Augusto, Alexander Egger, Bruno 9li. In cooperation with: RojoOut Urban Stage São Paulo. SÃO PAULO'S NEXT MOVE. In an unprecedented move in the war against visual pollution, São Paulo, Brazil banned all outdoor advertising in 2007.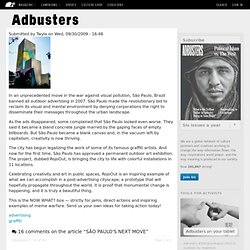 São Paulo made the revolutionary bid to reclaim its visual and mental environment by denying corporations the right to disseminate their messages throughout the urban landscape. As the ads disappeared, some complained that São Paulo looked even worse. São Paulo No Logo. A stripped billboard serves as a reminder of former times of ubiquitous advertisments.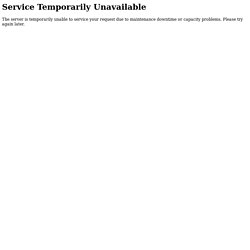 São Paolo 2007. Photo by Tony de Marco . At the beginning of this year, a new law in São Paulo, Brazil, drastically changed the cityscape practically overnight: No advertisements, no billboards, no posters anywhere! In an attempt to clean up urban surfaces and crack down on illegal sticker action, everything had to come down. Though not the first city to introduce such drastic measures, it nevertheless is a beautiful sight for contemplating our beloved consumeristic habits. São Paulo Bans Outdoor Ads in Fight Against Pollution. São Paulo's skyline.Photo by Danorbit via Flickr In January, the city of São Paulo, Brazil, enacted a ban on virtually all outdoor advertising.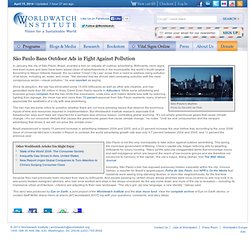 Billboards, neon signs, and even buses and taxis have been wiped clean of advertisements in the municipality, the world's fourth largest. According to Mayor Gilberto Kassab, the so-called "Clean City Law" arose from a need to address rising pollution of all kinds, including air, water, and noise. "We decided that we should start combating pollution with the most conspicuous sector—visual pollution," he was reported as saying.
Since its adoption, the law has eliminated some 15,000 billboards as well as other ads citywide, and has generated more than $8 million in fines, David Evan Harris reports in Adbusters. Sao Paolo advertising goes underground | City OutDoor. Source: Financial Times (www.ft.com, author: Vincent Bevins) Four years ago, the streets of São Paulo, South America's biggest city, were strewn with advertising.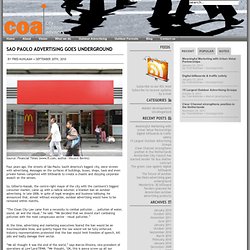 Messages on the surfaces of buildings, buses, shops, taxis and even private homes competed with billboards to create a chaotic and dizzying corporate assault on the senses. So, Gilberto Kassab, the centre-right mayor of the city with the continent's biggest consumer market, came up with a radical solution: a blanket ban on outdoor advertising.
Learn More. Imagine a city of 11 million inhabitants stripped of all its advertising.
It's nearly impossible when the clutter and color of our current urban landscapes seem inextricably entwined with the golden arches of McDonald's or the deep reds of Coca-Cola. Yet for the residents of São Paulo, Brazil, this doesn't require imagination: city dwellers simply have to walk down the street and look around to see a city devoid of advertisements. In September 2006, São Paulo's populist mayor, Gilberto Kassab, passed the so-called "Clean City Law," outlawing the use of all outdoor advertisements, including on billboards, transit, and in front of stores.
Before being enacted, the law triggered grave alarm among city businesses and other economic constituents. Critics worried that the advertising ban would entail a revenue loss of $133 million and a net job loss of 20,000. Gilberto Kassab. Gilberto Kassab (Portuguese pronunciation: [ʒiwˈbɛɾtʊ kaˈsab(ɪ)] or [ʒiwˈbɛʁtu kaˈsab(i)]; born August 12, 1960 in São Paulo) is a Brazilian politician, former mayor of São Paulo.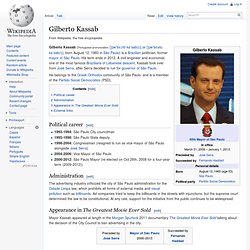 His term ends in 2012. A civil engineer and economist, one of the most famous Brazilians of Lebanese descent, Kassab took over from José Serra, after Serra decided to run for governor of São Paulo. Political career[edit] 1993-1994: São Paulo City councilman1995-1998: São Paulo State deputy1998-2004: Congressman (resigned to run as vice-mayor of São Paulo alongside José Serra)2004-2006: Vice Mayor of São Paulo2006-2012: São Paulo Mayor (re-elected on Oct 26th, 2008 for a four-year term (2009-2012)) São Paulo. São Paulo (/ˌsaʊ ˈpaʊloʊ/; Portuguese pronunciation: [sɐ̃w ˈpawlu] ( The metropolis has the largest economy by GDP in Latin America and Southern Hemisphere.[5] São Paulo has significant cultural, economic and political influence both nationally and internationally.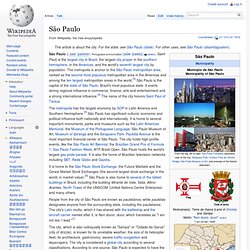 It is home to several important monuments, parks and museums such as the Latin American Memorial, the Museum of the Portuguese Language, São Paulo Museum of Art, Museum of Ipiranga and the Ibirapuera Park. Cidade Limpa. Before Cidade Limpa: Ibirapuera Ave.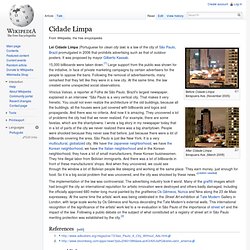 (November 2005) After Cidade Limpa: Ibirapuera Ave. Visual pollution. Pollution is contamination of the environment as a result of human activities. Visual pollution is the term given to unattractive and man-made visual elements of a vista , a landscape , or any other thing that a person does not feel comfortable looking at. Visual pollution is an aesthetic issue, referring to the impacts of pollution that impair one's ability to enjoy a vista or view.
The term is used broadly to cover visibility, limits on the ability to view distant objects, as well as the more subjective issue of visual clutter. visual clutter can be defined as over crowd of things in a small area. Visual clutter disorient people who happen to be at the location. POM Wonderful Presents: The Greatest Movie Ever Sold. POM Wonderful Presents: The Greatest Movie Ever Sold (commonly shortened to The Greatest Movie Ever Sold) is a 2011 documentary film about product placement, marketing and advertising in movies and TV shows, directed by Morgan Spurlock. The premise behind the production is that the documentary itself would be entirely paid for by sponsors, thus being a form of metafilm. The film's slogan is "He's not selling out, he's buying in". People appearing in the film[edit] Besides a great number of sponsoring and non-sponsoring corporate figures appearing in the film, others include: Release[edit]
Ad Ban in São Paulo. Sky Movies: Billboards. Outdoor advertising: Visual pollution. São Paulo: The City That Said No To Advertising. The "Clean City" law passed last year by the populist mayor, Gilberto Kassab, stripped the Brazilian city of all advertising. So how's it looking now? A city stripped of advertising. No Posters. A Happy, Flourishing City With No Advertising - Cities. In 2006, Gilberto Kassab, mayor of São Paulo, Brazil, passed the "Clean City Law. " Citing growing concerns about rampant pollution in his city, Kassab decided enough was enough.
But this was no ordinary piece of pollution legislation. Rather than going after car emissions or litterbugs, Kassab went after the billboards. Yes, you read that right: Kassab wanted to crack down on "visual pollution. " Saying that visual pollution was as burdensome as air and noise pollution, Kassab banned every billboard, poster, and bus ad in São Paulo with the Clean City Law. Scrub Sao Paulo's Graffiti? Not So Fast, London's Tate Says.
A pedestrian walks past a painted mural by Os Gemeos A pedestrian passes a painted mural by Nina Pandolfo A group of men play dominos next to a painted mural. Billboard ban in São Paulo angers advertisers. Clean City: São Paulo Scrubbed of Outdoor Ads. In billboard-less city, can businesses survive? Sao Paulo: A City Without Advertising. São Paulo: A City Without Ads.
---