Sau Paolo no advertising
Badge creator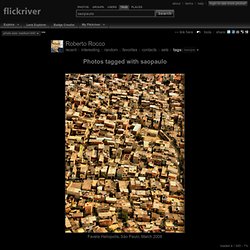 Roberto Rocco's photos tagged with saopaulo
International Outdoor Urban Art Exhibition sponsored by J&B. 20 selected artists create specific artworks to be exposed in 44 giant billboards across streets of Barcelona's metropolitan area. Artwork by: Eboy, Masha Krasnova-Shabaeva, Robert Hardgrave, Ovni, Apo Fousek, Benedita Feijo & Michael Andersen, Kill Pixie, Wagner Pinto, Fupete, Hvass+Hannibal, Javier Tles, Momo, Pancho Tolchinsky, Vasava, Stephen Smith / NCC, Protey Temen, Claudio Parentela, Yomar Augusto, Alexander Egger, Bruno 9li. In cooperation with:
ROJO® - contemporary art projects
RojoOut Urban Stage São Paulo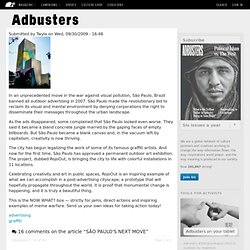 SÃO PAULO'S NEXT MOVE
In an unprecedented move in the war against visual pollution, São Paulo, Brazil banned all outdoor advertising in 2007. São Paulo made the revolutionary bid to reclaim its visual and mental environment by denying corporations the right to disseminate their messages throughout the urban landscape. As the ads disappeared, some complained that São Paulo looked even worse.
São Paulo No Logo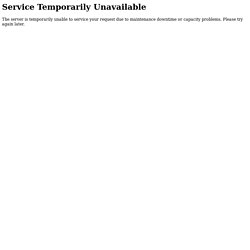 A stripped billboard serves as a reminder of former times of ubiquitous advertisments. São Paolo 2007.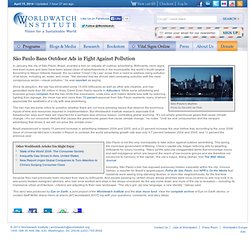 São Paulo Bans Outdoor Ads in Fight Against Pollution
São Paulo's skyline.Photo by Danorbit via Flickr In January, the city of São Paulo, Brazil, enacted a ban on virtually all outdoor advertising.
Sao Paolo advertising goes underground | City OutDoor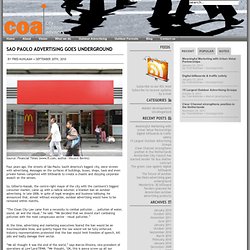 Source: Financial Times (www.ft.com, author: Vincent Bevins)
Imagine a city of 11 million inhabitants stripped of all its advertising. It's nearly impossible when the clutter and color of our current urban landscapes seem inextricably entwined with the golden arches of McDonald's or the deep reds of Coca-Cola.
Learn More
Gilberto Kassab (Portuguese pronunciation: [ʒiwˈbɛɾtʊ kaˈsab(ɪ)] or [ʒiwˈbɛʁtu kaˈsab(i)]; born August 12, 1960 in São Paulo) is a Brazilian politician, former mayor of São Paulo.
Gilberto Kassab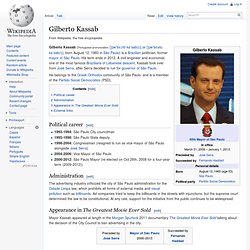 São Paulo
São Paulo (/ˌsaʊ ˈpaʊloʊ/; Portuguese pronunciation: [sɐ̃w ˈpawlu] ( The metropolis has the largest economy by GDP among Latin American and Brazilian cities.[5] São Paulo has significant cultural, economic and political influence both nationally and internationally. It is home to several important monuments, parks and museums such as the Latin American Memorial, the Museum of the Portuguese Language, São Paulo Museum of Art, Museum of Ipiranga and the Ibirapuera Park.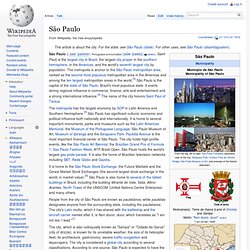 Cidade Limpa
Lei Cidade Limpa (Portuguese for clean city law) is a law of the city of São Paulo, Brazil promulgated in 2006 that prohibits advertising such as that of outdoor posters. It was proposed by mayor Gilberto Kassab. 15,000 billboards were taken down.[1] Large support from the public was shown for the initiative, in face of private marketing campaigns by certain advertisers for the people to oppose the bans.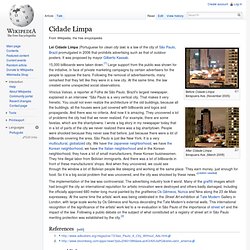 Pollution is contamination of the environment as a result of human activities.
Visual pollution
POM Wonderful Presents: The Greatest Movie Ever Sold
POM Wonderful Presents: The Greatest Movie Ever Sold (commonly shortened to The Greatest Movie Ever Sold) is a 2011 documentary film about product placement, marketing and advertising in movies and TV shows, directed by Morgan Spurlock. The premise behind the production is that the documentary itself would be entirely paid for by sponsors, thus being a form of metafilm.
Ad Ban in São Paulo
Sky Movies: Billboards
Outdoor advertising: Visual pollution
The "Clean City" law passed last year by the populist mayor, Gilberto Kassab, stripped the Brazilian city of all advertising.
São Paulo: The City That Said No To Advertising
A Happy, Flourishing City With No Advertising - Cities
Scrub Sao Paulo's Graffiti? Not So Fast, London's Tate Says
A pedestrian walks past a painted mural by Os Gemeos A pedestrian passes a painted mural by Nina Pandolfo A group of men play dominos next to a painted mural
Billboard ban in São Paulo angers advertisers - The New York Times
Clean City: São Paulo Scrubbed of Outdoor Ads
Super Clean City: São Paulo Scrubbed of Outdoor Ads Article by Steph, filed under Guerilla Ads & Marketing in the Design category. (images via: tony demarco) Outdoor advertising is so ubiquitous in almost every urban setting around the world, it's difficult to walk down a street, take an escalator or sit on a bench without getting slapped in the face with one product or another. But the city of São Paulo, Brazil is like an advertising ghost town: all of its billboards stand oddly blank and empty. In September of 2007, the world's fourth-largest metropolis was scrubbed of almost every type of outdoor advertising – even pamphlets.
In billboard-less city, can businesses survive?
Sao Paulo: A City Without Advertising
São Paulo: A City Without Ads