Photography
Greg Girard. Benedict Redgrove : Home. Main : maria de la iglesia. John Short. /home : Jason Koxvold. About / Contact : Matthias Heiderich. Arkitekturfotograf Rasmus Norlander / Architekturfotografie Rasmus Norlander. Ben Stockley / Yellow Road. Brendan Austin: Studio. Cenci Goepel and Jens Warnecke | Hamburg | Germany. Christian Stoll Photographer. Crop Tops: Strange Agricultural Landscapes Seen From Space | Wired Science. Images: NASA/USGSEgypt The Nile river supports a striking swath of agriculture in Egypt.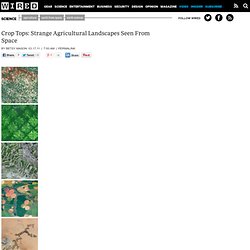 This image was taken by the Landsat-7 satellite on Oct. 19, 2000, after the peak growing season, but the remaining green along with the darker brown soil and scattered grey urban areas show up in clear contrast with the surrounding dry landscape. The line between the two is sharp because the fertile stretch is contained within the walls of the river valley, which can't be seen because the shot was made from directly above the river.Image: NASA/USGSGermany This agricultural area in midwestern Germany also features enormous opencast coal mines, one of which appears in the far right of this simulated-natural-color image, taken by NASA's Terra satellite Aug. 26, 2000. Light green patches are crops, dark green is forest, grey is bare soil or urban areas, and the bright blue and white striped area is the mine.
Dan Holdsworth. David Ryle. Duncanloughrey.co.uk. Earth from Above a collection of aerial photography. Filip Dujardin Photography. FREYTAG. Gatwick : Lee Mawdsley. HOME : Phillip Reed. JAMES MORRIS : photographer. Joe Wright - photographs. Josef Schulz - fotografische Arbeiten. Kiran Master. Kiran Master - Portraits 2. Lee Mawdsley. PHOTOS: A Rare Glimpse Into Daily Life In The Capital Of North Korea. Stephen Vernon Clarke :: Photography & Film. TETTAMANTI. The Hollywood Issue - 14 Actors Acting - James Franco, Natalie Portman, Matt Damon and More - Video Feature. Thomas Bangsted. Tom Robinson Travel Photography: Central America. Welcome to Pyongyang on the Behance Network. YOSHIHIKO UEDA | 上田義彦. よわよわカメラウーマン日記.