Neuromancer The Film
Timothy Leary's 'Neuromancer' video game could have been incredible
Author, researcher, and psychedelic pioneer Timothy Leary could have added another title to his name: creator of an amazing, incredibly weird take on William Gibson's Neuromancer showcased by Wired. Since acquiring Leary's archives in mid-2011, the New York Public Library has been uncovering and publishing details about Leary's work, including fragments of Leary's plans for scrapped computer games. In 1985, he helped develop and publish Mind Mirror, a psychoanalytic game that let players build and role-play personalities — Electronic Arts, which put out the title, reportedly sold 65,000 copies in the two years after release. But according to material that the library released to researchers last week, he also had far more ambitious plans. Among the archives, NYPL discovered a handful of shots of Neuromancer: An Electronic Mind Movie, meant to be a tie-in video game for a film adaptation of the novel.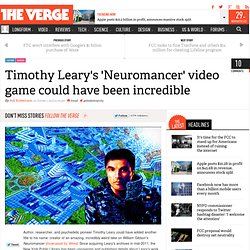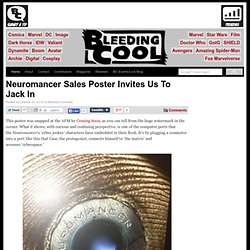 This poster was snapped at the AFM by Coming Soon , as you can tell from the huge watermark in the corner. What it shows, with curious and confusing perspective, is one of the computer ports that the Neuromancer 's 'cyber jockey' characters have embedded in their flesh. It's by plugging a connector into a port like this that Case, the protagonist, connects himself to 'the matrix' and accesses 'cyberspace.' We can presumably take this image as representative of the direction director Vincenzo Natali is taking the aesthetic in-narrative technological logistics of his film. I spoke to Natali about the film many moons ago now, and at that time, he had these plans for how cyberspace will look: [Case] enters what was coined the 'Matrix' but what was actually blatantly lifted by the Wachowski Brothers, so I'm calling it something else, but essentially he goes into this other alternative universe which a kind of platonic universe, where everything is pure and clean and beautiful.
Neuromancer Sales Poster Invites Us To Jack In
Director Vincenzo Natali has been hard at work trying to get an adaptation of William Gibson's cyberpunk novel ' Neuromancer ' into production and it looks like his hard work is beginning to pay off. Not only has the production company GFM Films put up a webpage dedicated to the film and showing off a piece of concept art, it seems that they have also confirmed that offers have gone out to Mark Wahlberg and Liam Neeson . Although not as extensive as a press release, under the News heading on the 'Neuromancer' page is a blurb simply stating "Pay or Play offers have been made to Liam Neeson for Armitage and Mark Wahlberg for Case."
'Neuromancer' Concept Art Surfaces; Offers To Wahlberg And Neeson Confirmed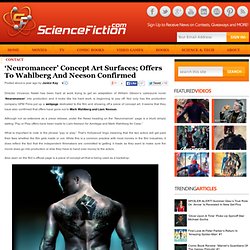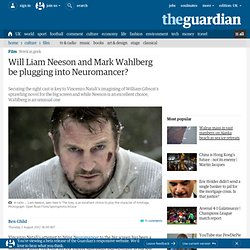 Will Liam Neeson and Mark Wahlberg be plugging into Vincenzo Natali's Neuromancer? | Film
In talks … Liam Neeson, seen here in The Grey, is an excellent choice to play the character of Armitage. Photograph: Open Road Films/Sportsphoto/Allstar Vincenzo Natali's attempt to bring Neuromancer to the big screen has been a long-gestating process, as one might expect from a director who specialises in intelligent genre fare that has not always performed spectacularly at the box office.
Based on the seminal 1984 book by William Gibson which can be said to have legitimised cyberpunk as a mainstream branch of science fiction literature. Case is a low level hustler living out his last days on the streets of the future Tokyo underground. A talented thief who would break into high security computer systems by directly linking his brain into them, he is discovered and injected with a poison which renders him unable to interface into cyberspace. Unable to work, Case embarks on a self-destructive path of drug addiction and double dealings, waiting for a local crime lord to collect on money and time that doesn`t exist. Enter a shady businessman named Armitage who offers him the impossible: the chance to repair his neural damage and regain the life he once had.
Neuromancer « GFM Films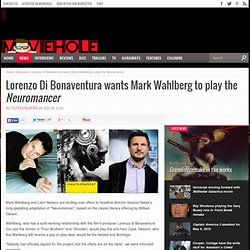 Mark Wahlberg and Liam Neeson are mulling over offers to headline director Vicenzo Natali's long-gestating adaptation of "Neuromancer", based on the classic literary offering by William Gibson. Wahlberg, who has a solid working relationship with the film's producer Lorenzo di Bonaventura (he cast the former in "Four Brothers" and "Shooter), would play the anti-hero Case. Neeson, who like Wahlberg will receive a pay-or-play deal, would be the twisted tool Armitage. "Nobody has officially signed for the project, but the offers are on the table", we were informed overnight. The book that launched the cyberpunk generation tells of Case, "the hottest computer cowboy cruising the information superhighway–jacking his consciousness into cyberspace, soaring through tactile lattices of data and logic, rustling encoded secrets for anyone with the money to buy his skills" and how he ends up double-crossing the wrong people, and has his talent burnt out of his brain, "micron by micron".
Movie, TV & Entertainment News | Film, DVD & Blu-Ray Reviews | Celeb Interviews | Movie Trailers | Freebies | Lorenzo Di Bonaventura wants Mark Wahlberg to play the Neuromancer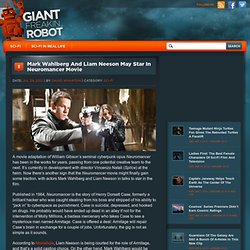 A movie adaptation of William Gibson's seminal cyberpunk opus Neuromancer has been in the works for years, passing from one potential creative team to the next. It's currently in development with director Vincenzo Natali ( Splice ) at the helm. Now there's another sign that the Neuromancer movie might finally gain some traction, with actors Mark Wahlberg and Liam Neeson in talks to star in the film. Published in 1984, Neuromancer is the story of Henry Dorsett Case, formerly a brilliant hacker who was caught stealing from his boss and stripped of his ability to "jack in" to cyberspace as punishment. Case is suicidal, depressed, and hooked on drugs.
Mark Wahlberg And Liam Neeson May Star In Neuromancer Movie
Vincenzo Natali
William Gibson: Quit fretting about Neurom
William Gibson: http://latimesblogs.latime
The Future of Cool — a conversation w... via Interstate /Convozine.com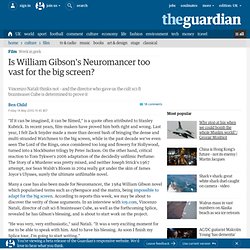 Splice, Vincenzo Natali's latest offering, has received a promising initial reception "If it can be imagined, it can be filmed," is a quote often attributed to Stanley Kubrick.
Is William Gibson's Neuromancer too vast for the big screen? | Week in geek | Film
Vincenzo Natali's NEUROMANCER inches towards being more than just virtual reality
Here is some good news to come out of Cannes. The Canadian / European co-production of Neuromancer , with Twitch favourite Vincenzo Natali in the directors chair, has just got enough foreign capital to begin pre-production. Those familiar with this project know that it has gone through a lot of studios, directors, and writers (about 20 years worth) rivaling only Ender's Game as a 'classic piece of science fiction' that cannot seem to make its way to the big screen.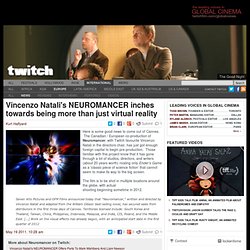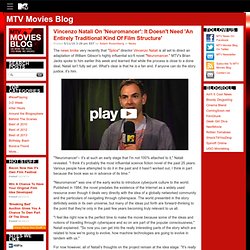 Vincenzo Natali On 'Neuromancer': It Doesn't Need 'An Entirely Traditional Kind Of Film Structure' » MTV Movies Blog
The news broke very recently that " Splice " director Vincenzo Natali is all set to direct an adaptation of William Gibson's highly influential sci-fi novel " Neuromancer ."
Cube director Vincenzo Natali takes over Neuromancer
Vincenzo Natali To Direct Neuromancer Adaptation
Neoromancer is one of the most celebrated Sci-fi novels of all time(and yes, it spawned a comic series!).
by Alex Billington May 19, 2011 It was officially confirmed last summer that Cube and Splice director Vincenzo Natali was attached to direct the adaptation of William Gibson's seminal sci-fi novel Neuromancer .
Vincenzo Natali's 'Neuromancer' Adaptation Has Secured Financing « FirstShowing.net
Last week Cinematical was given the opportunity to talk quite extensively to director Vincenzo Natali about his upcoming creature feature, Splice . We'll be posting that discussion next week ahead of the film's release on June 4th, but in the mean time we wanted to share all of the non- Splice projects Natali talked about. His next project is not currently locked down, but we've known for a few weeks now that the Canadian director is keenly interested in two adaptations of sci-fi books.
Interview: Vincenzo Natali Explains How to Crack 'Neuromancer', 'Snow Crash' and 'High Rise
A few weeks ago, after Splice screened in Boston for the first time, I had the opportunity to sit down with director Vincenzo Natali for a lengthy, 35-minute long interview. Vincenzo spoke about how he first got his start directing films, his attitude towards the Cube sequels, the themes of Splice , and his approach towards adapting Neuromancer and High Rise .
Extended Video Interview: Vincenzo Natali, Director of Splice
TIFF Nexus Panel: Developing William Gibson's Neuromancer as a Game and Film
It's official: Vincenzo Natali is directing Neuromancer - io9
The story of the film version of Gibson's book begins in 2007 when a $70 million budget was announced for a movie adaptation of Neuromancer. Joseph Khan was set to direct but the project never seemed to move forward. It was announced in 2010 that Splice director, Vincenzo Natali , had taken over the reins of the project.
News - Northernstars.ca
Diary: Dervish House, Neuromancer and Turkey cinema
Is William Gibson's 'Neuromancer' the Future of Movies?
William Gibson's cyberpunk classic 'Neuromancer' may finally get to screens | Jacket Copy | Los Angeles Times
Work Is Underway On Vincenzo Natali's Neuromancer Bleeding Cool Comic Book, Movies and TV News and Rumors
'Neuromancer' Goes Into Pre-Production
Spezify