McLuhan
Laws of Media Learning is about learning to ask the right questions. - unknown The Laws of Media are four questions that help us understand the effect of any artifact on our culture, on us.
Tetrad Probes: Laws of Media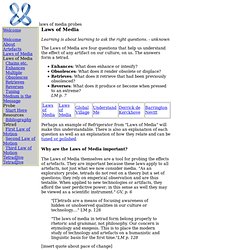 McLuhan Hypothesis McLuhan states that people adapt to their environment through a certain balance or ratio of their senses, and the primary medium of the age brings out a particular sense ratio. McLuhan sees every medium as an extension of some human faculty, with the media of communication thus exaggerating this or that particular sense.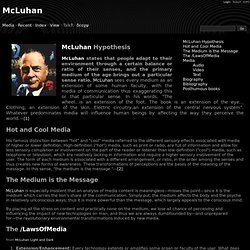 Media : McLuhan
An ad announcing the Marshall McLuhan Dew-Line
McLuhan Meets the Net
By Larry Press Communications of the ACM, Vol 38, No 7, July, 1995, pp 15-20 In 1964, Marshall McLuhan published Understanding Media, a classic discussion of media and their effects on society and the individual.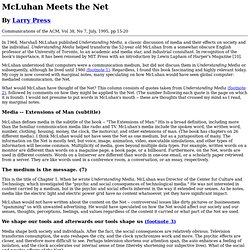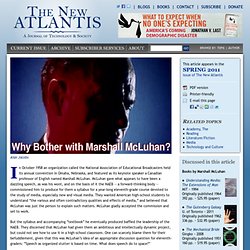 Alan Jacobs In October 1958 an organization called the National Association of Educational Broadcasters held its annual convention in Omaha, Nebraska, and featured as its keynote speaker a Canadian professor of English named Marshall McLuhan.
Why Bother with Marshall McLuhan?
Herbert Marshall McLuhan @ CBC 1967
The Playboy Interview: Marshall McLuhan
A candid conversation with the high priest of popcult and metaphysician of media.From "The Playboy Interview: Marshall McLuhan", Playboy Magazine, March 1969. © Playboy In 1961, the name of Marshall McLuhan was unknown to everyone but his English students at the University of Toronto — and a coterie of academic admirers who followed his abstruse articles in small-circulation quarterlies.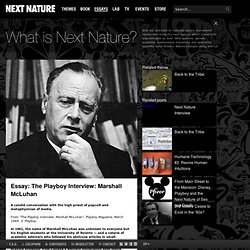 A few days ago I watched Michelangelo Antonioni's classic film Blowup (1966) which consciously addresses the fundamental problem of realism in the arts: the relationship between signs and their meaning.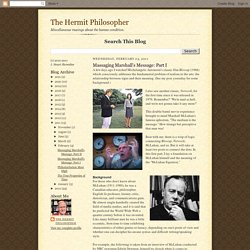 Massaging Marshall's Message: Part I
Photo Credit: Anonymous [Bernhard Living] [Genius Loci]
Marshall McLuhan - Extensions of Man; Critical Analysis
McLuhan Galaxy
McLuhan pointed to the light bulb as an example. A light bulb does not have content in the way that a newspaper has articles or a television has programs, yet it is a medium that has a social effect; that is, a light bulb enables people to create spaces during nighttime that would otherwise be enveloped by darkness. He describes the light bulb as a medium without any content.
Understanding Media: The Extensions of Man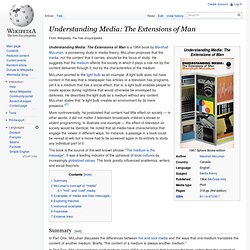 Herbert Marshall McLuhan, CC (July 21, 1911 – December 31, 1980) was a Canadian philosopher of communication theory and a public intellectual.
Marshall McLuhan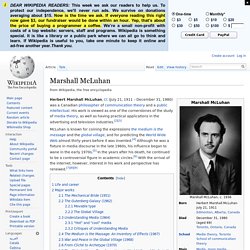 McLuhanisms – MMXI – Marshall McLuhan
Q | Jian on Marshall McLuhan's 100th birthday
identical men from parallel universes