McLuhan
Laws of Media Learning is about learning to ask the right questions. - unknown The Laws of Media are four questions that help us understand the effect of any artifact on our culture, on us.
Tetrad Probes: Laws of Media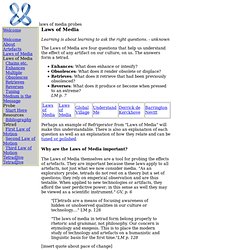 McLuhan Hypothesis McLuhan states that people adapt to their environment through a certain balance or ratio of their senses, and the primary medium of the age brings out a particular sense ratio. McLuhan sees every medium as an extension of some human faculty, with the media of communication thus exaggerating this or that particular sense.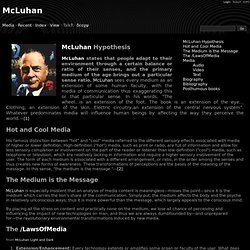 Media : McLuhan
An ad announcing the Marshall McLuhan Dew-Line
McLuhan Meets the Net
By Larry Press Communications of the ACM, Vol 38, No 7, July, 1995, pp 15-20 In 1964, Marshall McLuhan published Understanding Media, a classic discussion of media and their effects on society and the individual.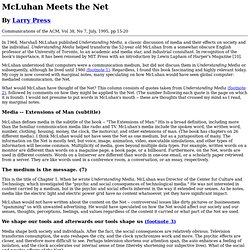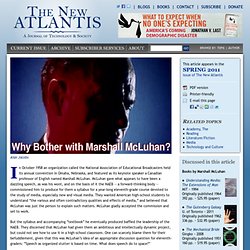 Alan Jacobs In October 1958 an organization called the National Association of Educational Broadcasters held its annual convention in Omaha, Nebraska, and featured as its keynote speaker a Canadian professor of English named Marshall McLuhan. McLuhan gave what appears to have been a dazzling speech, as was his wont, and on the basis of it the NAEB — a forward-thinking body — commissioned him to produce for them a syllabus for a year-long eleventh-grade course devoted to the study of media, especially new and visual media. They wanted American high-school students to understand "the various and often contradictory qualities and effects of media," and believed that McLuhan was just the person to explain such matters. McLuhan gladly accepted the commission and set to work. But the syllabus and accompanying "textbook" he eventually produced baffled the leadership of the NAEB.
Why Bother with Marshall McLuhan?
Herbert Marshall McLuhan @ CBC 1967
The Playboy Interview: Marshall McLuhan
A candid conversation with the high priest of popcult and metaphysician of media.From "The Playboy Interview: Marshall McLuhan", Playboy Magazine, March 1969. © Playboy In 1961, the name of Marshall McLuhan was unknown to everyone but his English students at the University of Toronto — and a coterie of academic admirers who followed his abstruse articles in small-circulation quarterlies. But then came two remarkable books — The Gutenberg Galaxy (1962) and Understanding Media (1964) — and the graying professor from Canada's western hinterlands soon found himself characterized by the San Francisco Chronicle as "the hottest academic property around."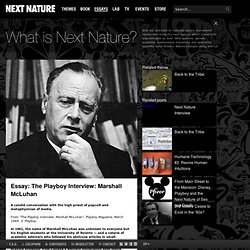 A few days ago I watched Michelangelo Antonioni's classic film Blowup (1966) which consciously addresses the fundamental problem of realism in the arts: the relationship between signs and their meaning. (See my post yesterday for some background.) I also saw another classic, Network, for the first time since it was released in 1976. Remember?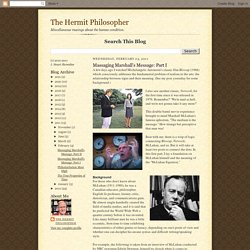 Massaging Marshall's Message: Part I
Marshall McLuhan - Extensions of Man; Critical Analysis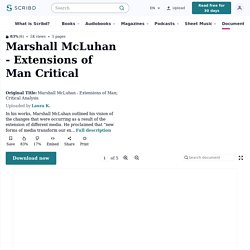 of self actualization, esteem and belonging are the ones associated with the psychological issues. Television culture amputates, many of the close ties of familylife based on oral communication that is a part of this psychological need. When thetelevision is turned on, everyone watches it. In order to hear and understand thecontent of it, nobody speaks and there is a relative silence in "this side of thetelevision set." To overlook a printed medium, alphabetic writing is so efficient inencoding speech that readers of it become dependent on the eye; the resources of theear, and therefore of the memory, are reduced.
McLuhan Galaxy
This will be of interest to McLuhanists and students of Wyndham Lewis, Ezra Pound, T.S. Eliot and modernist art and literature … The publication of the London-based modernist magazine BLAST in June 1914 was the most important artistic event in Britain that year and a transformative moment in the wider milieu of European modernist art and literature. The launch of the Vorticist movement was the culmination of a series of noisy dissociations from other modernist trends in art (most notably the Bloomsbury Group and the Futurists) and marked the creation of England's first real avant-garde art movement. Published a mere seven weeks before the Britain's entrance into the First World War, BLAST also gives a fascinating insight into the combative cultural temper in London immediately prior to the outbreak of war.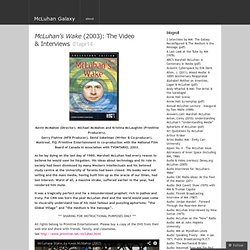 McLuhan pointed to the light bulb as an example. A light bulb does not have content in the way that a newspaper has articles or a television has programs, yet it is a medium that has a social effect; that is, a light bulb enables people to create spaces during nighttime that would otherwise be enveloped by darkness. He describes the light bulb as a medium without any content.
Understanding Media: The Extensions of Man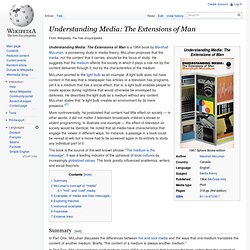 Herbert Marshall McLuhan, CC (July 21, 1911 – December 31, 1980) was a Canadian philosopher of communication theory and a public intellectual. His work is viewed as one of the cornerstones of the study of media theory, as well as having practical applications in the advertising and television industries.[2][3] Life and career[edit] Herbert Marshall McLuhan was born in Edmonton, Alberta, to Elsie Naomi (née Hall) and Herbert Ernest McLuhan.
Marshall McLuhan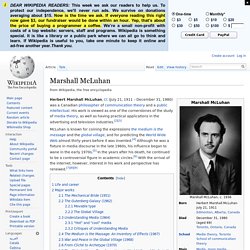 McLuhanisms – MMXI – Marshall McLuhan
Q | Jian on Marshall McLuhan's 100th birthday
identical men from parallel universes