McLuhan
Laws of Media Learning is about learning to ask the right questions. - unknown The Laws of Media are four questions that help us understand the effect of any artifact on our culture, on us.
Tetrad Probes: Laws of Media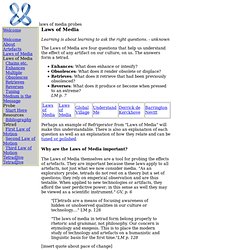 McLuhan Hypothesis McLuhan states that people adapt to their environment through a certain balance or ratio of their senses, and the primary medium of the age brings out a particular sense ratio. McLuhan sees every medium as an extension of some human faculty, with the media of communication thus exaggerating this or that particular sense.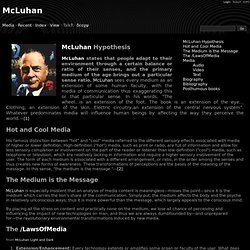 Media : McLuhan
An ad announcing the Marshall McLuhan Dew-Line
McLuhan Meets the Net
By Larry Press Communications of the ACM, Vol 38, No 7, July, 1995, pp 15-20 In 1964, Marshall McLuhan published Understanding Media , a classic discussion of media and their effects on society and the individual.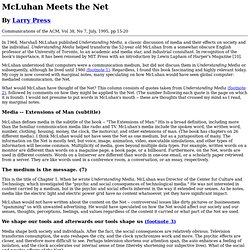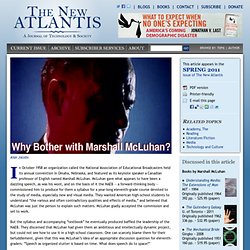 Alan Jacobs I n October 1958 an organization called the National Association of Educational Broadcasters held its annual convention in Omaha, Nebraska, and featured as its keynote speaker a Canadian professor of English named Marshall McLuhan.
Why Bother with Marshall McLuhan?
Herbert Marshall McLuhan @ CBC 1967
The Playboy Interview: Marshall McLuhan
A candid conversation with the high priest of popcult and metaphysician of media. From "The Playboy Interview: Marshall McLuhan", Playboy Magazine, March 1969. © Playboy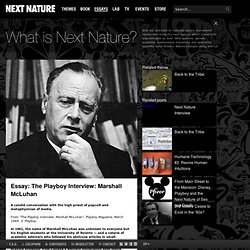 A few days ago I watched Michelangelo Antonioni's classic film Blowup (1966) which consciously addresses the fundamental problem of realism in the arts: the relationship between signs and their meaning.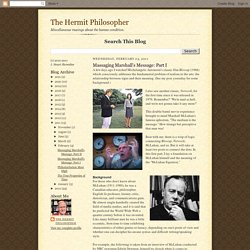 Massaging Marshall's Message: Part I
01 Genius Loci (02.10) [Bernhard Living] [Genius Loci]
Marshall McLuhan - Extensions of Man; Critical Analysis
McLuhan Galaxy
Understanding Media: The Extensions of Man is a 1964 book by Marshall McLuhan . A pioneering study in media theory, it proposes that media themselves, not the content they carry, should be the focus of study. McLuhan suggests that a medium affects the society in which it plays a role not by the content delivered through it, but by the characteristics of the medium itself.
Understanding Media: The Extensions of Man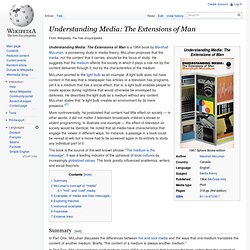 Herbert Marshall McLuhan , CC (July 21, 1911 – December 31, 1980) was a Canadian philosopher of communication theory .
Marshall McLuhan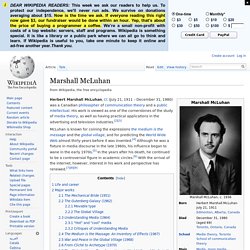 McLuhanisms – MMXI – Marshall McLuhan
Q | Jian on Marshall McLuhan's 100th birthday
identical men from parallel universes