Life hacking
Five Classic Ways to Boost Your Note-Taking - Note-taking - Lifehacker. Glad to see the Cornell Method here.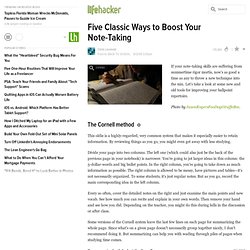 I use it and love it. I would not skip on the summary at the bottom. I've actually never seen or read of it done without it, but nothing wrong with adapting. Though I wouldn't adapt it until I've tried it the was it was intended. 50 Tools and Tricks to Revolutionize Your Notetaking | Distance Learning Net. Whether you're a high school or college student, a small business owner looking to set up a new business plan, or someone who wants to be better organized with your errands, goals and regular to-do lists, there are a variety of tools to keep your notes and tasks safe and filed away online.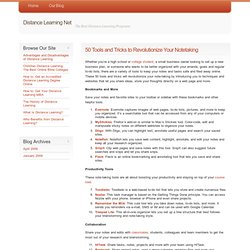 These 50 tools and tricks will revolutionize your note-taking by introducing you to techniques and websites that let you share ideas, store your thoughts directly on a web page and more. Bookmarks and More Save your notes and favorite sites to your toolbar or sidebar with these bookmarks and other helpful tools. Evernote: Evernote captures images of web pages, to-do lists, pictures, and more to keep you organized. It's a searchable tool that can be accessed from any of your computers or mobile devices.MyStickies: Firefox's add-on is similar to Mac's Stickies tool. Brain works more like internet than 'top down' company.
10 August 2010Last updated at 12:53 By Jason Palmer Science and technology reporter, BBC News The way neurons are connected could shed light on how their collective behaviour arises The brain appears to be a vastly interconnected network much like the Internet, according to new research.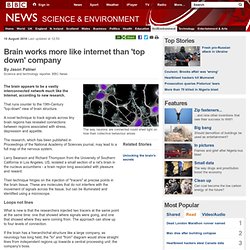 That runs counter to the 19th-Century "top-down" view of brain structure. A novel technique to track signals across tiny brain regions has revealed connections between regions associated with stress, depression and appetite. The research, which has been published in Proceedings of the National Academy of Sciences journal, may lead to a full map of the nervous system. Video for Merlin's "Inbox Zero" talk. Google Tech Talk: Inbox Zero This is the video for my Inbox Zero talk I presented in July of 2007 at Google.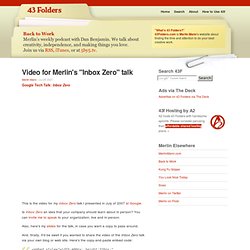 Is Inbox Zero an idea that your company should learn about in person?
---