Kittinger
Parachuting from Space: The Battle For The Legacy Of Joseph Kittinger | Swipelife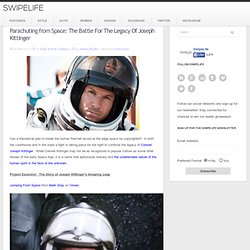 Can a theoretical plan to break the human free-fall record at the edge space be copyrighted?
Space Dive
Joe Kittinger Project Excelsior (Part-3)
Col. Joe Kittinger speaks at the Kircher Society Meeting Pt3
2176991.jpg (3000×2104)
Joe Kittinger pictures
First Man in Space - Skydiving From The Edge Of The World
National Skydiving Museum
Col. Joseph Kittinger, Orlando, FL
Fastest Skydiver Joseph Kittinger The person you are asking about is Joseph Kittinger who accomplished a number of pioneering high-altitude feats during the 1950s and 1960s. Kittinger's most famous first came while he held the rank of Captain in the US Air Force.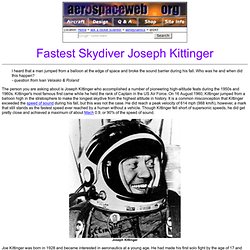 Ask Us - Fastest Skydiver Joseph Kittinger
Joseph Kittinger
Joseph Kittinger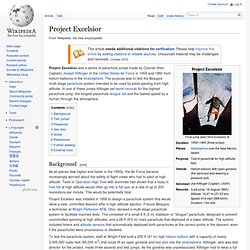 Project Excelsior was a series of parachute jumps made by Colonel (then Captain) Joseph Kittinger of the United States Air Force in 1959 and 1960 from helium balloons in the stratosphere . The purpose was to test the Beaupre multi-stage parachute system intended to be used by pilots ejecting from high altitude. In one of these jumps Kittinger set world records for the highest parachute jump, the longest parachute drogue fall and the fastest speed by a human through the atmosphere.
Project Excelsior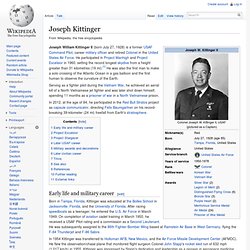 Colonel Joseph William Kittinger II (born July 27, 1928 in Tampa , Florida , United States ) is a former command pilot , career military officer and retired Colonel in the United States Air Force . He is most famous for his participation in Project Manhigh and Project Excelsior , in 1960 setting the record longest skydive , from a height greater than 31 kilometres (19 mi). [ 1 ] He was also the first man to make a solo crossing of the Atlantic Ocean in a gas balloon. Serving as a fighter pilot during the Vietnam War , he achieved an aerial kill of a North Vietnamese jet fighter and was later shot down himself, spending 11 months as a prisoner of war in a North Vietnamese prison.
Joseph Kittinger
Boards of Canada - Dayvan Cowboy (Kittinger+Hamilton) on Vimeo