Dev
Neat Effects, No Code Required. Bounce, swivel, spin.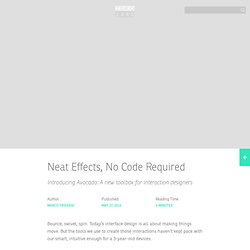 Today's interface design is all about making things move. But the tools we use to create those interactions haven't kept pace with our smart, intuitive enough for a 3-year-old devices. Ubuntu.
To class. Linux tablets. Nokia N950 developer MeeGo. FF addons. IE flaws. Coding resources for beginners. Encryption/encoding. Web. Software Development.
---