Cinéma
Studio HDK. LA DATCHA DE STALINE : Nous avons filmé et reconstitué la datcha de Staline, conservée en l'état par le FSB qui nous a accordé une autorisation exceptionnelle : nous sommes la seule équipe de tournage non russe à y être entré.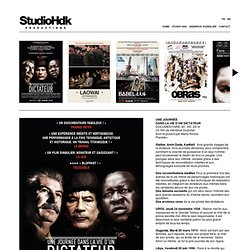 LA CHAMBRE D'AMIN DADA reconstituée à partir de la suite présidentielle de l'Hotel Impérial de Kampala, conservée dans l'état où elle était lorsqu'il y séjournait régulièrement il ya 40 ans. LA MAISON BUNKER DE KADHAFI reconstituée à partir des véritables ruines de Bab el Azeziya, son camp retranché à Tripoli, où nous avons pu pénétrer ; et grâce aux photos prises dans la maison de sa fille Aisha, aujourd'hui inaccessible. Blu-ray Review: Johnny Mnemonic (Japanese import) | High-Def Digest. The Movie Itself: Our Reviewer's Take I never had a problem saying mnemonic before.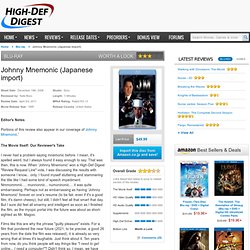 I mean, it's spelled weird, but I always found it easy enough to say. Johnny Mnemonic - Deleted Scenes.
Total Recall 2012
Neuromancer The Film. Blade Runner.
---