Bradeley Manning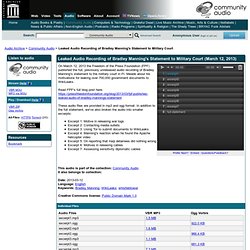 Leaked Audio Recording of Bradley Manning's Statement to Military Court : Free Download & Streaming : Internet Archive
<div style="padding:5px; font-size:80%; width:300px; background-color:white; margin-left:auto; margin-right:auto; border:1px dashed gray;"> Internet Archive's<!--'--> in-browser audio player requires JavaScript to be enabled. It appears your browser does not have it turned on. Please see your browser settings for this feature. </div> On March 12, 2013 the Freedom of the Press Foundation (FPF) published the full, previously unreleased audio recording of Bradley Manning's statement to the military court in Ft.
Yesterday Freedom of the Press Foundation published a full, previously unreleased audio recording of Bradley Manning's speech to the military court about his motivations for leaking the Apache helicopter video, Afghanistan and Iraq Wars Logs, and the State Department Diplomatic Cables to WikiLeaks. In this recording he says in his own voice that he wanted to "spark a domestic debate on the role of the military and our foreign policy in general as it related to Iraq and Afghanistan." He "hoped that the public would be as alarmed as me about the conduct of the aerial weapons team crew members," and he "wanted the American public to know that not everyone in Iraq and Afghanistan are targets that needed to be neutralized, but rather people who were struggling to live in the pressure cooker environment of what we call asymmetric warfare." Bradley Manning's words are powerful.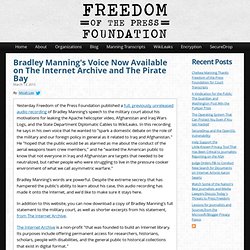 Bradley Manning's Voice Now Available on The Internet Archive and The Pirate Bay | Freedom of the Press Foundation
Providence
Bradley Manning Had Secrets on Vimeo
The following is a letter written by former Army specialist Ethan McCord, in response to the recent profile on Bradley Manning which appeared in New York Magazine on July 3rd, 2011. The profile, which disclosed a previous unreported set of IM logs between Bradley and the blogger Zinnia Jones, focused on Bradley's intimate personal details as a way to explain his alleged act of whistle-blowing, and has been met with fiery response by many who have been closely following his case. Ethan McCord, an army specialist who can be seen in the Collateral Murder video (which Bradley is accused of leaking) pulling wounded children from a civilian van after it was strafed by a U.S. gunship.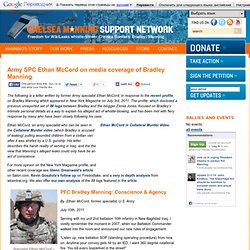 Army SPC Ethan McCord on media coverage of Bradley Manning
UK FRIENDS OF BRADLEY MANNING | Bradley Manning is a UK citizen: tell the UK Government, tell everyone.
Manning-Lamo Chat Logs Revealed | Threat Level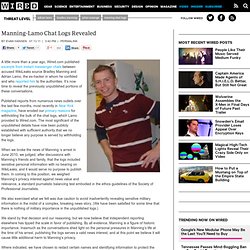 A little more than a year ago, Wired.com published excerpts from instant messenger chats between accused WikiLeaks source Bradley Manning and Adrian Lamo, the ex-hacker in whom he confided and who reported him to the authorities.
On the night of February 21, 2009, a year before Army private Bradley E. Manning allegedly leaked the largest cache of classified information in American history, he sat at a computer in his barracks at Fort Drum in upstate New York.
How Bradley Manning Became One of the Most Unusual Revolutionaries in American History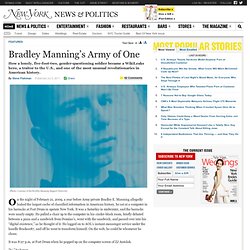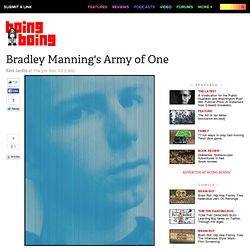 New York Magazine has published "Bradley Manning's Army of One," a feature by Steve Fishman profiling the young soldier accused of serving as a leak source to Wikileaks while serving as an intelligence officer in the Army. Fishman's article about "one of the most unusual revolutionaries in American history" breaks new ground in exploring some of the experiences that may have shaped Manning's life, and some of what might have been happening for the soldier internally before the alleged leaks. That includes gender and sexual identity issues Manning is believed to have been dealing with while in the Army (more to the point, dealing with the hostility and hate from others around those deeply personal matters).
Bradley Manning's Army of One
(CNSNews.com) - At its annual convention in New Orleans, the American Library Association is expected to vote on a resolution calling on the U.S. military to release Bradley Manning, the American soldier accused of leaking more than 250,000 classified diplomatic memos to Wikileaks, Fox News reported.
Report: American Library Assn. Takes Up Resolutions in Support of WikiLeaks, Bradley Manning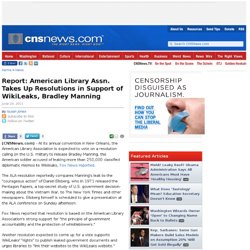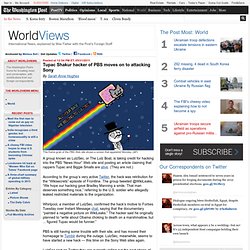 Posted at 12:54 PM ET, 05/31/2011 May 31, 2011 04:54 PM EDT
Tupac Shakur hacker of PBS moves on to attacking Sony - BlogPost - The Washington Post - (Private Browsing)
Bradley Manning will wake up tomorrow, at a military base in Virginia, to his 189th day in custody for the alleged leak of more than 250,000 diplomatic cables to WikiLeaks. Manning, 23, a US army intelligence analyst brought up in the Oklahoma Bible belt and west Wales, is locked up with about half a dozen others in the marine-run facility in Quantico. He has had access to TV news and briefings from his lawyer, but little can have prepared him for the fury of the government he served about the impact of the cables leak.
WikiLeaks cables: Bradley Manning faces 52 years in jail | World news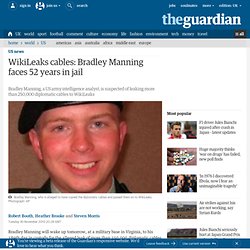 Bradley Manning, the US soldier being held in solitary confinement on suspicion of having released state secrets to WikiLeaks, has spoken out for the first time about what he claims is his punitive and unlawful treatment in military prison. In an 11-page legal letter released by his lawyer, David Coombs, Manning sets out in his own words how he has been "left to languish under the unduly harsh conditions of max [security] custody" ever since he was brought from Kuwait to the military brig of Quantico marine base in Virginia in July last year. He describes how he was put on suicide watch in January, how he is currently being stripped naked every night, and how he is in general terms being subjected to what he calls "unlawful pre-trial punishment". It is the first time Manning has spoken publicly about his treatment, having previously only been heard through the intermediaries of his lawyer and a friend.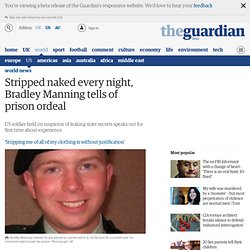 Stripped naked every night, Bradley Manning tells of prison ordeal | World news
WikiLeaks accused Bradley Manning 'should never have been sent to Iraq' | World news
The American soldier at the centre of the WikiLeaks revelations was so mentally fragile before his deployment to Iraq that he wet himself, threw chairs around, shouted at his commanding officers and was regularly brought in for psychiatric evaluations, according to an investigative film produced by the Guardian. Bradley Manning, who was detained a year ago on Sunday in connection with the biggest security leak in US military history, was a "mess of a child" who should never have been put through a tour of duty in Iraq, according to an officer from the Fort Leonard Wood military base in Missouri, where Manning trained in 2007. The officer's words reinforce a leaked confidential military report that reveals that other senior officers thought he was unfit to go to Iraq. "He was harassed so much that he once pissed in his sweatpants," the officer said.
Guilt By Proclamation: Obama Violates Federal Rules By Declaring Bradley Manning Guilty
3278 13 255 Reddit 3007 0 President Barack Obama this week stepped over the line of both protocol and ethics by publicly declaring Bradley Manning guilty of crimes. During a speech, Obama stated Manning "broke the law" to an audience in an act that could be challenged as undue command influence in the military system and violates a long-standing rule of presidents refraining from prejudicing trials.
Les Nations Unies se penchent sur le cas de Bradley Manning
Le soldat Bradley Manning, source présumée de WikiLeaks dans l'affaire de la vidéo d'une "bavure" commise par les troupes américaines en Irak, ne verra pas Juan Mendez, le rapporteur spécial des Nations unies sur la torture, en tête-à-tête.
A Narrative Chronology of Bradley Manning's Alleged Leaks
In January, I did a timeline of the key dates revealed in Manning's July 6, 2010 charging document.
Apparently reacting to enormous backlash from supporters and criticism in the media, PayPal has reinstated the account of Courage to Resist, an organization which has partnered with the Bradley Manning Support Network to raise funds for the defense of accused WikiLeaks whistleblower Bradley Manning. The change in account status came only hours after the nonprofit organization published a press release drawing attention to the matter. Over 10,000 people signed the petition hosted by Firedoglake today urging PayPal to reinstate the charitable account, while many more supporters called PayPal directly to voice their criticisms. Within hours, PayPal responded — reinstating the account so that Courage to Resist and the Bradley Manning Support Network can continue their work.
Archive » PayPal Backs Down, Reinstates Account for Supporters of Bradley Manning
Army: Manning Snuck 'Data-Mining' Software Onto Secret Network | Threat Level
"I'm sorry that I could not be a friend to Manning": Adrian Lamo