Bookmarks
SORRY but this is a personal space I really do not want to collab on those pearls. Jul 2
"Time" is the most used noun in the English language , yet it remains a mystery. We've just completed an amazingly intense and rewarding multidisciplinary conference on the nature of time , and my brain is swimming with ideas and new questions. Rather than trying a summary (the talks will be online soon), here's my stab at a top ten list partly inspired by our discussions: the things everyone should know about time. [Update: all of these are things I think are true, after quite a bit of deliberation. Not everyone agrees, although of course they should.] 1.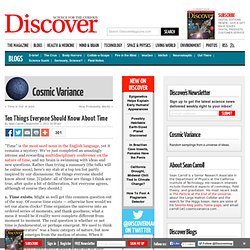 Coinciding with the release of Blade Runner in 1982, David Scroggy published the Blade Runner Sketchbook , a book with 100+ production drawings and artwork for Ridley Scott's classic sci-fi film. The sketchbook features visual work by Scott himself, artist Mentor Huebner, and costume designer Charles Knode, but most notably a slew of drawings by artist, futurist, and illustrator Syd Mead . As Comics Alliance notes, this sketchbook has been out of print for years and scant few paper copies remain available for purchase.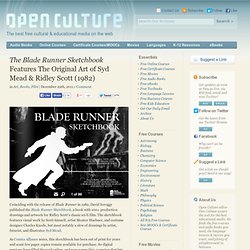 The Blade Runner Sketchbook: The Original Art of Syd Mead and Ridley Scott Online
STUART WILLIS | filmmaker and photographer
Technology Overview
Here we go again. We're getting meta with readings by the great Christopher Walken. It all starts with the actor appearing on a 1993 broadcast of the British TV series "Saturday Zoo" hosted by Jonathan Ross, and he's reading and riffing on the beloved fairy tale, The Story of the Three Little Pigs . The potentially terrifying story is uncharacteristically jolly. Walken goes for laughs, not chills.
Christopher Walken Reads The Three Little Pigs, The Raven, and a Little Lady Gaga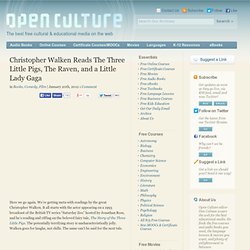 Jinrui wa Suitai Shimashita The Bread Guide [HD]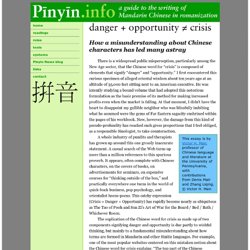 danger + opportunity ≠ crisis
There is a widespread public misperception, particularly among the New Age sector, that the Chinese word for "crisis" is composed of elements that signify "danger" and "opportunity." I first encountered this curious specimen of alleged oriental wisdom about ten years ago at an altitude of 35,000 feet sitting next to an American executive. He was intently studying a bound volume that had adopted this notorious formulation as the basic premise of its method for making increased profits even when the market is falling.
Washing Machine Is Destroyed By A Brick
Hotpoint Washer Tears Itself Apart - Grand Final Day Entertainment
GrafRank: Global Graffiti Statistics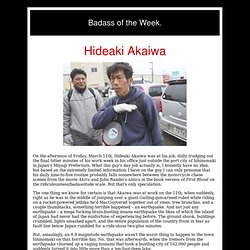 Hideaki Akaiwa
Hideaki Akaiwa On the afternoon of Friday, March 11th, Hideaki Akaiwa was at his job, dully trudging out the final bitter minutes of his work week in his office just outside the port city of Ishinomaki in Japan's Miyagi Prefecture. What this guy's day job actually is, I honestly have no idea, but based on the extremely limited information I have on the guy I can only presume that his daily nine-to-five routine probably falls somewhere between the motorcycle chase scenes from the movie Akira and John Rambo's antics in the book version of First Blood on the ridiculousness/badassitude scale. But that's only speculation. The one thing we know for certain is that Akaiwa was at work on the 11th, when suddenly, right as he was in the middle of jumping over a giant Gatling-gun-armed robot while riding on a rocket-powered jetbike he'd MacGuyvered together out of vines, tree branches, and a couple thumbtacks, something terrible happened – an earthquake.