Bookmarks
SORRY but this is a personal space I really do not want to collab on those pearls.
Perc & Passarella Death Squad - Temperature's Rising (Original Mix) SYLVAN ESSO, "COFFEE" Live at the Wilderness Bureau. MOOG SOUND LAB | Sylvan Esso | Hey Mami.
Satellite Reign
KuldarLeement's deviantART Gallery. Tobiee's deviantART gallery. LORENA .G on Behance. Little Miss Architect - architecture, interiors and movie set designs.: Grand Budapest Hotel set design | MOVIE SET DESIGNS. Grand Budapest Hotel Director: Wes Anderson Production designer: Adam Stockhausen As the production designer says the German style Jugendstil (in France called Art Nouveau) was the primary influence for the hotel's decor, however, we can also see many Art Deco inspired elements.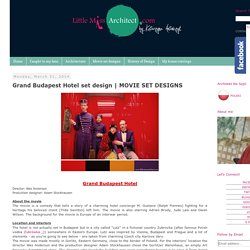 An interesting thing is the hotel's surrounding, created as flat background. The filmmakers found inspiration in 19th century paintings by Caspar David Friedrich (below). His creations are foggy, airy, rich in color landscape paintings. Unfortunately I haven't seen the movie yet (it has just hit the theaters in Poland) but I will this week and I can't wait to do it! Project 2501 – Homage to ghost in the shell.
Brad Kunkle. ASCII art by Meph. EGA/VGA connectedMousedriver installed Microsoft(R) - DOS 6.2 C:\>type chakra.txt MMMMM.
Repair stuff. Stuff. Kids. You are here. Humour. Kittinger. In case of emergency. G33K.
---