Biosphere
Africa's Western black rhino declared extinct
Africa's Western black rhino has officially been declared extinct and other subspecies of rhinoceros could follow, according to the latest review by a leading conservation organization. The International Union for Conservation of Nature listed the Northern white rhino in central Africa as "possibly extinct in the wild" and the Javan rhino as "probably extinct" in Vietnam. The organization blamed a lack of political support for conservation efforts in many rhino habitats, international organized crime groups targeting the animal, increasing illegal demand for rhino horns and commercial poaching. PHOTOS: Threatened with extinction "In the case of both the Western black rhino and the Northern white rhino, the situation could have had very different results if the suggested conservation measures had been implemented," Simon Stuart, chairman of IUCN's Species Survival Commission, said in a statement Thursday.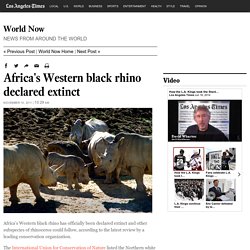 Colombian environmental authorities have reported a huge shark massacre in the Malpelo wildlife sanctuary in Colombia's Pacific waters, where as many as 2,000 hammerhead, Galápagos and silky sharks may have been slaughtered for their fins. Sandra Bessudo, the Colombian president's top adviser on environmental issues, said a team of divers who were studying sharks in the region reported the mass killing in the waters surrounding the rock-island known as Malpelo, some 500 kilometres from the mainland. "I received a report, which is really unbelievable, from one of the divers who came from Russia to observe the large concentrations of sharks in Malpelo.
Shark massacre reported in Colombian waters | Environment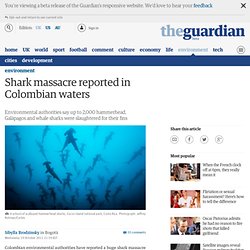 Warning over endangered tuna trade | Environment
Bluefin tuna. Analysis shows the amount traded on the market was 141% higher than the limits set. Photograph: Brian J. Skerry/Getty Images/National Geographic
by DAVID GARDNER Last updated at 23:37 13 June 2007 A giant bowhead whale caught off the coast of Alaska had a harpoon point embedded in its neck that showed it survived a similar hunt – more than a century ago. Biologists claim the find helps prove the bowhead is the oldest living mammal on earth. They say the 13-centimetre arrow-shaped fragment dates back to around 1880, meaning the 50-ton whale had been coasting around the freezing arctic waters since Victorian times. Scroll down for more...
Whale survives harpoon attack 130 years ago to become 'world's oldest mammal'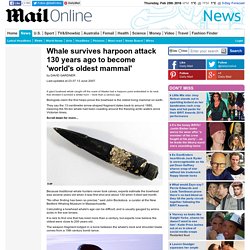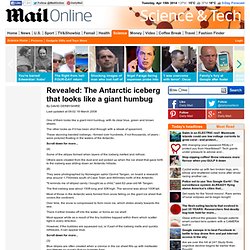 Revealed: The Antarctic iceberg that looks like a giant humbug
By DAVID DERBYSHIRE Last updated at 09:02 18 March 2008 One of them looks like a giant mint humbug, with its clear blue, green and brown stripes. The other looks as if it has been shot through with a streak of spearmint. These stunning banded icebergs - formed over hundreds, if not thousands, of years - were pictured floating in the waters of the Antarctic.
The Curious Case of the Immortal Jellyfish | Discoblog