Web Design
Amazingly Creative Drawing Vs Photography. 28 HTML5 Features, Tips, and Techniques you Must Know | Nettuts+ Twice a month, we revisit some of our readers' favorite posts from throughout the history of Nettuts+.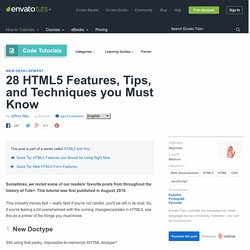 This tutorial was first published in August, 2010. This industry moves fast -- really fast! The 30 CSS Selectors you Must Memorize | Nettuts+ Twice a month, we revisit some of our readers' favorite posts from throughout the history of Nettuts+.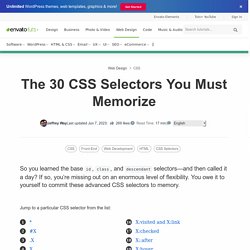 This tutorial was first published in November, 2010. So you learned the base id, class, and descendant selectors - and then called it a day? If so, you're missing out on an enormous level of flexibility. While many of the selectors mentioned in this article are part of the CSS3 spec, and are, consequently, only available in modern browsers, you owe it to yourself to commit these to memory. 15 Handpicked Fresh and Useful jQuery Tutorials. jQuery has really simplified the work flow for web designers.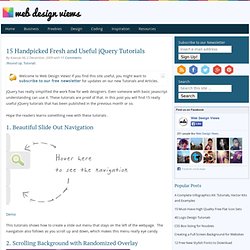 Even someone with basic javascript understanding can use it. These tutorials are proof of that. In this post you will find 15 really useful jQuery tutorials that has been published in the previous month or so. Hope the readers learns something new with these tutorials . 1. CSS3.0 Maker | CSS3.0 Generator | CSS 3.0 Generator | css3 generator. CSS Cheat Sheet. 40 Online Generators for Web Designers Should Bookmark. Online Generators for Web Designers can be a great way to save time in your web design projects.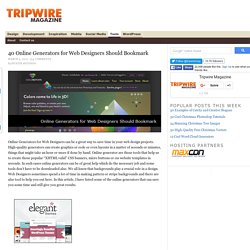 High-quality generators can create graphics or code or even layouts in a matter of seconds or minutes, things that might take an hour or more if done by hand. Online generator are those tools that help us to create those popular "XHTML valid" CSS banners, micro buttons or css website templates in seconds. In such cases online generators can be of great help which do the necessary job and some tools don't have to be downloaded also. We all know that backgrounds play a crucial role in a design. Web Designers sometimes spend a lot of time in making pattern or stripe backgrounds and there are also tool to help you out here. Nice and Free CSS Templates. Making A Cool Login System With PHP, MySQL. Martin Angelov Introduction Today we are making a cool & simple login / registration system.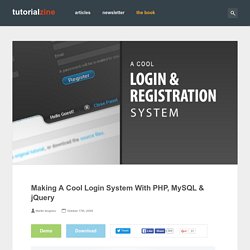 It will give you the ability to easily create a member-only area on your site and provide an easy registration process. It is going to be PHP driven and store all the registrations into a MySQL database. To add the needed flair, we are using the amazing sliding jQuery panel, developed by Web-kreation. 50+ Pattern Sets To Spice Up Your Website's Background | Onextrapixel - S...
Have you ever felt bored with the plain colored background on your website?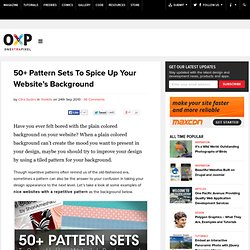 When a plain colored background can't create the mood you want to present in your design, maybe you should try to improve your design by using a tiled pattern for your background. Though repetitive patterns often remind us of the old-fashioned era, sometimes a pattern can also be the answer to your confusion in taking your design appearance to the next level.
Let's take a look at some examples of nice websites with a repetitive pattern as the background below. Some Good Examples Kaleidoscope From Kaleidoscope website, we learn that a patterned background can be combined with some colorful elements and the result is still eye-catching. 50 Powerful Time-Savers For Web Designers - Smashing Magazine. Advertisement Being a web designer is not easy.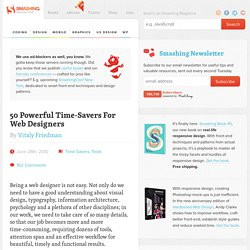 Not only do we need to have a good understanding about visual design, typography, information architecture, psychology and a plethora of other disciplines; in our work, we need to take care of so many details, so that our job becomes more and more time-consuming, requiring dozens of tools, attention span and an effective workflow for beautiful, timely and functional results. And this is where small time-savers become handy. Be it a handy checklist, batch installer, dummy image generator or converter from Excel spreadsheet to HTML — all these things can save us a couple of minutes every day, making our work easier and more efficient.
---