Writing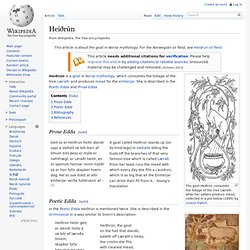 The goat Heiðrún consumes the foliage of the tree Læraðr, while her udders produce mead, collected in a pot below (1895) by Lorenz Frølich . Heiðrún consumes the leaves of Læraðr atop Valhalla in an illustration from an 18th century Icelandic manuscript.
Heiðrún
Tanngrisnir and Tanngnjóstr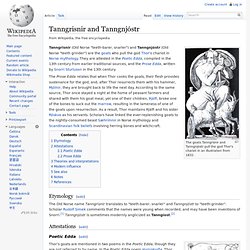 The goats Tanngrisnir and Tanngnjóstr pull the god Thor's chariot in an illustration from 1832. Tanngrisnir (Old Norse "teeth-barer, snarler") and Tanngnjóstr (Old Norse "teeth grinder") are the goats who pull the god Thor 's chariot in Norse mythology . They are attested in the Poetic Edda , compiled in the 13th century from earlier traditional sources, and the Prose Edda , written by Snorri Sturluson in the 13th century. The Prose Edda relates that when Thor cooks the goats, their flesh provides sustenance for the god, and, after Thor resurrects them with his hammer, Mjöllnir , they are brought back to life the next day. According to the same source, Thor once stayed a night at the home of peasant farmers and shared with them his goat meal, yet one of their children, Þjálfi , broke one of the bones to suck out the marrow , resulting in the lameness of one of the goats upon resurrection. As a result, Thor maintains Þjálfi and his sister Röskva as his servants.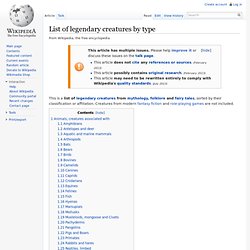 List of legendary creatures by type
This is a list of legendary creatures from mythology , folklore and fairy tales , sorted by their classification or affiliation. Creatures from modern fantasy fiction and role-playing games are not included. [ edit ] Angels [ edit ] Animals, creatures associated with [ edit ] Amphibians
6-letter first names - - NamePlayground.com - the playground of first names
The Thirty-six (plus one) Dramatic Situations Georges Polti says that all stories boil down to just 36 dramatic situations and takeoffs of those situations.
CALLIHOO Writing Idea Generators: The 37 Dramatic Situations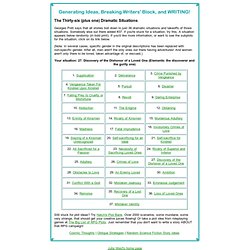 by Philip Martin