Data Tools
Bu-vldb10.
Storage Management
22 free tools for data visualization and analysis. Review April 20, 2011 06:00 AM ET Computerworld - You may not think you've got much in common with an investigative journalist or an academic medical researcher.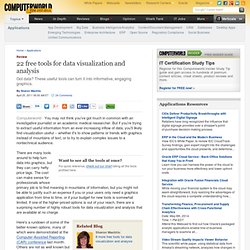 But if you're trying to extract useful information from an ever-increasing inflow of data, you'll likely find visualization useful -- whether it's to show patterns or trends with graphics instead of mountains of text, or to try to explain complex issues to a nontechnical audience. Want to see all the tools at once? For quick reference, check out our chart listing all the tools profiled here.
Geonetwork. Sources. Postgresql.
---