Crowdsourcing
Ryan Holmes in Fortune – Crowdsourcing the CIO. A column by HootSuite CEO Ryan Holmes was featured on the Fortune Magazine website yesterday.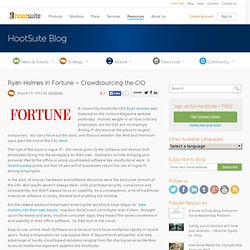 Holmes weighs in on how ordinary employees, not the CIO, are increasingly driving IT decisions at the planet's largest companies. You can check out the story, and find out whether the iPad and freemium apps spell the end of the CIO, here. The root of the issue is rogue IT – the name given to the software and devices that employees bring into the workplace on their own. Examples include bringing your personal iPad to the office or using cloud-based software like HootSuite at work.
Services. Servicios de C en TIC y Diseño. Prize4Life. Prize4Life was founded in 2006 with a singular mission: to accelerate the discovery of treatments and a cure for ALS, a terminal disease whose cause has eluded scientists for over a century.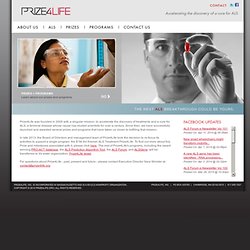 Since then, we have successfully launched and awarded several prizes and programs that have taken us closer to fulfilling that mission. In late 2013, the Board of Directors and management team of Prize4Life took the decision to re-focus its activities to support a single program: the $1M Avi Kremer ALS Treatment Prize4Life. To find out more about this Prize and milestones associated with it, please click here. The rest of Prize4Life's programs, including the award winning PRO-ACT database, the ALS Prediction Algorithm Tool, the ALS Forum, and ALSGene, will be transferred to it's sister organization, Prize4Life Israel.
---