RPG
JAVA Rogue Web
Visit Old Rogue or Hex RogueIf Rogue fails to load, try Rogue Without Save Rogue Rogue returns. Your objective: Find the Amulet of Yendor and return it to level one, or die trying.
DEMISE: Rise of the Ku'tan
Description Arcuz is an Action Role Play Game (Like Diablo or Zelda). You fight with the monsters, train your hero, learn skills, search better weapons and equipments, compose new items using your creativity...and more! Don't be addicted! You got 18 different maps to discover, 25 quests to accomplish, 21 battle skills to learn, more than 10 types of monsters to kill, more than 100 weapons and gears to choose, and unlimited possibility of composition…Those are not all.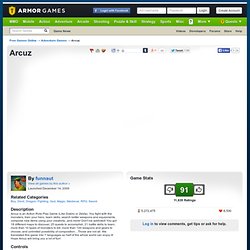 Arcuz | Armor Games
Arcuz - GamersHood Forums
Eukarion Tales ep1: Marcus, the Knight - AGEOFGAMES.NET - RPG an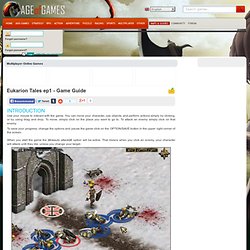 Use your mouse to interact with the game. You can move your character, use objects, and perform actions simply by clicking, or by using drag and drop. To move, simply click on the place you want to go to.
Eukarion Tales ep1 - Game Guide - AGEOFGAMES.NET - RPG and STRAT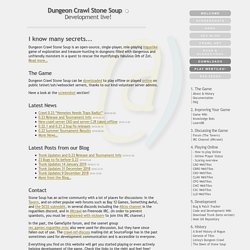 Dungeon Crawl Stone Soup is an open-source, single-player, role-playing roguelike game of exploration and treasure-hunting in dungeons filled with dangerous and unfriendly monsters in a quest to rescue the mystifyingly fabulous Orb of Zot. Read more… The Game Dungeon Crawl Stone Soup can be downloaded to play offline or played online on public telnet/ssh/websocket servers thanks to the good folks at crawl.akrasiac.org (CAO) and crawl.develz.org (CDO). Have a look at the screenshot section!
The Slash'EM Homepage
+------------+ |What's This?| +------------+ From the land before 3DFX, before VGA graphics and DOOM, before the IBM PC, way back in the dark ages of Unixland, there was a game. They called it Rogue. People played it, and found it good.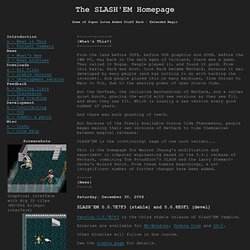 HeroQuest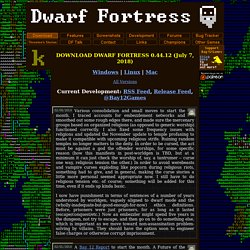 09/23/2012 Been toying around with the trees. I've been working with one set of rules for growing them so far, but I'll be expanding the parameters and pictures soon (for pines, saguaros, tower caps, etc). In the meantime here are some preliminary images. Issues include grass not being dry below trees, branches looping when they shouldn't, 48x48 boundaries being too visible, crowns hitting other artificial boundaries, and so on, but it is going okay so far.
[Leave feedback] [edit] Vegetation [Leave feedback] [edit] Seuss's Tweaked Vegetation [Leave feedback] [edit] Belannaer's Underground trees [Leave feedback] [edit] Therahedwig's darker grass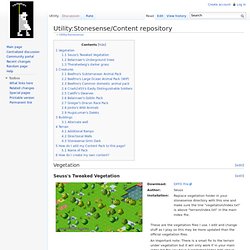 Utility:Stonesense/Content repository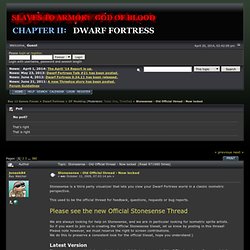 Stonesense - Official thread
Stonesense is a third party visualizer that lets you view your Dwarf Fortress world in a classic isometric perspective. This used to be the official thread for feedback, questions, requests or bug reports. Please see the new Official Stonesense Thread
The Complete and Utter Newby Tutorial for Dwarf Fortress – Part
I've written a book – Getting Started with Dwarf Fortress, available at O'Reilly and Amazon! It covers the current version and takes you from knowing nothing to being a confident Dwarf Fortress player! Note: This version is not the current build. You can still learn how to play DF with this tutorial and you will learn enough to play the new build. If you follow a link to the DF Wiki then try and read the pages for version v0.23.130.23a (see links at the top of each wiki page). Newer versions may have significantly different information.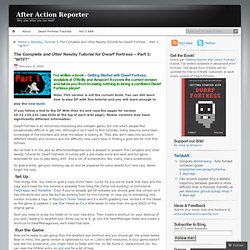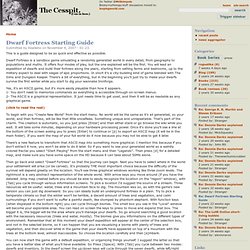 This is a guide designed to be as quick and effective as possible. Dwarf Fortress is a sandbox game simulating a randomly generated world in every detail, from geography to populations and myths. It offers four modes of play, but the one explained will be the first. You will lead an expedition of dwarfs and build their fortress along the years, starting from setting farms and bedrooms, up to the military aspect to deal with sieges of epic proportions.
Dwarf Fortress Starting Guide | The Cesspit.
Slaves to Armok II: Dwarf Fortress - Wikipedia, the free encyclo
Dwarf Fortress is modeled on a complex physics engine and is presented in text-only Code page 437 graphics, in various colors. Every world is generated completely from scratch, and historical events and figures are documented and recorded as game lore, including any and all sentient characters. The game is programmed solely by Tarn Adams, with input from his brother Zach Adams. Work began in 2002, the first alpha was released in August 2006, and development is ongoing.
Key commands