General Studies
Nano-Engineered Bioconstructs Perform Photosynthesis Faster Than Nature Does. Scientists have been trying for a while now to recreate the process of photosynthesis, using sunlight and water to spark chemical reactions.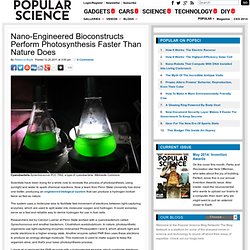 Now a team from Penn State University has done one better, producing an engineered biological system that can produce a hydrogen biofuel twice as fast as nature. The system uses a molecular wire to facilitate fast movement of electrons between light-capturing enzymes, which are used to split water into molecular oxygen and hydrogen. It could someday serve as a fast and reliable way to derive hydrogen for use in fuel cells. Bokeh Photography Effect. How Differential Gear works must see 100% 112th Congress (2011-2012. CSI Knowledge: How Bloodstain Pattern Analysis Works (Infographic) You know how it goes: Right before Horatio Caine puts on his sunglasses and throws off a corny one-liner as the The Who screams, the forensics team is looking at a blood splatter on the wall and determining that it was a gunshot wound from close range by a six-foot tall, left handed shooter who wore sandals and had a limp.
READ MORE: Whisky, Buried in Antarctic Ice for 100 Years, is Finally Ready for You to Drink Far fetched? Maybe not. You'd be surprised at the amount of detail a simple blood spatter can reveal. Linear Algebra Lecture Notes. Classical Mechanics. Quantum Mechanics. Academic Earth | Online Courses | Academic Video Lectures.