Artículos
News & Research Portal for Reporters
The Walking Dead Season Three Will Be 16 Episodes
Existe algo más dramático que la última despedida entre Humbert Humbert y Dolores Haze (su adorada "Lolita, luz de mi vida, fuego de mis entrañas")? Cuando se encuentran en la espantosa casucha donde ella se ha instalado para convertirse en la arruinada máquina de hacer niños de un pobre desgraciado, Lolita no solo le dice a Humbert que nunca va a volver a verlo, sino que lo vuelve loco al describirle las "cosas tan extrañas, sucias y extravagantes" a las cuales la expuso Quilty, el odiado rival de Humbert. "¿Qué cosas exactamente?", pregunta él con voz serena, de una manera en que la palabra "exactamente" nos permite escuchar el doloroso rugido, casi ahogado, de su desgracia y su rabia: "Cosas locas, cosas sucias. Yo me negué, sencillamente no voy a [ella usó con total despreocupación, en realidad, un desagradable término vulgar que en su traducción literal al francés correspondería a souffler ] tus asquerosos chicos...".
Tan gringo como el pie de manzana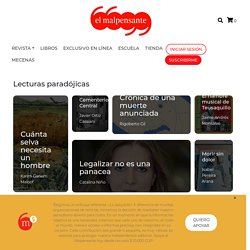 New Venomous Snake Species Discovered in Tanzania
January 14, 2012 by The Atomic Yeti The world's newest snake was discovered in a small patch of southwest Tanzania about two years ago and was introduced last month in an issue of Zootaxa as the world's newest known snake species – named after the 7-year-old daughter of Tim Davenport, director of the Wildlife Conservation Society in Tanzania, who was on the three-person team that discovered the viper. Like this: Like Loading...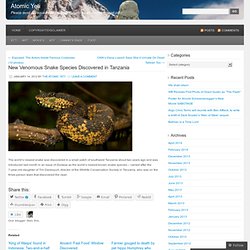 Crearán la 'Barbie Calva'?: Piden a Mattel elaborar muñeca sin pelo para evitar discriminación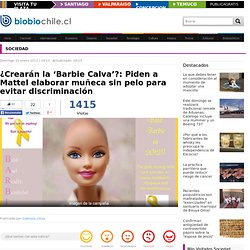 ¿Crearán la 'Barbie Calva'?: Piden a Mattel elaborar muñeca sin pelo para evitar discriminación Imagen: Imagen de la campaña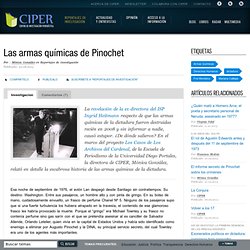 Esa noche de septiembre de 1976, el avión Lan despegó desde Santiago sin contratiempos. Su destino: Washington. Entre sus pasajeros, un hombre alto y con pinta de gringo. En su bolso de mano, cuidadosamente envuelto, un frasco de perfume Chanel Nº 5. Ninguno de los pasajeros supo que si una fuerte turbulencia los hubiera atrapado en la travesía, el contenido de ese glamoroso frasco les habría provocado la muerte.
Las armas químicas de Pinochet