The VC's/Panelists
Wim De Waele - Wikipedia, the free encyclopedia - (Build 20100722150226) Wim De Waele is a Belgian economist and computer scientist.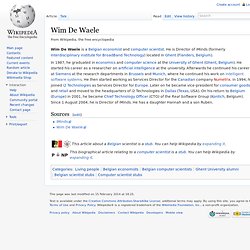 He is Director of iMinds (formerly Interdisciplinary institute for BroadBand Technology) located in Ghent (Flanders, Belgium). In 1987, he graduated in economics and computer science at the University of Ghent (Ghent, Belgium). He started his career as a researcher on artificial intelligence at the university. Afterwards he continued his career at Siemens at the research departments in Brussels and Munich, where he continued his work on intelligent software systems. Gregory C. Gretsch, Managing Director at Sigma + Partners, Venture Capital - (Build 20100722150226) Gregory Gretsch Managing Director Greg joined Sigma in 2000 after 20 years in the tech industry, where he was the founder of 3 successful companies.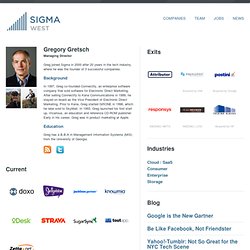 Background. August Capital - Howard Hartenbaum - (Build 20100722150226) Howard Hartenbaum joined August Capital in 2008.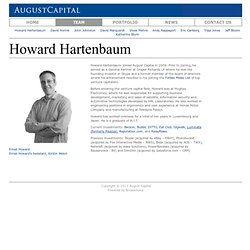 Prior to joining, he served as a General Partner at Draper Richards LP where he was the founding investor in Skype and a former member of the board of directors where his achievement resulted in his joining the Forbes Midas List of top venture capitalists. Before entering the venture capital field, Howard was at Hughes Electronics, where he was responsible for supporting business development, marketing and sales of satellite, information security and automotive technologies developed by HRL Laboratories. He also worked in engineering positions in ergonomics and user experience at Honda Motor Company and manufacturing at Teledyne Relays.
Howard has worked overseas for a total of ten years in Luxembourg and Japan. SAMUEL ANGUS, Start-Up/Venture-Backed Companies, Equity and Debt Financings, Mergers and Acquisitions, Securities Matters, Intellectual Property Licensing : Fenwick & West LLP - (Build 20100722150226) Samuel Angus concentrates his practice on advising start-up/venture-backed companies, seed, venture capital and debt financings, mergers and acquisitions, intellectual property licensing, joint ventures and general corporate matters.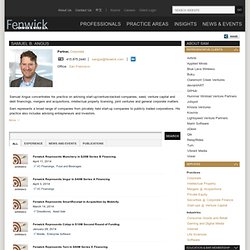 Sam represents a broad range of companies from privately held start-up companies to publicly traded corporations. His practice also includes advising entrepreneurs and investors.
---