RockMelt
RockMelt: Netscape's Andreessen Backing Stealth Facebook Browser
alarm:clock: Andreessen Horowitz Back RockMelt Social Media Browswer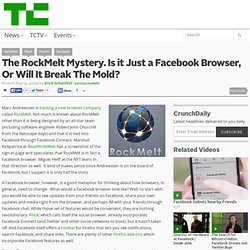 Marc Andreessen is backing a new browser company called RockMelt . Not much is known about RockMelt other than it is being designed by an all-star team (including software engineer Robert John Churchill from the Netscape days) and that it is tied into Facebook through Facebook Connect.
The RockMelt Mystery. Is it Just a Facebook Browser, Or Will It Break The Mold?
RockMelt Web Browser Faces Uphill Climb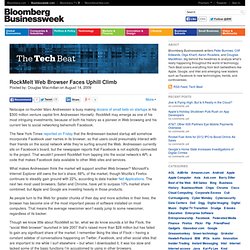 Netscape co-founder Marc Andreessen is busy making dozens of small bets on startups in his $300 million venture capital firm Andreessen Horowitz. RockMelt may emerge as one of his most intriguing investments, because of both his history as a pioneer in Web browsing and his current ties to social networking behemoth Facebook.
RockMelt 101: A Quick Guide to the Mysterious Browser - PCWorld
Have you met RockMelt ? Neither have most people, it seems -- but the Web is definitely a-buzzin' with word of the mysterious new browser. Thanks to a high-profile story in The New York Times , RockMelt's rapidly becoming the talk of the tech community. So what exactly is RockMelt, and who's behind it? Most of the available info is sketchy at best. If you piece it all together, though, you can get a very rough picture of what the browser might be about.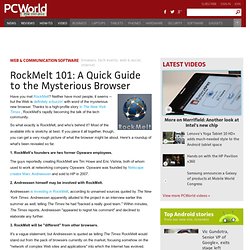 RockMelt
Rockmelt is a proprietary social media web browser developed by Tim Howes and Eric Vishria . The project is backed by Netscape founder Marc Andreessen . [ 2 ] Rockmelt integrates a technique for surfing the web that focuses on Google Search and social media , in particular Facebook and Twitter . [ 3 ] Although the browser was launched in private beta on November 8, 2010 [ 4 ] for desktop, it is not currently supported on the PC or Mac due to work on the iPad and other mobile releases.
RockMelt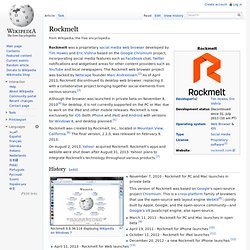 RockMelt
RockMelt (rockmelt) on Twitter