RockMelt
RockMelt: Netscape's Andreessen Backing Stealth Facebook Browser. Netscape founder Marc Andreessen is backing a new browser dedicated to browsing Facebook, called RockMelt, according to rumors we've heard from reputable sources.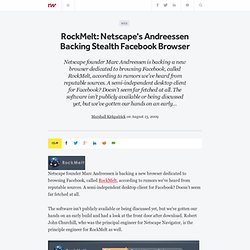 A semi-independent desktop client for Facebook? Doesn't seem far fetched at all. The RockMelt Mystery. Is it Just a Facebook Browser, Or Will It Break The Mold? Marc Andreessen is backing a new browser company called RockMelt.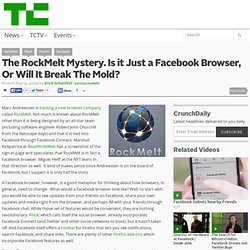 Not much is known about RockMelt other than it is being designed by an all-star team (including software engineer Robert John Churchill from the Netscape days) and that it is tied into Facebook through Facebook Connect. Marshall Kirkpatrick at ReadWriteWeb has a screenshot of the sign-in page and speculates that RockMelt is in fact a Facebook browser. Miguel Helft at the NYT leans in that direction as well. It kind of makes sense since Andreessen is on the board of Facebook, but I suspect it is only half the story. A Facebook browser, however, is a good metaphor for thinking about how browsers, in general, need to change.
RockMelt Web Browser Faces Uphill Climb. Netscape co-founder Marc Andreessen is busy making dozens of small bets on startups in his $300 million venture capital firm Andreessen Horowitz.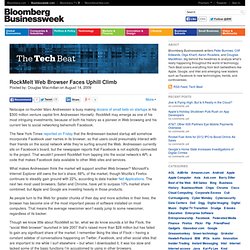 RockMelt may emerge as one of his most intriguing investments, because of both his history as a pioneer in Web browsing and his current ties to social networking behemoth Facebook. The New York Times reported on Friday that the Andreessen-backed startup will somehow incorporate Facebook user names in its browser, so that users could presumably interact with their friends on the social network while they're surfing around the Web.
Andreessen currently sits on Facebook's board, but the newspaper reports that Facebook is not explicitly connected to the project. That wouldn't prevent RockMelt from tapping into the social network's API, a code that makes Facebook data available to other Web sites and services. What makes Andreessen think the market will support another Web browser? RockMelt 101: A Quick Guide to the Mysterious Browser - PCWorld. Have you met RockMelt?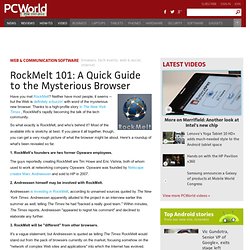 Neither have most people, it seems -- but the Web is definitely a-buzzin' with word of the mysterious new browser. Thanks to a high-profile story in The New York Times , RockMelt's rapidly becoming the talk of the tech community. So what exactly is RockMelt, and who's behind it? Most of the available info is sketchy at best. If you piece it all together, though, you can get a very rough picture of what the browser might be about. RockMelt. RockMelt. RockMelt. Rockmelt was created by Rockmelt, Inc., located in Mountain View, California.[6] The final version, 2.2.0, was released on February 9, 2013.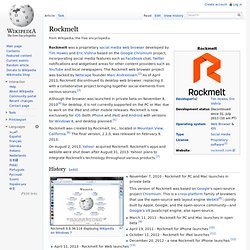 On August 2, 2013, Yahoo! Acquired Rockmelt. RockMelt. RockMelt (rockmelt)
---