Rockmelt Goes Beta!
Greg: For the list of things I d... Brittany Turner: RockMelt: The Video. Wher... Matthew Rogers : Hands-on with RockMelt, th... Does RockMelt (a new social browser coming tomorrow) have the right startup philosophy? CEO Eric Vishria and CTO Tim Howes of RockMelt invited me over on Friday to see a new browser.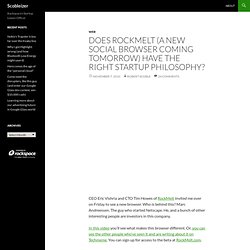 Who is behind this? Marc Andreessen. Be - RockMelt - Your Browser. Re-Imagined.
Matt Binder: Everyone is talking about... Leo Naut: Social media embedded in y... DhilipSiva -CyberMan: #Tech #TechNews RockMelt's...