Rockmelt Goes Beta!
Greg: For the list of things I d
Brittany Turner: RockMelt: The Video. Wher
Matthew Rogers : Hands-on with RockMelt, th
CEO Eric Vishria and CTO Tim Howes of RockMelt invited me over on Friday to see a new browser. Who is behind this? Marc Andreessen.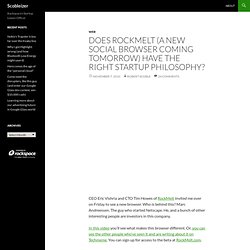 Does RockMelt (a new social browser coming tomorrow) have the right startup philosophy?
be - RockMelt - Your Browser. Re-Imagined.
Matt Binder: Everyone is talking about
Leo Naut: Social media embedded in y
DhilipSiva -CyberMan: #Tech #TechNews RockMelt's