Pearltrees Funding News
Pearltrees Announces $6.7m Funding Says It Will Start Charging For Premium Services. Posted by Tom Foremski - February 15, 2012 Congratulations to Pearltrees, (a former client) on raising 5 million Euros, about $6.7 million in Series B funding.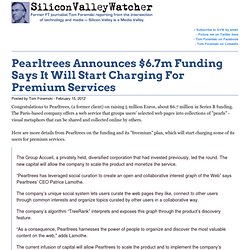 The Paris-based company offers a web service that groups users' selected web pages into collections of "pearls" - visual metaphors that can be shared and collected online by others. Here are more details from Pearltrees on the funding and its "freemium" plan, which will start charging some of its users for premium services. Pearltrees Gets Funding To Chase After Pinterest. So it is not surprising that investment is pouring in, as investors themselves go gaga over the most promising firms.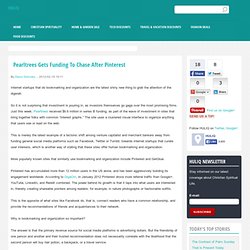 Just this week, Pearltrees received $6.6 million in series B funding, as part of the wave of investment in sites that bring together folks with common "interest graphs." The site uses a clustered visual interface to organize anything that users see or read on the web. This is merely the latest example of a tectonic shift among venture capitalist and merchant bankers away from funding general social media platforms such as Facebook, Twitter or Tumblr, towards internet startups that curate user interests, which is another way of stating that these sites offer human bookmarking and organization. More popularly known sites that similarly use bookmarking and organization include Pinterest and GetGlue. Pinterest has accumulated more than 12 million users in the US alone, and has been aggressively building its engagement worldwide. Pearltrees Raises $6.7M For Its "Collaborative Interest Graph" Pearltrees, a company offering a novel interface for sharing and finding content, has raised 5 million euros ($6.7 million US) in new funding.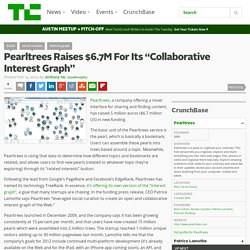 The basic unit of the Pearltrees service is the pearl, which is basically a bookmark. Users can assemble these pearls into trees based around a topic. What the heck is an interest graph? Pearltrees raises $6.6M to show us. Social curation startup Pearltrees has just sealed a deal for €5 million (around $6.6 million), all in the name of creating a better interest graph.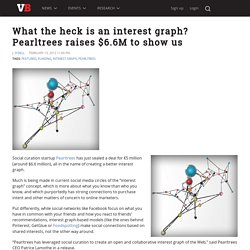 Much is being made in current social media circles of the "interest graph" concept, which is more about what you know than who you know, and which purportedly has strong connections to purchase intent and other matters of concern to online marketers. Put differently, while social networks like Facebook focus on what you have in common with your friends and how you react to friends' recommendations, interest graph-based models (like the ones behind Pinterest, GetGlue or Foodspotting) make social connections based on shared interests, not the other way around.
"Pearltrees has leveraged social curation to create an open and collaborative interest graph of the Web," said Pearltrees CEO Patrice Lamothe in a release. "As a consequence, Pearltrees harnesses the power of people to organize and discover the most valuable content on the web", he said. With 5 Million More Euros in the Bank, Pearltrees Gets Ready to Scale and Start Monetizing.
The Paris-based social curation platform Pearltrees just announced that it has raised a Series B round of 5 million Euros (about $6.62 million USD).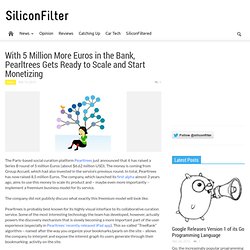 The money is coming from Group Accueil, which had also invested in the service's previous round. In total, Pearltrees has now raised 8.5 million Euros. Publications Pearltrees Grabs $6.6M In Funding For 'Interest Graphs' 02/14. Lured by the promise of better "interest graphs," investors just ponied up about $6.6 million for social curation startup Pearltrees.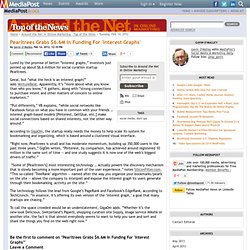 Great, but "what the heck is an interest graph?" Asks VentureBeat. Apparently, it's "more about what you know than who you know," it gathers, along with "strong connections to purchase intent and other matters of concern to online marketers." When is the social curation bubble going to burst? You just can't move for social curation services right now.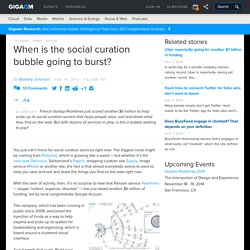 The biggest noise might be coming from Pinterest, which is growing like a weed — but whether it's the new-look Delicious, Switzerland's Paperli, shopping curation site Svpply, image service Mlkshk or another site, the fact is that almost everybody seems to want to help you save and sort and share the things you find on the web right now. With this swirl of activity, then, it's no surprise to hear that Parisian service Pearltrees — slogan "collect, organize, discover" — has just raised another $6 million of funding, led by local conglomerate Groupe Accueil. The company, which has been running in public since 2009, welcomed the injection of funds as a way to help expand and scale up its system for bookmarking and organizing, which is based around a clustered visual interface.
And it needs that scale. Right now Pearltrees is small and has moderate momentum, building up 350,000 users in the past three years.
---