Biofuels
Second generation biofuels , also known as advanced biofuels, are fuels that can be manufactured from various types of biomass . Biomass is a wide-ranging term meaning any source of organic carbon that is renewed rapidly as part of the carbon cycle . Biomass is derived from plant materials but can also include animal materials. First generation biofuels are made from the sugars and vegetable oils found in arable crops, which can be easily extracted using conventional technology. In comparison, second generation biofuels are made from lignocellulosic biomass or woody crops, agricultural residues or waste, which makes it harder to extract the required fuel.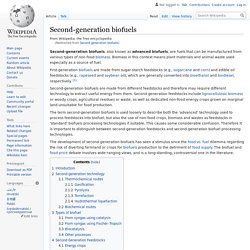 Second generation biofuels - Wikipedia, the free encyclopedia -
Biofuel - Wikipedia, the free encyclopedia - (Build 201004010646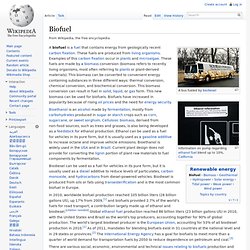 A biofuel is a type of fuel whose energy is derived from biological carbon fixation . Biofuels include fuels derived from biomass conversion, as well as solid biomass , liquid fuels and various biogases . [ 1 ] Biofuels are gaining increased public and scientific attention, driven by factors such as oil price hikes and the need for increased energy security . However, according to the European Environment Agency , biofuels address global warming concerns only in specific cases. [ 2 ] Bioethanol is an alcohol made by fermentation , mostly from carbohydrates produced in sugar or starch crops such as corn or sugarcane . Cellulosic biomass , derived from non-food sources, such as trees and grasses, is also being developed as a feedstock for ethanol production. Ethanol can be used as a fuel for vehicles in its pure form, but it is usually used as a gasoline additive to increase octane and improve vehicle emissions.
Biodiesel - Wikipedia, the free encyclopedia - (Build 2010040106
Bus run by biodiesel Space-filling model of methyl linoleate, or linoleic acid methyl ester, a common methyl ester produced from soybean or canola oil and methanol Space-filling model of ethyl stearate, or stearic acid ethyl ester, an ethyl ester produced from soybean or canola oil and ethanol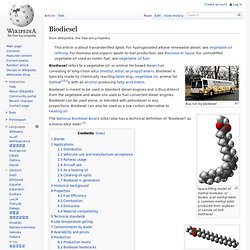 A dish of ethanol aflame Throughout history, alcohol has been used as a fuel . The first four aliphatic alcohols ( methanol , ethanol , propanol , and butanol ) are of interest as fuels because they can be synthesized chemically or biologically, and they have characteristics which allow them to be used in internal combustion engines . The general chemical formula for alcohol fuel is C n H 2n+1 OH .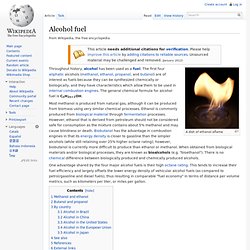 Alcohol fuel - Wikipedia, the free encyclopedia - (Build 2010040
Biogas - Wikipedia, the free encyclopedia - (Build 2010040106463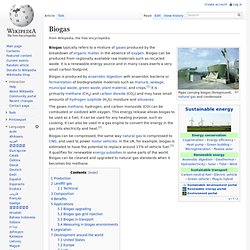 Pipes carrying biogas (foreground), natural gas and condensate Biogas typically refers to a gas produced by the breakdown of organic matter in the absence of oxygen . It is a renewable energy source, like solar and wind energy.
Biodiesel 101 - (Build 20100401064631)
Sorry! This error means that the page you're looking for cannot be found. Why? The National Biodiesel Board recently redesigned its website. As a result, links to resources on the old website will no longer work. Instead, to help find what you're looking for please visit the Biodiesel.org Site Map or the Biodiesel.org Home Page .