Apple Minus Steve Jobs
Without Jobs it'll be Apple 4.0. Apple will be fine, again, under veteran COO Tim Cook.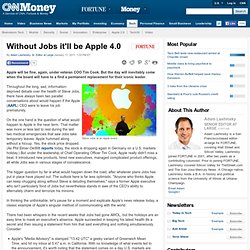 But the day will inevitably come when the board will have to a find a permanent replacement for their iconic leader. Steve Jobs at an Apple event Throughout the long, sad, information-deprived debate over the health of Steve Jobs, there have always been two parallel conversations about would happen if the Apple (AAPL) CEO were to leave his job prematurely. On the one hand is the question of what would happen to Apple in the near term. Thinking the unthinkable: Apple without Steve Jobs. The company would be different -- but not necessarily weaker -- without its co-founder Photo: David Paul Morris/Getty Images News Whenever Steve Jobs takes a medical leave -- and the one announced Monday is his third in less than six years -- the question invariably arises: What happens to Apple (AAPL) when he leaves the company for good?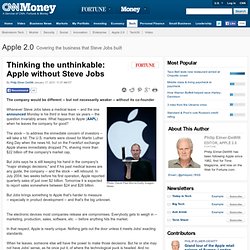 The stock -- to address the immediate concern of investors -- will take a hit. Steve Jobs went to Switzerland in search of cancer treatment. Fortune has learned that Apple CEO Steve Jobs spent part of 2009 at a hospital in Basel, Switzerland seeking treatment for neuroendocrine cancer, which he had surgically treated in 2004.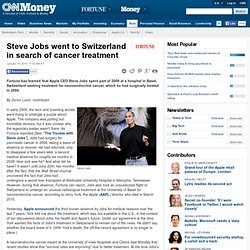 By Doron Levin, contributor Steve Jobs In early 2009, the tech and investing worlds were trying to untangle a puzzle about Apple. The company was putting out incredible devices, but it was unclear why the legendary leader wasn't there. As Fortune reported [See: "The Trouble with Steve Jobs"], Jobs had surgery for pancreatic cancer in 2004, taking a leave of absence to recover. Will Steve Jobs Return From His Leave Of Absence? Will Steve Jobs return to Apple?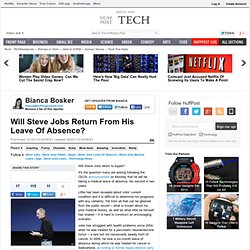 It's the question many are asking following the CEO's announcement on Monday that he will be taking a medical leave of absence, his second in two years. Little has been revealed about Jobs' current condition and it is difficult to determine his prognosis with any certainty. Yet from all that can be gleaned from the public record -- what is known about his prior medical history, as well as what little he himself has shared -- it is hard to construct an encouraging scenario. Apple's Jobs to Take Medical Leave. Some Possible Insight Into Steve Jobs' Condition From Someone Who Probably Knows. STEVE JOBS GOES ON MEDICAL LEAVE OF ABSENCE.
The Wording Of Steve Jobs' Email To Apple Staff Is Not Encouraging. Steve Jobs To Take 'Medical Leave Of Absence', Stays On As CEO. Apple CEO Steve Jobs has just announced that he is taking a medical leave of absence according to a release issued by the company today.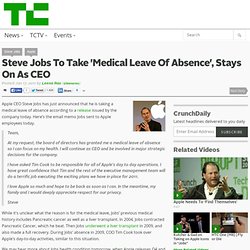 Here's the email memo Jobs sent to Apple employees today. Team,At my request, the board of directors has granted me a medical leave of absence so I can focus on my health. I will continue as CEO and be involved in major strategic decisions for the company.I have asked Tim Cook to be responsible for all of Apple's day to day operations. I have great confidence that Tim and the rest of the executive management team will do a terrific job executing the exciting plans we have in place for 2011.I love Apple so much and hope to be back as soon as I can.
In the meantime, my family and I would deeply appreciate respect for our privacy.Steve. University of Illinois Medical Center:Health Library. Home Services Find a Doctor Patient Tools Health Library Medical Professionals About Us Diseases and Conditions Surgical Procedures Lab Tests Symptoms Nutrition Special Topics Anatomy Explorer BMI Calculator Health IQ Ready When You Are Resources Newsletter Register Symptom Manager Video Library CME Exercise Calculator Calorie Lookup Allergies & Asthma Arthritis Back Pain Bone, Joint & Muscle Cancer Diabetes Eye Headache Heart HIV/AIDS The New You Parenting Womens Health Alternative Medicine Before Your Visit More...
Copyright 1998-2005. Steve Jobs Went To Switzerland For "Unusual" Radiological Treatment In 2009. Apple has not elaborated on whatever is ailing CEO Steve Jobs, who announced yesterday that he would take his second medical leave in 2 years.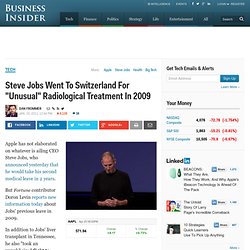 But Fortune contributor Doron Levin reports new information today about Jobs' previous leave in 2009. In addition to Jobs' liver transplant in Tennessee, he also "took an unpublicized flight to Switzerland to undergo an unusual radiological treatment at the University of Basel for neuroendocrine cancer," according to Jerry York, a former Apple director who died in 2010. 5 Facts About Apple Chief Steve Jobs' Health. How Steve Jobs Got Sick, Got Better, And Decided To Save Some Lives. We published a version of this story last spring, when the organ donor law cleared the California state senate's health committee.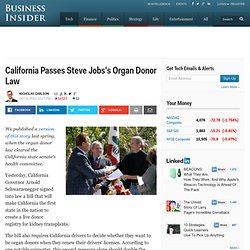 Yesterday, California Governor Arnold Schwarzenegger signed into law a bill that will make California the first state in the nation to create a live donor registry for kidney transplants. The bill also requires California drivers to decide whether they want to be organ donors when they renew their drivers' licenses. Apple's Jobs to Take Medical Leave. Living in Steve's House As you've probably heard, Apple announced this Monday that for... Steve Jobs medical leave: Apple CEO's health leave roils Silicon Valley - latimes.com.
Reporting from Los Angeles and San Francisco — The latest health scare for Apple Inc.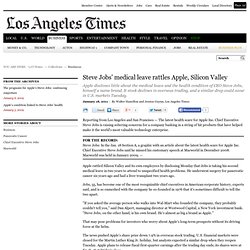 Chief Executive Steve Jobs is raising sobering concerns for a company basking in a string of hit products that have helped make it the world's most valuable technology enterprise. FOR THE RECORD: Steve Jobs: In the Jan. 18 Section A, a graphic with an article about the latest health scare for Apple Inc. Report: Steve Jobs Is In The Office Today. Perhaps it's because I'm stuck in a Munich hotel with the flu, but this most recent round of rumors about Steve Jobs undergoing surgery today is annoying me more than normal.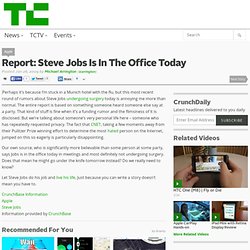 The entire report is based on something someone heard someone else say at a party. That kind of stuff is fine when it's a funding rumor and the flimsiness of it is disclosed. But we're talking about someone's very personal life here – someone who has repeatedly requested privacy. The fact that CNET, taking a few moments away from their Pulitzer Prize winning effort to determine the most hated person on the Internet, jumped on this so eagerly is particularly disappointing.
Steve Jobs takes health leave (video) Loaded: Steve Jobs takes health leave. Steve Wozniak Talks About Steve Jobs' Health. APPLE EARNINGS PREVIEW: Steve Jobs' Health Could Overshadow Monster Quarter. CHART OF THE DAY: Apple's REAL Earnings Expectations. Why Steve Jobs' Latest Health Scare Should Worry Investors. Like it or not, the value of Apple's (AAPL) stock today is tied in large part to the company's charismatic and secretive co-founder and chief executive. And when Steve Jobs gets sick, investors get mighty worried. So when Apple on Monday released a message light on details from Jobs announcing that he was taking his third medical leave of absence in just over six years, many people started nervously chewing their fingernails. Longtime Apple shareholders can remember how Apple shares would fall on worries about Jobs health. In 2008 and 2009, Jobs' health was an overhang on the company's stock. But Jobs and Apple largely put those concerns to rest in 2010 and it was back to business as usual.
When It Comes To Steve Jobs' Health, One Thing's For Sure: Wall Street Hates Uncertainty. Steve Jobs, as you've probably heard by now, is taking another medical leave of absence. The last time he took one in January, 2009 it was for six months and it turned out to be for a liver transplant, likely related to his earlier bout with pancreatic cancer. This time the leave is indefinite and Apple is not going into any further details about his condition.
One thing Wall Street hates is uncertainty. Just look at what happened to Apple's stock between June, 2008 (when a very thin Steve Jobs appeared at Apple's Worldwide Developer's Conference, sparking speculation about his health), through his subsequent leave of absence, to June, 2009 (when the Wall Street Journal reported that he had undergone a liver transplant). Apple Analysts Heed Jobs's Privacy Call, Don't Ask About Health. Analysts on a call covering Apple Inc.'s earnings heeded a request by Chief Executive Officer Steve Jobs for privacy about his health by not asking any questions about the medical leave he announced yesterday. Apple released fiscal first-quarter results a day after Jobs, who's combating a rare form of cancer and the effects of a liver transplant, said he's handing over day-to-day operations to Chief Operating Officer Tim Cook.
Analysts didn't broach the topic because they didn't think Apple would disclose new information, said Shaw Wu, an analyst at Kaufman Bros. in San Francisco. Apple Crushes Earnings Amid Steve Jobs Health Concerns | Epicenter  Technology juggernaut Apple reported blowout earnings results Tuesday, but the news was overshadowed by the company's disclosure Monday that CEO Steve Jobs, who has battled pancreatic cancer, has taken medical leave. The iconic Cupertino, California–based company said it earned $6.43 per share last quarter on revenue of $26.7 billion, a 71 percent increase over last year. Wall Street had been looking for quarterly earnings-per-share of $5.38 on revenue of $24.4 billion.
"This is a monster quarter," analyst Vijay Rakesh of Sterne Agee told CNBC. After-hours trading of Apple shares was halted briefly as the numbers were released. When the stock resumed trading, buyers drove the price up more than 4 percent to reach a new record high. Apple's holiday quarter outshines Jobs' plight. Apple Is Fine Without Steve Jobs, For Now... Everything You Need To Know About Tim Cook, Apple's COO. Apple's COO Bashes Android, Ignores Jobs' Health. Amid the news that Jobs will be taking an indefinite leave-of-absence, Apple reported another record quarter. The company's revenue hit $26.74 billion, well above the highest Wall Street estimates at about $25 billion.
It posted $6 billion in profit, or $6.43 per share, compared to $3.38 billion, or $3.67 per diluted share a year ago. Even with the widespread news about Jobs' health impacting the company's stock, Cook did not address the issue directly during a conference call with analysts. The closest anyone came to asking him anything about the company minus Jobs was a question about its long-term product roadmap. Netgear CEO: Apple Doomed Because Of Closed Platform, Jobs' 'Ego' Tim Cook Is Running Apple, But Not Imitating Steve Jobs. Steve Jobs' Leave Should Have No Effect On iPad 2 And iPhone 5 Launches. iPad 2. Long Term Threats After Steve Jobs's 2009 Liver Transplant: Skin Cancer, Lymphoma, Infection.
The Steve Jobs Play Will Open Despite His Illness. It's Time for Apple to End the Code of Silence. Sam Kim 김혜성: Steve Jobs and Kim Jong-il... Michael Ranola: Why #Steve #Jobs is so imp... Soumaila adamou: Steve Jobs On Medical Leav... Lohpatrick: If this is true, i'm truly... Steve Jobs - Blackboard. Apple - Blackboard. Steve Jobs.
---