AlwaysOn Going Green East
Cape Wind :: America's First Offshore Wind Farm on Nantucket Sou. Safe Hydrogen LLC - (Build 20090824085414) Welcome to Connecticut Innovations: We're Investing in Connectic. Lightwave Power, Inc. - (Build 20090824085414) Solar Power Harvesting System - (Build 20090824085414) The SolarEdge portfolio of products includes power optimizers, highly efficient PV inverters and a web portal for module-level monitoring and fault detection.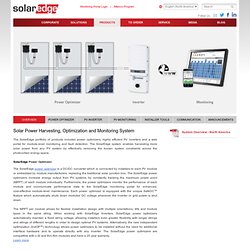 The SolarEdge system enables harvesting more solar power from any PV system by effectively removing the known system constraints across the photovoltaic energy space. SolarEdge Power Optimizer The SolarEdge power optimizer is a DC/DC converter which is connected by installers to each PV module or embedded by module manufacturers, replacing the traditional solar junction box. Nanotechnology high-efficiency photovoltaic solar cells for leve. Petra Solar® - Intelligent Energy By Design - Home Page - (Build. Avantium » Leader in the area of advanced high-throughput R&D ! Furanics - Search | Greenedia | Top Environmental Blogs, Expert. Clean Energy Learn the facts and take action on global warming, clean air, green power, energy efficiency, clean water and nuclear...
Energy Balance Energy Balance is a series of essays on the matter of future energy provision for the world, particularly against the... Enviropundit There will be three main topics of this blog: 1. Sustainable building. 2. Disproving the perceived dichotomy of envir... Green Buildings NYC Discussing sustainable design, urban planning, and green buildings, with particular emphasis on the LEED Green Buildi...
Sway | Changing the future of wind power - (Build 20090824085414. MIT Enterprise Forum - (Build 20090824085414) Getting the Green for Your Green Technology Financing Your GreenTech Venture • Bloom Energy: $400 Million • Tesla Motors: $705 Million (Private equity and DoE) • A123 Systems: $640 Million (IPO + DoE grant) • SolarCity: $60 Million (in tax equity) These are just a few of the GreenTech companies that have raised significant growth capital recently.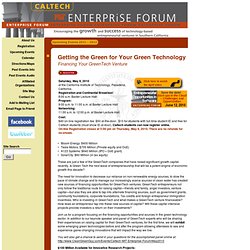 Is Green Tech the next wave of entrepreneurship that will be a potent engine of economic growth this decade? The need for innovation to decrease our reliance on non-renewable energy sources, to slow the pace of climate change and to manage our increasingly scarce sources of clean water has created new sources of financing opportunities for GreenTech ventures. GreatPoint Energy - (Build 20090824085414) Accelergy Corporation - (Build 20090824085414) CoalTek - Clean Coal - (Build 20090824085414) Going Green East -- Boston | FINalternatives - (Build 2009082408.
Like its sister GoingGreen event in San Francisco this last fall, GoingGreen East is where cutting-edge greentech CEOs meet top investors and the movers and shakers from the biggest industries on earth.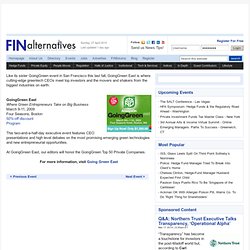 GoingGreen EastWhere Green Entrepreneurs Take on Big BusinessMarch 9-11, 2009Four Seasons, Boston50%-off discount Program This two-and-a-half-day executive event features CEO presentations and high level debates on the most promising emerging green technologies and new entrepreneurial opportunities. Hycrete, Inc | Integral Waterproofing & Corrosion Protection Sol. XPV Capital - (Build 20090824085414) Nath & Rosenthal LLP - Venture Technology Group - (Build 2009082. Home-US - (Build 20090824085414) Welcome to Genomatica | Home - (Build 20090824085414) Pacific Biosciences - (Build 20090824085414) Joule Biotechnologies | Solving the energy crisis with affordabl. Myriant Technologies - succinic acid, bio-based chemicals, biote. Eolian Renewable Energy | Inexhaustible Resources. Unlimited Pot.
---