AlwaysOn Going Green East
Cape Wind :: America's First Offshore Wind Farm on Nantucket Sou
Safe Hydrogen LLC - (Build 20090824085414)
Welcome to Connecticut Innovations: We're Investing in Connectic
Claire Leonardi, Chief Executive Officer Philip Siuta, Senior Vice President and Chief Financial Officer Suzanne Kaswan, Vice President, Human Resources Deb Santy, Director, Small Business Innovation Linda Wieleba, Senior Vice President, Senior Loan Officer Amy Hourigan, Vice President, Marketing and Communications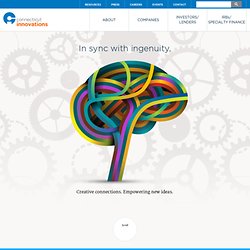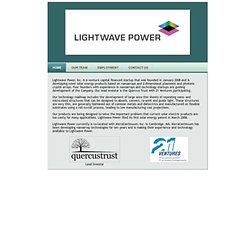 Lightwave Power, Inc. - (Build 20090824085414)
Lightwave Power, Inc. is a venture capital financed startup that was founded in January 2008 and is developing novel solar energy products based on nanoarrays and 2-dimensional plasmonic and photonic crystal arrays. Four founders with experience in nanoarrays and technology startups are guiding development of the Company. Our lead investor is the Quercus Trust with 21 Ventures participating. Our technology roadmap includes the development of large area thin sheets of repeating nano- and micro-sized structures that can be designed to absorb, convert, re-emit and guide light. These structures are very thin, are generally fashioned out of common metals and dielectrics and manufactured on flexible substrates using a roll-to-roll process, leading to low manufacturing cost projections. Our products are being designed to solve the important problem that current solar electric products are too costly for many applications.
The SolarEdge portfolio of products includes power optimizers, highly efficient PV inverters and a web portal for module-level monitoring and fault detection. The SolarEdge system enables harvesting more solar power from any PV system by effectively removing the known system constraints across the photovoltaic energy space. SolarEdge Power Optimizer The SolarEdge power optimizer is a DC/DC converter which is connected by installers to each PV module or embedded by module manufacturers, replacing the traditional solar junction box.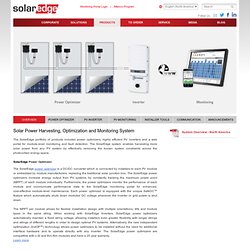 Solar Power Harvesting System - (Build 20090824085414)
Nanotechnology high-efficiency photovoltaic solar cells for leve
<span><a target="_self" href="/index.html">home</a> | <a target="_self" href="/nano-silicon.html">technology</a> | <a target="_self" href="/applications.html">applications</a> | <a target="_self" href="/mission.html">about us</a> | <a target="_self" href="/contactus.html">contact us</a></span> Copyright 2007-2014 Bandgap Engineering, Inc. Bandgap's nanowire-enhanced solar cell designs combine low-cost processing with crystalline silicon to yield high-efficiency products.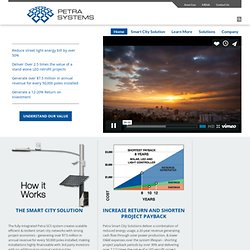 The Smart City Solution The fully integrated Petra SCS system creates scalable efficient & resilient smart city networks with strong project economics - generating over $7.5 million in annual revenue for every 50,000 poles installed, making installations highly financeable with 3rd party investors with no additional municipal capital outlay. Increase Return and Shorten Project Payback Petra Smart City Solutions deliver a combination of reduced energy usage, a 20-year revenue generating cash flow through solar power production, & lower O&M expenses over the system lifespan - shorting project payback periods by over 30% and delivering over 2 1/2 times the value of a LED retrofit project. Intelligent O&M The IntelliView®platform enables a view of all of the activity within the network, giving municipalities the ability to instantly view revenue generated through power production, control and adjust lighting behaviors, and optimize operations and maintenance programs.
Petra Solar® - Intelligent Energy By Design - Home Page - (Build
Avantium » Leader in the area of advanced high-throughput R&D !
Clean Energy Learn the facts and take action on global warming, clean air, green power, energy efficiency, clean water and nuclear... Energy Balance Energy Balance is a series of essays on the matter of future energy provision for the world, particularly against the... Enviropundit There will be three main topics of this blog: 1. Sustainable building. 2. Disproving the perceived dichotomy of envir... Green Buildings NYC Discussing sustainable design, urban planning, and green buildings, with particular emphasis on the LEED Green Buildi...
furanics - Search | Greenedia | Top Environmental Blogs, Expert
Sway | Changing the future of wind power - (Build 20090824085414
Getting the Green for Your Green Technology Financing Your GreenTech Venture • Bloom Energy: $400 Million • Tesla Motors: $705 Million (Private equity and DoE) • A123 Systems: $640 Million (IPO + DoE grant) • SolarCity: $60 Million (in tax equity) These are just a few of the GreenTech companies that have raised significant growth capital recently. Is Green Tech the next wave of entrepreneurship that will be a potent engine of economic growth this decade? The need for innovation to decrease our reliance on non-renewable energy sources, to slow the pace of climate change and to manage our increasingly scarce sources of clean water has created new sources of financing opportunities for GreenTech ventures.
MIT Enterprise Forum - (Build 20090824085414)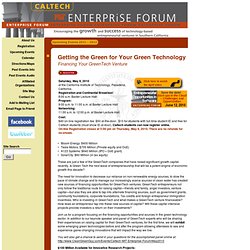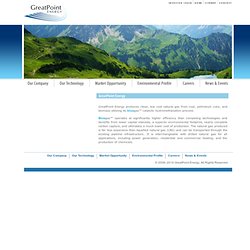 GreatPoint Energy produces clean, low cost natural gas from coal, petroleum coke, and biomass utilizing its bluegas™ catalytic hydromethanation process. Bluegas™ operates at significantly higher efficiency than competing technologies and benefits from lower capital intensity, a superior environmental footprint, nearly complete carbon capture, and ultimately a much lower cost of production. The natural gas produced is far less expensive than liquefied natural gas (LNG) and can be transported through the existing pipeline infrastructure. It is interchangeable with drilled natural gas for all applications, including power generation, residential and commercial heating, and the production of chemicals.
GreatPoint Energy - (Build 20090824085414)
Accelergy Corporation - (Build 20090824085414)
CoalTek - Clean Coal - (Build 20090824085414)
Going Green East -- Boston | FINalternatives - (Build 2009082408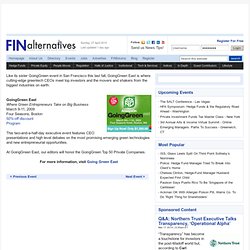 Like its sister GoingGreen event in San Francisco this last fall, GoingGreen East is where cutting-edge greentech CEOs meet top investors and the movers and shakers from the biggest industries on earth. GoingGreen EastWhere Green Entrepreneurs Take on Big BusinessMarch 9-11, 2009Four Seasons, Boston50%-off discount Program This two-and-a-half-day executive event features CEO presentations and high level debates on the most promising emerging green technologies and new entrepreneurial opportunities.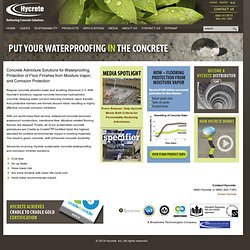 Hycrete, Inc | Integral Waterproofing & Corrosion Protection Sol
Concrete Admixture Solutions for Waterproofing, Protection of Floor Finishes from Moisture Vapor, and Corrosion Protection Regular concrete absorbs water and anything dissolved in it. With Hycrete's solutions, regular concrete becomes hydrophobic concrete, keeping water out and reducing moisture vapor transfer.
XPV Capital - (Build 20090824085414)
Monday, March 17th, 2014Jack Blonquist Hired as Vice President of Oil & Gas Sector to Head up the Rapidly Expanding Thermal Desorption Market Monday, March 17th, 2014 Tony Pilkington joins Therma-Flite as Vice President of Worldwide Sales Friday, March 14th, 2014 Natural Systems Utilities, LLC appoints new CEO
Nath & Rosenthal LLP - Venture Technology Group - (Build 2009082
Home-US - (Build 20090824085414)
Welcome to Genomatica | Home - (Build 20090824085414)
Pacific Biosciences - (Build 20090824085414)
Joule Biotechnologies | Solving the energy crisis with affordabl
News & Events Myriant Supplies Commercial Quantities of Bio-Succinic Acid to Oxea Read More » Myriant to Participate in BIO Pacific Rim Summit Read More » Myriant Selected as a 2013 Red Herring Top 100 Global Company Read More »
Myriant Technologies - succinic acid, bio-based chemicals, biote
A different kind of energy company.Dedicated to local renewable energy. Wind Fact One Megawatt of Wind Energy = 2,600 Fewer Tons of Carbon Dioxide per year. They truly care about people and the environment and we liked that … More— Bernie Madden, Mount Waldo Landowner In 2008, U.S.
Eolian Renewable Energy | Inexhaustible Resources. Unlimited Pot