Securité
http://www.openwall.com/john/
Un élément de base de la sécurité des applications .Net repose sur la signature d'assemblies et l'utilisation de noms forts. L'environnement de développement .Net de base (le SDK) nous propose des utilitaires permettant d'effectuer ces opérations. Même si la signature d'assembly n'est pas un élément de sécurité suffisant, il constitue néanmoins la pierre angulaire de la sécurité d'exécution de code .Net. Au cours ce cet article nous verrons à quoi correspondent tous ces procédés de signatures, mais aussi comment les appliquer, quelles sont leurs limites, et ce que l'on peut en attendre concrètement.
Les meilleurs cours sur la sécurité informatique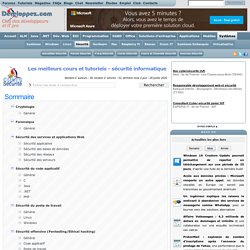 tutoriel.securite
Aperçu - Authentic 2 - Projets Entr'ouvert
A versatile identity management server. sponsored by Entr'ouvert <info+authentic@entrouvert.com> Features¶ Authentic 2 is heavily customisable.Authentic 2 is written using Python and the Django framework and some C when speed matters - cryptography. Authentic 2 main features are: Identity provider and service provider SAML 2.0 Identity provider and relyinp party OpenID 1.0 and 2.0 Server CAS 1.0 and 2 Standards authentication mechanisms:- Simple password- One-time password (OATH and Google-Authenticator)- X509 certificate over SSL/TLS Protocol proxying, for instance between OpenID and SAML Support of LDAP v2 and v3 directories Support of the PAM backend Identity attribute management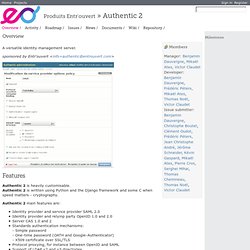 import socket import sys import re import os import binascii from Crypto.PublicKey import RSA
floyd's | IT Security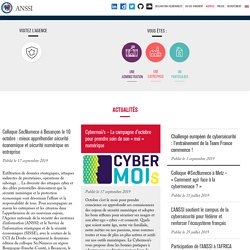 Modélisation des valeurs extrêmes des courants induits par des interférences électromagnétiques Auteurs : Chaouki Kasmi, Marc Hélier, Muriel Darces et Emmanuel Prouff. Dans le cadre des Journées Nationales Microondes, Paris, France, mars, May, 2013. - 26 Mars 2014 Modeling of the propagation along low voltage power networks for IEMI studies Auteurs : N. Mora, C. Kasmi, F. Rachidi, M.
Sécurité de l'information