Ingles
Sonidos.Fonemas.Letras. Teoría-Actividades Teoría: Fonemas y sonidos.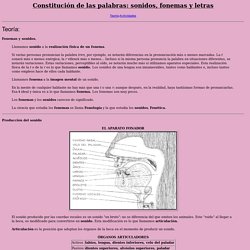 Randall's ESL Cyber Listening Lab - For English as a Second Language. Aula Mentor. Lo sentimos, la página solicitada no fue encontrada.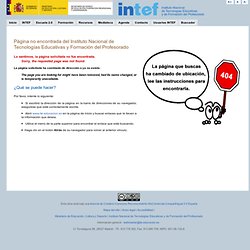 Sorry, the requested page was not found. La página solicitada ha cambiado de dirección o ya no existe. The page you are looking for might have been removed, had its name changed, or is temporarily unavailable. Por favor, intente lo siguiente: Sara english teacher on line 6. Certificación. La información sobre fechas y procedimiento para efectuar la matrícula libre se publica cada año en el apartado Matrícula>Libre Anualmente se convocan Pruebas de Certificación para la obtención del Certificado de : Nivel Básico (equivalente al nivel A2 del Marco Común Europeo de Referencia para las Lenguas) Nivel Intermedio (equivalente al nivel B1 del MCERL).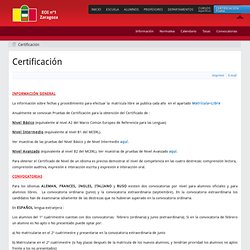 Ver muestras de las pruebas del Nivel Básico y de Nivel Intermedio aquí. Nivel Avanzado (equivalente al nivel B2 del MCERL). Curso de inglés | Preguntas frecuentes. ¿Qué es y en qué consiste la prueba VIA?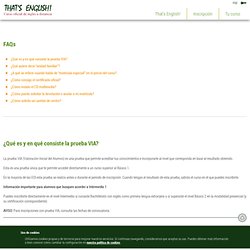 La prueba VIA (Valoración Inicial del Alumno) es una prueba que permite acreditar tus conocimientos e incorporarte al nivel que corresponda en base al resultado obtenido. Esta es una prueba única que te permite acceder directamente a un curso superior al Básico 1. En la mayoría de las EOI esta prueba se realiza antes o durante el periodo de inscripción. Cuando tengas el resultado de esta prueba, sabrás el curso en el que puedes inscribirte. INSTITUTO DE IDIOMAS - UNIVERSIDAD DE ZARAGOZA. Inglés, Francés y Alemán. 2º cuatrimestre 2012/2013 Campus de SAN FRANCISCO, Campus RIO EBRO (ACTUR), VETERINARIA.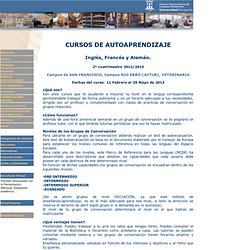 ---