Journalistic Approaches pt.I
Get flash to fully experience Pearltrees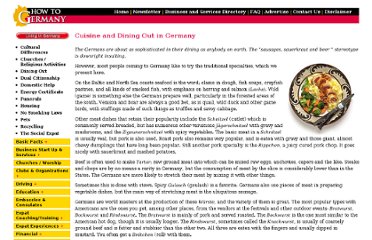 The Germans are about as sophisticated in their dining as anybody on earth. The "sausages, sauerkraut and beer " stereotype is downright insulting. However, most people coming to Germany like to try the traditional specialties, which we present here.
Please take the time to answer the questions in this survey carefully. Providing accurate answers to these questions will make you a better person.
The Donald Keene Center of Japanese Culture at Columbia University annually awards $6,000 in Prizes for the Translation of Japanese Literature. A prize is given for the best translation of a modern work or a classical work, or the prize is divided between equally distinguished translations. The Winners of the 2011-2012 Japan-U.S.
Unsere Vorstellung von der Spionage stammt weitgehend aus der Fiktion. Romane und Filme haben die Lücken in der öffentlichen Wahrnehmung einer Beschäftigung ausgefüllt, die sich zwangsmäßig im Verborgenen abspielt.
Enjoy full access to FT.com's award-winning news, comment and analysis.