social media & banking
Get flash to fully experience Pearltrees
Personal Finance Management (PFM) is one of the hottest topics for banks today. Some of the banks are searching for the best vendor while others have already implemented PFM. Several banks are evaluating the returns from PFM implementation.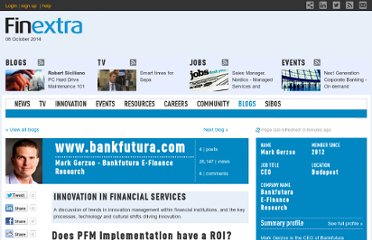 How did a Venezuelan bank become the most successful bank on Twitter in only 2 years? @Banesco got on Twitter in January 2010, however, the official account of Banesco Banco Universal has already exceeded 100,000 followers, making it the biggest bank on Twitter. In the financial sector they are only behind @AmericanExpress – the financial institution with the biggest amount of Twitter followers: over 251,000. First of all we have to say that Latin America represents one of the most interesting areas in the world in social media growth: 16% of Twitter users are South Americans.
Lon S. Cohen is a freelance writer and is @obilon on Twitter. He's also the Director of Communications at @ALSofGNY . Many banks have started using social websites to help them with everything from healing the financial industry to promoting their latest credit cards. By embracing the most popular tools available, the industry has also been embracing the best of what social media culture has to offer, and smaller, community banks seem to be leading the charge when it comes to social media innovation.
The Digital Marketing Series is supported by HubSpot , an inbound marketing software company based in Cambridge, Mass., that makes a full platform of marketing software, including social media management tools. Social media has turned the purchase funnel on its head. That's the crux of a study that Facebook recently published in conjunction with Forrester Research.
Another example is here in Singapore. One of the local banks launched a Wish List application, where you enter the things you're saving up for (your "wishes"), and then apply funds to each item as your savings grows. You can link it to Facebook to tell your friends what you're saving for and when you have enough to make the purchase. This is a really fun, innovative development that taps into people's drive to achieve personal goals. It marks a departure from the standard advertisement of offers, job postings and company announcements that most banks are doing on Facebook . We're also hearing that banks are working on developing person-to-person (P2P) payment mechanisms that integrate with social media.
Just the other day, a high net worth fund manager said to me, "I won't tweet. I won't do it. I earn $1,000 an hour. Taking time to tweet would be a waste of time for me." My first reaction was "Oh no" we must all tweet for ourselves. Certainly that has been the party line for Tweeters I've met on blogger nights, but I had to consider said executive was not in the media and just might be right about this, and that generated another thought: Tweeting is a waste of time for the wealth manager but it is not a waste of time for the wealth management business.
Web 2.0 technologies have transformed the way people live and work by making it easier to connect and engage online. They have also enabled major changes in customer behavior, which in turn has revolutionized industries that have successfully incorporated these technologies into their distribution models. In travel, for example, sites such as TripAdvisor combine trip planning with social networking features, and in telecommunications, Internet services such as Skype are finding success by undercutting traditional telephone operators. Yet even as these industries and others have embraced Web 2.0, retail banking has largely remained on the sidelines. The Internet has already significantly changed many aspects of banking.