Responsive
Get flash to fully experience Pearltrees
Designing for responsive websites can be a bit challenging at first because the process is so different. As designers, we've gotten used to building pixel-perfect mockups as our web blueprints. But responsive design takes a different approach.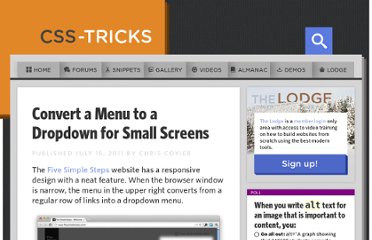 Published by Chris Coyier The Five Simple Steps website has a responsive design with a neat feature. When the browser window is narrow, the menu in the upper right converts from a regular row of links into a dropdown menu. When you're on a small screen (iPhone shown here) and click the dropdown, you get an interface to select an option where each option is nice and big and easy to choose. That sure makes it easier to pick a place to go than a tiny link.
Published by Chris Coyier In addition to the techniques below, see this roundup of additional explorations of this problem. Garrett Dimon: Data tables don't do so well with responsive design. Just sayin'. He has a good point.