HTML
jQuery Mobile Tutorial: Creating a Restaurant Picker Web App. Mar 08 2012 With an increase in the number, diversity and complexity of smartphones, more and more companies want to have their own mobile app, but creating a native app can be pretty expensive.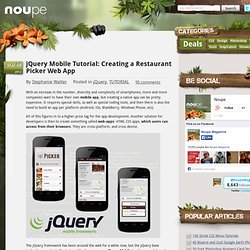 It requires special skills, as well as special coding tools, and then there is also the need to build an app per platform (Android, iOs, BlackBerry, Windows Phone, etc). All of this figures in to a higher price tag for the app development. Another solution for developers is then to create something called web-apps: HTML CSS apps, which users can access from their browsers. They are cross-platform, and cross device. HTML5 Rocks - A resource for open web HTML5 developers. HTML5 Cross Browser Polyfills - GitHub. So here we're collecting all the shims, fallbacks, and polyfills in order to implant html5 functionality in browsers that don't natively support them.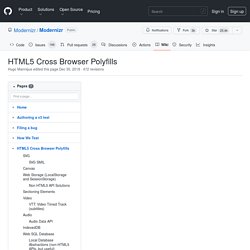 The general idea is that: we, as developers, should be able to develop with the HTML5 apis, and scripts can create the methods and objects that should exist. Developing in this future-proof way means as users upgrade, your code doesn't have to change but users will move to the better, native experience cleanly. Looking for a way to conditionally load these scripts client-side based on feature detects? HTML5 Demos and Examples. When can I use... Support tables for HTML5, CSS3, etc. HTML5 Please.
---