Photoshop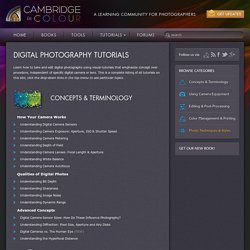 Learn how to take and edit digital photographs using visual tutorials that emphasize concept over procedure, independent of specific digital camera or lens. This is a complete listing of all tutorials on this site; click the drop-down links in the top menu to see particular topics . Photography is going through an exciting transition period as many film photographers are beginning to explore the new capabilities of digital cameras. While the fundamentals have remained similar, other aspects are markedly different. This is a great time to get involved with digital photography. These tutorials are rarely influenced by changes in image editing software and camera equipment — due to their unique concept-based approach.
45 Explosively Colorful Photoshop Effects | Psdtuts+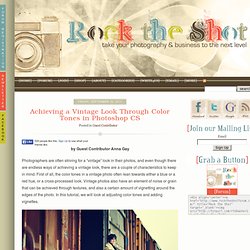 by Guest Contributor Anna Gay Photographers are often striving for a "vintage" look in their photos, and even though there are endless ways of achieving a vintage look, there are a couple of characteristics to keep in mind. First of all, the color tones in a vintage photo often lean towards either a blue or a red hue, or a cross-processed look. Vintage photos also have an element of noise or grain that can be achieved through textures, and also a certain amount of vignetting around the edges of the photo. In this tutorial, we will look at adjusting color tones and adding vignettes. This photo is the result of adjusting the color curves, adding two vignettes, and a color fill, which we will walk through step-by-step.
Want to learn how everything works in Photoshop? We'll help you make your photos better, draw vector graphics, and design a web site. Learn the Basics of Photoshop in Under 25 Minutes - To get started with Photoshop, you need to know what everything does. Here's a look at practically every tool in Photoshop in less than 25 minutes. Basics of Photoshop: Color Correction, Touch Ups, and Enhancements - Now that you know the tools Photoshop has to offer, we can take a look at using them to correct and alter color, retouch blemishes and other unwanted parts of your photos, and enhance portraits to make the subject look especially good. Basics of Photoshop: Basic Drawing with the Pen Tool - Photoshop isn't just for photos.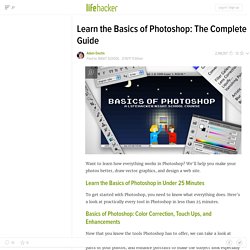 24 Really Cool Photoshop Actions To Enhance Photography Photoshop actions are the best — they save time and make you more productive during post-processing. They can be used to speed up repetitive tasks, make quick work of time consuming edits, and give you a little creative inspiration. So here are 24 Really Cool Photoshop Actions To Enhance Your Photography 110 Free PSD Web Design Elements
Many people can use Photoshop, but only a select few can call themselves gurus. Learn all the methods in the 20 tutorials below and you'll be well on your way to joining this elite. Rather than focus on tuts for beginners , intermediates or advanced users , we've simply chosen ones which produce jaw-dropping effects. All of them are easy to follow, although most do require at least some prior knowledge and experience. 1.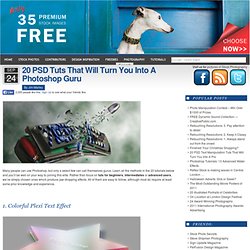 60+ Creative Photoshop Text Effect Tutorials | Web Design Blog, Web Designer... - StumbleUpon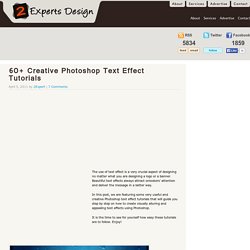 The use of text effect is a very crucial aspect of designing no matter what you are designing a logo or a banner. Beautiful text effects always attract onlookers' attention and deliver the message in a better way. In this post, we are featuring some very useful and creative Photoshop text effect tutorials that will guide you step by step on how to create visually alluring and appealing text effects using Photoshop. It is the time to see for yourself how easy these tutorials are to follow. Enjoy!