LISTIPAD1
Save the sheep. Army of Darkness Defense. Description NOW FREE FOR A VERY LIMITED TIME!!!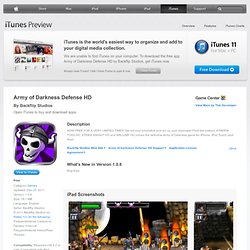 Get out your boomstick and rev up your chainsaw! From the makers of PAPER TOSS HD, STRIKE KNIGHT HD and NINJUMP HD comes the definitive Army of Darkness game for iPhone, iPod Touch, and iPad. In this tug-of-war, casual defense game based on the MGM classic movie, you play Ash, the time-traveling, evil-fighting, S-Mart sales clerk as you defend Lord Arthur's castle and the Necronomicon from the oncoming hordes of evil undead.
Of course, you can't do it alone! Army of Darkness Defense. Shadow Doll HD. Description Shadow Doll has imprisoned a little girl's spirit somewhere in an old dolls house.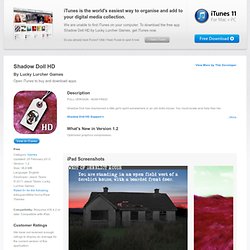 You must locate and help free her. I roller coaster. Sea Venture - iRollerCoaster. iRollerCoaster is the ultimate roller coaster simulation game!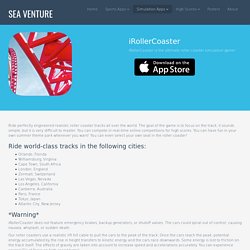 Full HD for iPhone4, iPad, and all other devices! Realistic Roller Coaster Ride perfectly engineered realistic roller coaster tracks all over the world. The goal of the game is to focus on the track, it sounds simple, but it is very difficult to master. Temple Run. Description "In pretty much every treasure hunting adventure movie there's one specific scene in which the plucky hero finally gets his hands on the treasure but then has to navigate a maze of booby traps in order to get out alive.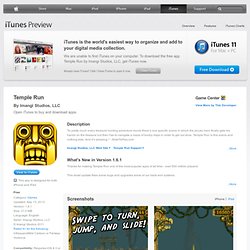 Temple Run is this scene and nothing else. And it's amazing. " - SlideToPlay.com From the makers of the award-winning best-seller Harbor Master® comes the most exhilarating running game on the App Store. Test your reflexes as you race down ancient temple walls and along sheer cliffs. Engulf. Engulf Midlight. The Henge. Description Around 2,500BC, whilst the Egyptians were busy with the Great Pyramid of Giza, ancient Britons had a more modest project in mind: Stonehenge.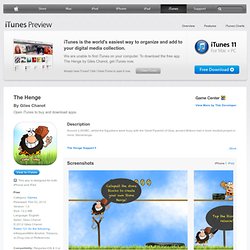 For centuries, modern man has pondered the question: just how were these giant stones moved into position? Now, in an App Store exclusive, we can reveal the truth. Welcome to The Henge. Jump or Roll. Jump or roll. Requiem unleashed. Shadow Fall.
Shadow fall. Zorro:Shadow of Vengeance Lite. Description Immerse yourself in the world of Zorro, re-imagined, rebooted, and brought to life in gorgeous game environments.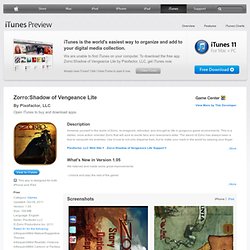 This is a darker, more action oriented Zorro that will sure to excite fans and newcomers alike. The sword of Zorro has always been a tool to vanquish his enemies. Use it now to not only disperse foes, but to make your mark in the world by swiping your finger across wanted posters throughout the many levels. The Final Escape-Lite. Description Daniel, a young soldier, and his girl friend Annie, a pretty dancer, are peacefully living in city N.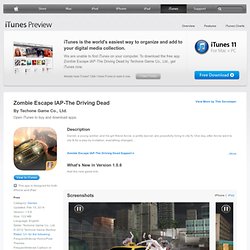 One day, after Annie went to city B for a play by invitation, everything changed… The final escape - lite. Fragmental 3D Lite. Description Leave Tetris® in the two-dimensional dust.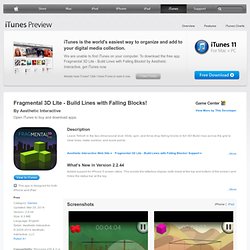 Slide, spin, and force-drop falling blocks in full 3D! Chicken+ Description Chicken+ is for critical thinking people to challenge their analytical spatial skills.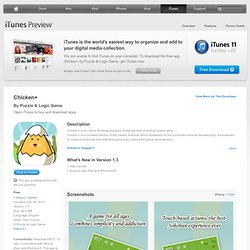 Chicken+ is a renewed version of the classic Sokoban which appeared on first computers several decades ago. It succeeded to combine simplicity with addictive game play, making the game world famous. Now you can enjoy the new style Sokoban - Chicken+. Chicken+ features the same rules and game play as its predecessor while at the same time introducing touch-based actions and new interesting levels. Puzzle & Logic Game-chicken. Block Puzzle Free. ShenZY App-block puzzle. Please write to shenzyapp@yahoo.com if you have any comments or questions about following applications: Z Mahjong 3D Solitaire (iPhone/iPad, Mac) ABC Super Solitaire (iPhone/iPad, Mac)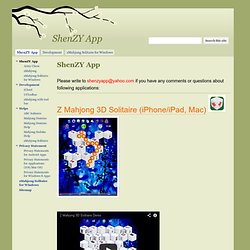 Fragmental 3D. Leave Tetris in the two-dimensional dust. Slide, spin, and force-drop falling blocks in full 3D! Build rows across the grid to clear lines, make combos, and score points. Own this amazing app for only $0.99! Zorro shadow of vengeance. Requiem unleashed. iOS AppsPrivacy Policy Elf City Online - Free Decorate and manage the cafe of your dreams right on your iOS device! Learn dozens of recipes, level up your restaurant and keep your customers satisfied!
Pixel Story – Free. The Henge. Henge ad support. Giles Chanot - iOS application metrics from AppData-henge. Temple run. Save the sheep.
---