Organizedspaces
Full Color Glossy Business Card, Postcard, Flyer, Brochure, & Catalog Online Print Service - GotPrint. ProfessionalOrganizerSecrets. Professional Organizer's Bookkeeping Toolkit -- RamonaCreel.com. If you want to succeed at running a Professional Organizing company, you need to have the right tools — and that includes practical financial tools like invoices, quote sheets, pricing plans, budgets, and tracking forms.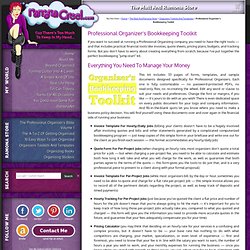 But you don't have to worry about creating everything from scratch, because I've put together the perfect bookkeeping "jump-start" kit. Everything You Need To Manage Your Money This kit includes 33 pages of forms, templates, and sample documents designed specifically for Professional Organizers. Each one is fully customizable — no password-protected PDFs, no read-only files, no re-creating the wheel. Edit any word or clause to suit your needs and preferences. Prof. Organizer/Interior Designer Invoice | iWorkCommunity - Templates Exchange. If you came to this page looking for legalese, you might be disappointed; sadly, this can all be easily read by an average English-speaking human.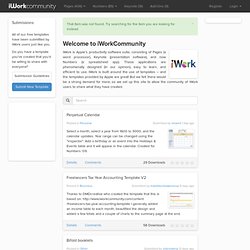 Please read the following paragraphs, as there are some important details about licensing and copyright, among other things, that will affect how you use iWorkCommunity.com. Unless otherwise noted, the free templates offered on this site are offered in the public domain, and are free for both non-commercial and commercial use. » How to Invoice Your Customers Properly : A List of Online Guides on Invoicing for FreelancersAll Freelance Blog : Tips and Advice for Freelancers & Self Employed.
Specify. Better project management for Interior Designers. _9standard_agreement_07. Cute & Stylish Office Supplies at See Jane Work. What Does Om Mean. What Does "Aum" Mean ??
Aum (or OM) is a mantra, or vibration, that is traditionally chanted at the beginning and end of yoga sessions. It is made up of three Sanskrit letters, aa, au and ma which, when combined together, make the sound Aum or It is believed to be the basic sound of the world and to contain all other sounds. How to Videos on MonkeySee - Free Instructional Videos. Professional Organizer. Organization is essential to success, however many otherwise successful people simply don't have the time or ability to properly organize their lives.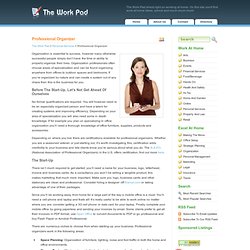 Organization professionals often choose areas of specialization and can be found organizing anywhere from offices to outdoor spaces and bedrooms. If you're organized by nature and can create a system out of any chaos then this is the business for you. Before The Start-Up, Let's Not Get Ahead Of Ourselves. Cell Phone Plans, Credit Cards & CD Rates, Compare & Save Money on BillShrink. Organized Home | Clean House, Cut Clutter, Get Organized at Home! Complete Home Organization and Storage.
The Container Store - The Original Storage and Organization Store® Organized Living | Home Storage | Closet Organization | Containers. Home Organization | Space Savers | Get Organized. FreedomRail. Organizing a Storage Space: Assembling a Storage Box. Jennifer Castenson: Hi!
I am Jennifer with Organized Living, and today we are learning how to create efficient storage system for any area of your home. Now we are going to look at assembling an O Box. O Box is short for Organizational box. Closet Organizers| Do-It-Yourself Custom Closet Organization Systems. Easy Track organization systems can add order to everything in your home, from shirts and shoes in your master closet to soup cans in your kitchen pantry.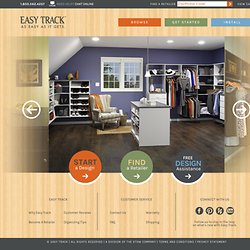 Whether it's a walk-in closet, pantry, overflow storage, laundry room, family lockers, or a kid's closet, Easy Track can multiply your storage space while enhancing your décor. Our closet organization kits come with everything you need in one box, and they're easy to install yourself. Closet Organizers | Home Organization Products at Organize-It, Your Storage and Organization Resource. StoreWALL storage system. Closet Organizers Direct. Custom Closets by EasyClosets. Olive Branch Professional Home Organizer. SISSY+MARLEY | NEW YORK CITY BABY PLANNER AND CONCIERGE - Home. Rosie Pope. Opportunities to Work for Itsabelly Baby Planners. Become a Baby Planner Do you want to become a baby planner without having to set up a whole new business from scratch?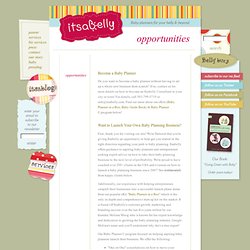 If so, contact us for more details on how to become an Itsabelly Consultant in your city or town! For details, call 503-799-5719 or info@itsabelly.com. S Baby Planner University & Business Services. If so, you can also attend one of our free LIVE classes the second Wednesdays of every month starting May 9, 2012.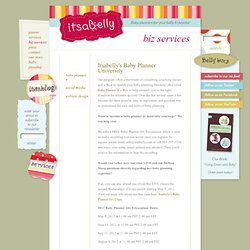 Find out more info about our free class here: Itsabelly's Baby Planner 101 Class. 2012 Baby Planner 101 Teleseminar Dates: May 9, 2012 at 11:00 am PST/2:00 pm EST. I'm an Organizing Junkie. 86Clutter: Professional Organizers in Memphis, TN. Neat Streak Professional Organizing: Melanie Dennis, Professional Organizer. Hello Home! Services We Provide - Greenville, SC. Click to learn more about...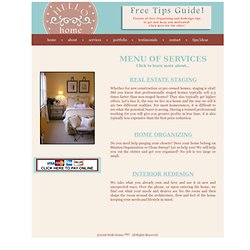 Real Estate Staging Whether for new construction or pre-owned homes, staging is vital! Professional Organizing - Restore Management - Charleston, SC. Restore Management offers professional project-organizing services.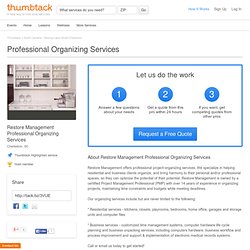 We specialize in helping residential and business clients organize, and bring harmony to their personal and/or professional spaces, so they can optimize the potential of their potential. Restore Management is owned by a certified Project Management Professional (PMP) with over 14 years of experience in organizing projects, maintaining time constraints and budgets while meeting deadlines. Our organizing services include but are never limited to the following: * Residential services - kitchens, closets, playrooms, bedrooms, home office, garages and storage units and computer files.
Birmingham Professional Organizer - Just Organized: Client Testimonials. Home >> Testimonials I am happy to provide references upon request. You can also read below what some of my clients have said about my services. Director of Non-Profit Ministry. Tennessee Small Business Development Centers. 5 Steps to Registering Your Business. Southcarolina. General Business Licenses for New Business. General Business Licenses You will need to decide on a business structure. If you need more information on business structures, check out SBa.gov - Start a Business.
If your business is a limited partnership, corporation or limited liability company/limited liability partnership, you must first register with the South Carolina Secretary of State's Office. which you may do through SCBOS. Any business selling products or certain services (laundry and dry cleaning, accommodations, electricity and communications) must obtain a Retail License from the Department of Revenue.
You can register and pay the $50.00 license fee on-line through SCBOS.
---
amsika Feb 22 2012

Hi, you can create as many sub pearltreees as you want but they have to be linked to your root pearltree :)

organizedspaces Feb 22 2012

I like the concept of pearl trees because I'm using it to start a small business. I was wondering is there a way to ha e separate tree?
---