Reflexion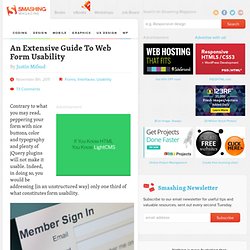 Contrary to what you may read, peppering your form with nice buttons, color and typography and plenty of jQuery plugins will not make it usable. Indeed, in doing so, you would be addressing (in an unstructured way) only one third of what constitutes form usability. In this article, we'll provide practical guidelines that you can easily follow. These guidelines have been crafted from usability testing, field testing, website tracking, eye tracking, Web analytics and actual complaints made to customer support personnel by disgruntled users. Why Web Form Usability Is Important
Design Strategy | FishoftheBay
Great products and services depend on their users having great experiences. But it's not about what users do or how they do it, but rather why. Why they do what they do, why they keep coming back, and why they tell their friends. And social design aims to explain the why behind great experiences. I'll tell you a quick story.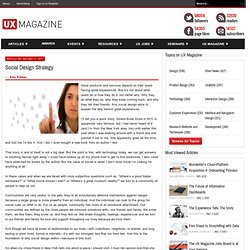 How To Build An Agile UX Team: Integration - Smashing UX Design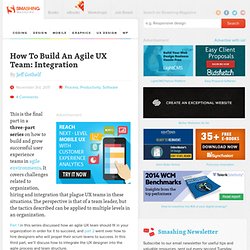 This is the final part in a three-part series on how to build and grow successful user experience teams in agile environments . It covers challenges related to organization, hiring and integration that plague UX teams in these situations. The perspective is that of a team leader, but the tactics described can be applied to multiple levels in an organization. Part 1 in this series discussed how an agile UX team should fit in your organization in order for it to succeed, and part 2 went over how to hire designers who will propel their scrum teams to success.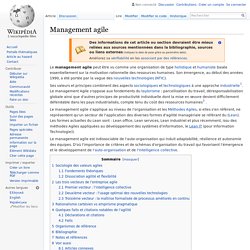 Un article de Wikipédia, l'encyclopédie libre. Le management agile peut être vu comme une organisation de type holistique et humaniste basée essentiellement sur la motivation rationnelle des ressources humaines. Son émergence, au début des années 1990, a été portée par la vague des nouvelles technologies ( NTIC ). Ses valeurs et principes combinent des aspects sociologiques et technologiques à une approche industrielle <ref>Note : En 1999, dans Organization Modeling , il fut démontré que les caractéristiques d'une organisation telles que l'agilité, la qualité, la performance d'exécution sont issues de patterns (voir : adaptation de Design patterns et d'alignements entre divers domaines organisationnels représentés par le Système d'information , les Processus ainsi que la qualité et la motivation des Ressources humaines . La recherche de la maîtrise de ces caractéristiques représente le point de départ du courant de modélisation organisationnelle .</ref>.